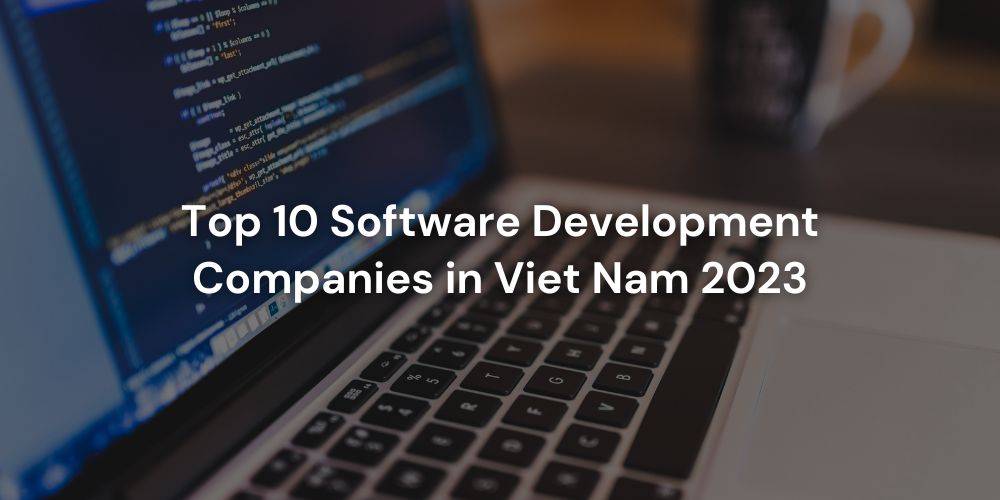 The Information and Communications Technology (ICT) sector in Vietnam has grown at an average annual rate of 9.8% over the last five years, with annual revenue of $110 billion in 2019, accounting for 14% of the country's GDP. It is increasingly rising as an outsourcing destination in the Asia-Pacific region, thanks to its growing IT infrastructure, improving logistics and regulatory environment, and business-friendly economic reforms. As a result, software development companies have strong growth opportunities, outsourcing to Vietnam has become a strategic alternative for companies looking to reduce fixed staff costs.
In this post, we'll examine the condition of outsourcing in Vietnam and publish a list of the top ten software development firms in the country, so you can see why and how you might hire software development services in this competitive market.
Why Outsource To Software Development Companies?
Outsourcing software development has long been demonstrated to be a powerful technique for accelerating corporate success around the world. According to a Deloitte report, there are several key motivations to outsource software development: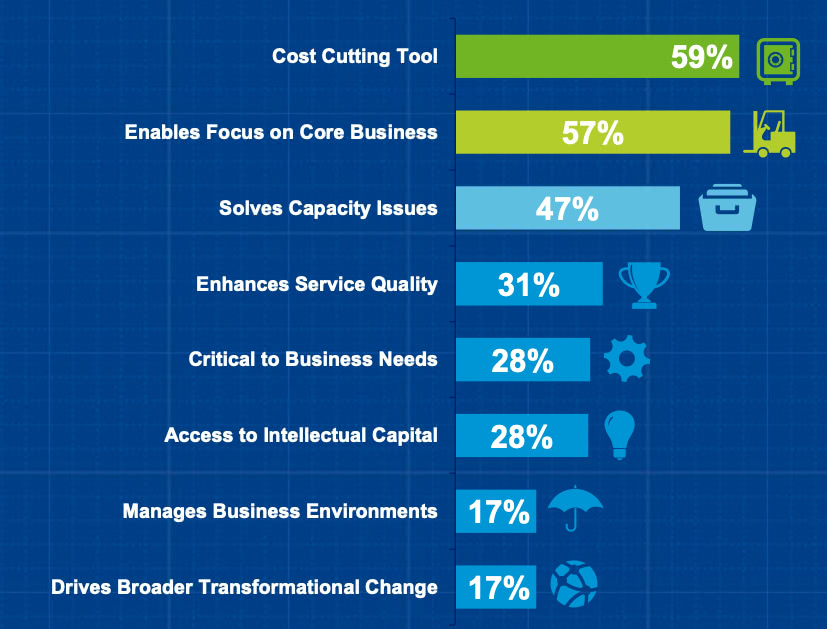 Custom software development, mobile application development, and dedicated offshore developers are among the outsourcing services available, and they are ideal for a wide range of needs, from large corporations to rising startups and beyond. Almost 80% of companies are pleased with their outsourcing decisions. From the start, one of the most important considerations about outsourcing has been where the best country to outsource to.
See more: What Are The Benefits Of Outsourcing Software Development?
Why choose Vietnam?
Asia, Eastern Europe, Latin America, and North America are all prominent destinations for offshore software development. In terms of Asia outsourcing, India and China currently hold the top two spots as the world's most dominant outsourcing destinations. However, among Asian-Pacific countries, Vietnam, a growing significant IT outsourcing hub, must be mentioned. And, within the scope of this article, we'll look at the reasons why Vietnam should be your next offshore software development destination.
According to the 2019 Tholons Services Globalization Index, Vietnam is placed 13th among the world's top 50 digital nations.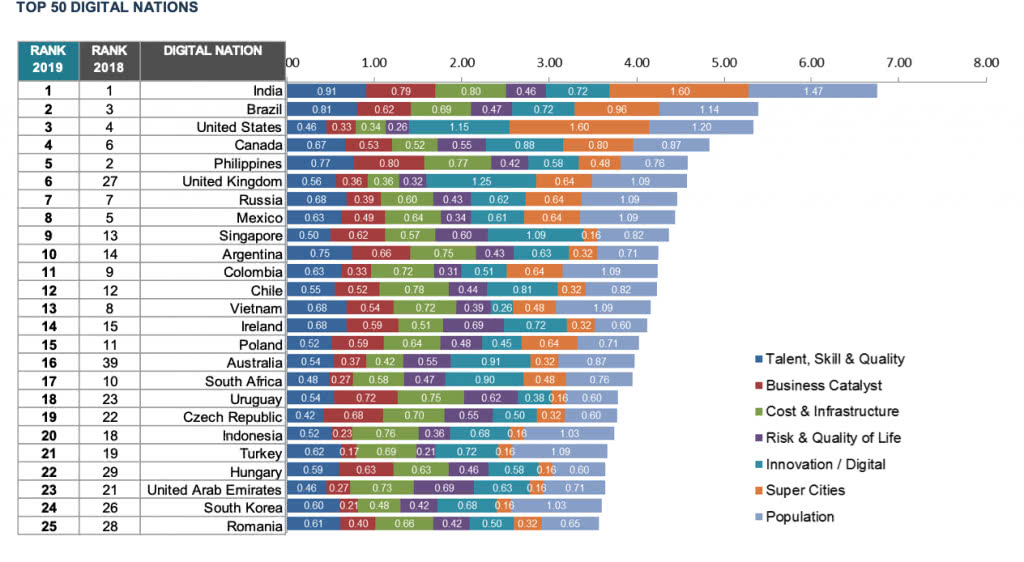 Companies are increasingly turning to software development outsourcing to gain access to a larger talent pool, secure better rates on software development projects, and increase their productive hours. Vietnam is at the top of the list of the best places to outsource to.
The advantages of outsourcing in Vietnam are numerous, but there are a few key reasons for any organization to send work to Vietnam.
Before choosing an agency to work with, companies wishing to outsource to another country usually consider a few factors: talent, rate, and communication abilities.
You want to select engineers/developers who are competent of completing the project and possess the necessary experience to ensure that it is completed exactly how you envisage it. Dealing with the communication and language barrier is another challenge to consider when working with offshore outsourcing. You want to make sure that the company you're working with understands your objectives and priorities, that they can express all issues in a straightforward and transparent manner, and that their work ethic is compatible with yours.
Talented Developers
Vietnam has seen a boom in the number of talented developers entering the profession. Vietnam has made it a priority to train more of its people for the digital sector, and it has been actively opening engineering colleges. Workers in Vietnam are anticipated to continue to improve their IT skills in the future years, thanks to government investment and a deliberate drive to build the country's tech sector.
The following are some of the most important achievements in Vietnam's IT workforce in recent years:
Top 7 countries in Asia with the highest EF EPI Average.

Top 5 countries in Asia with the fastest improvement in English skills.

Top 10 countries in the world with the most engineering graduates.

Top 10 countries of origin of international students in key study-abroad markets.

Top 10 countries in Asia Pacific with the highest Human Capital Index.

Top 10 in regional groups in global attraction and global knowledge skills.

Top 30 countries in the world and top 2 in SEA countries for basic academic skills.
Furthermore, Vietnam has a population of over 90 million people, with more than 60% of the population under the age of 30. Because Vietnam is one of the countries with a young population, the Vietnamese – and particularly the Vietnamese workforce – are seen as quick learners, dynamic, innovative, tech-savvy, and adaptable to change.
Excellent English Proficiency
Workers in Vietnam have extensive English language training. Because the majority of the software engineers you'll be hiring are college graduates, they'll have attended English classes throughout the years and will most likely be fluent in the language.
It is considerably easier to outsource to other countries when you have solid English communication abilities. If you want to work in software engineering or business process outsourcing, you should have excellent communication skills.
Excellent Rates
Vietnam's outsourcing sector is one of the most cost-effective solutions available. The cost of development in Vietnam is quite appealing and a good deal when you consider the quality you will receive in return. Whether you're searching for software development or business process outsourcing, you'll find high-quality personnel at a fair price.
Business Hubs of the Future
If you want to outsource to Vietnam, you may want to pay a visit to the developer's office to check on the project's progress and meet your team. With direct flights from the United States to Ho Chi Minh City, Vietnam is a simple nation to visit. The country's software development centers are mostly located in Ho Chi Minh City and Hanoi, the capital. Because the brightest of Vietnam's workforce are concentrated in these few cities, the quest for talent becomes more focused.
See more: What Are The Benefits Of Outsourcing Software Development?
Top 10 Software Development Outsourcing Companies in Vietnam 2022
1. Bestarion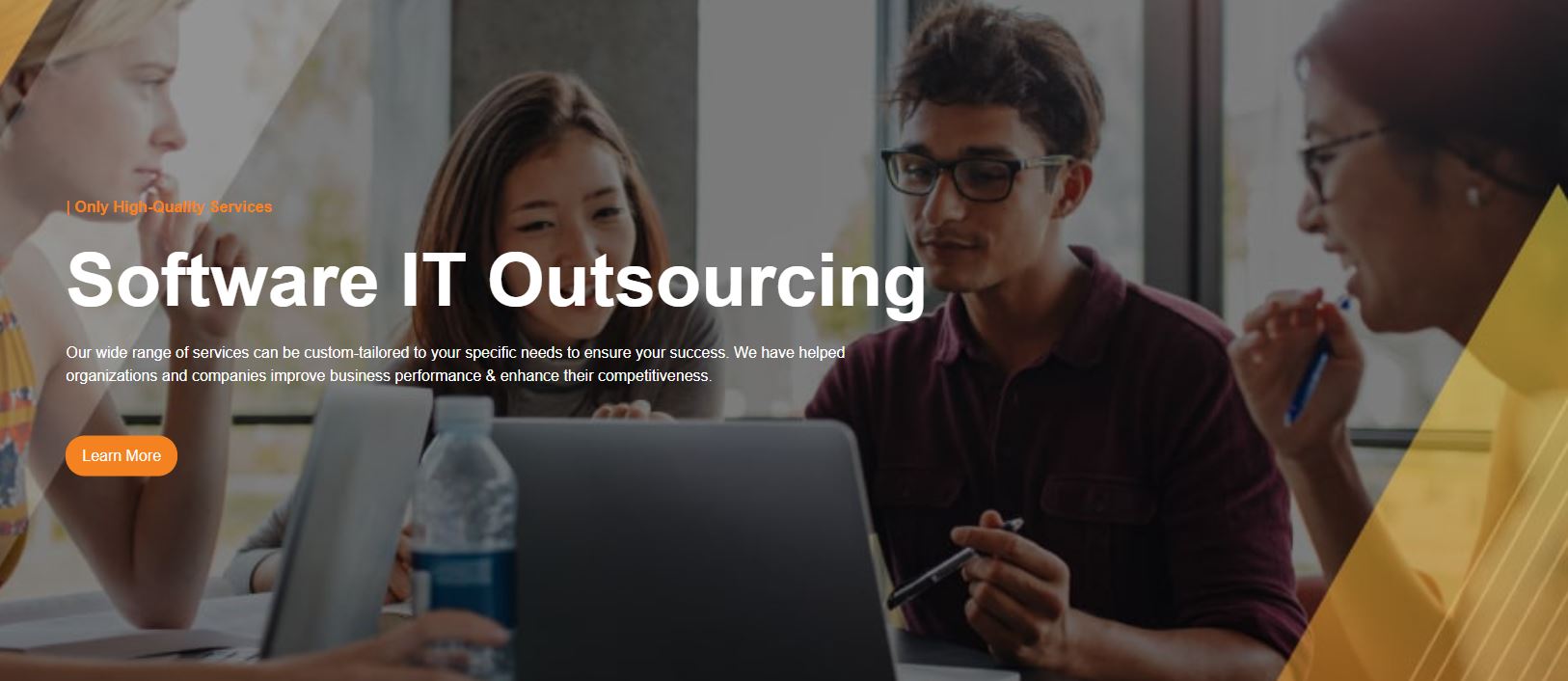 Bestarion is a subsidiary company of Larion – a leading outsourcing company in Vietnam with 20 years of experience bringing innovative ITO & BPO Solutions to clients worldwide. In the past 5 years, Bestarion consistently applied the most advanced technologies to build and deliver scalable, high-performance software development solutions to meet their customers' business challenges in committed time and quality assurance.
With more than 150+ well-trained and experienced staff, they have delivered 215+ projects for global clients. They also have expertise in many industries, including: Healthcare, E-Commerce, Supply Chain, Banking, Education… It's great that 95% of customers they served are satisfied with their service.
2. Waverley Software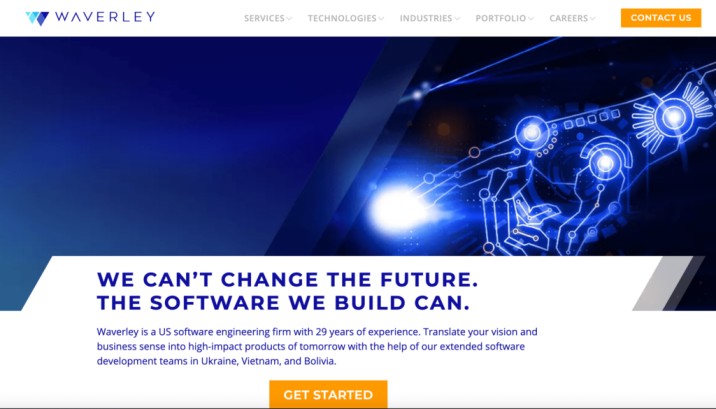 For nearly three decades, Waverley Software has been a successful software development outsourcing firm and is the leading software outsourcing agency in Vietnam. Waverley Software is a full-cycle product development company with approximately 250 employees worldwide. They'll help you with everything from concept to product creation to maintenance and support. Waverley focuses in Internet of Things (IoT), robots, machine learning, and mobile app development for a number of industries, including finance, healthcare, and e-commerce.
Waverley's modern office location in the heart of Ho Chi Minh City is home to a bright and enthusiastic staff of software developers, QA engineers, designers, and project managers who possess great skills and certifications. Waverley also has its own training program for tech university graduates, which helps the company to acquire top talent early on and teach it to fulfill the company's technical criteria and standards, as well as the needs of unique projects.
3. Savvycom Software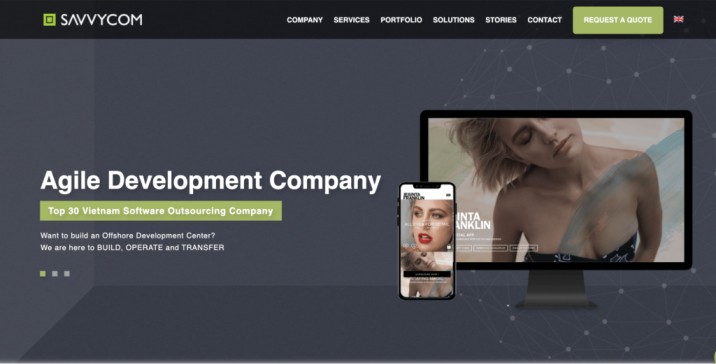 Savvycom is a Vietnamese software development business that focuses on education/e-learning software, as well as healthcare and fitness software. Web application development, mobile application development, as well as cloud and DevOps projects are the kind of projects they work on. They have a rapidly expanding team, which will shortly surpass 250 members. They have over ten years of industry expertise and have executed over 300 projects for customers ranging from small businesses to huge enterprises.
3. AgileTech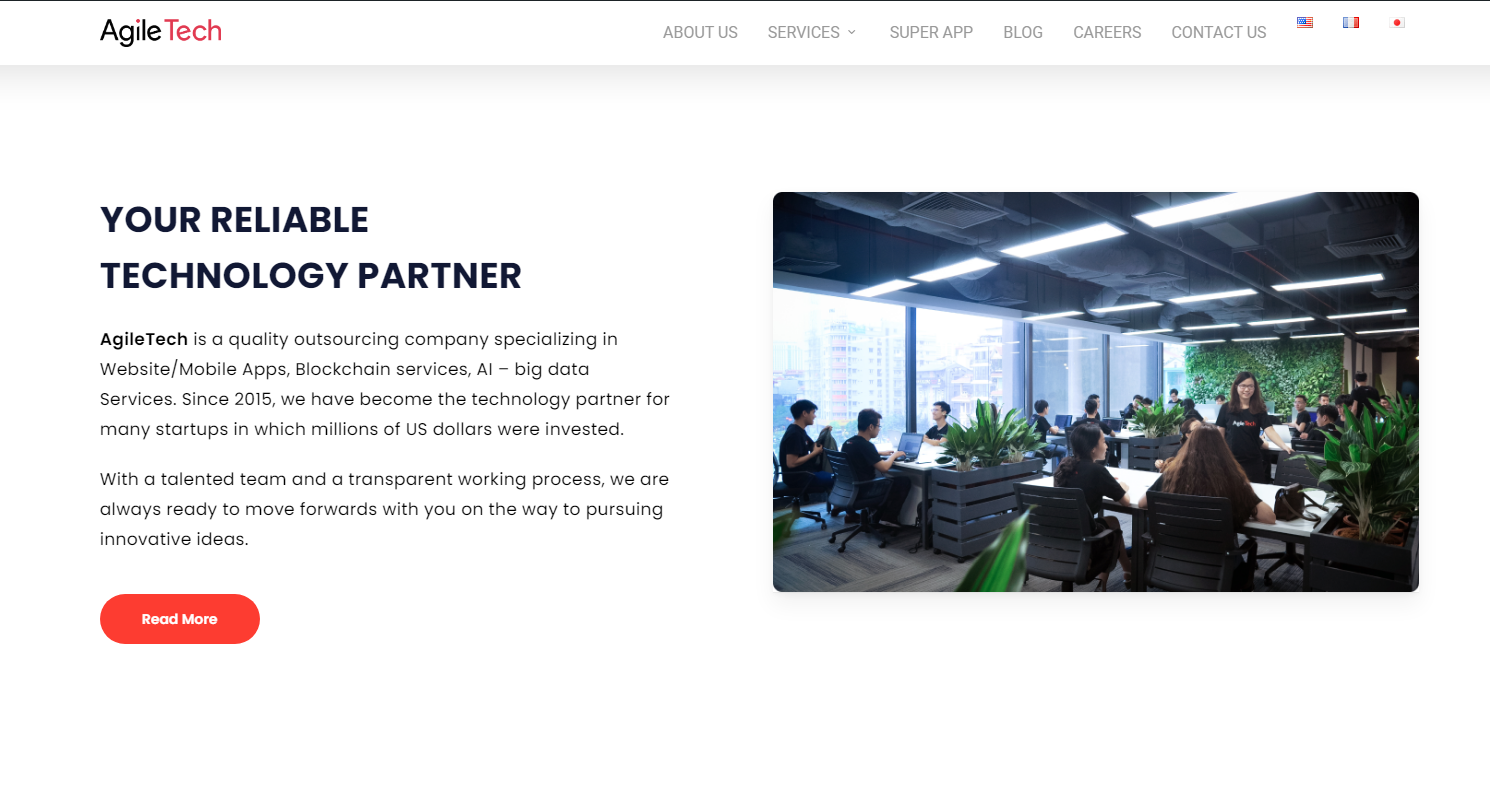 AgileTech Vietnam is a quality software Company established in 2015. They offer a wide range of services, including Web/Mobile app development, AI/Big Data Services, Blockchain Services, Testing Services, Digital Transformation, and Dedicated Team. They have accomplished 300+ projects and become a trusted partner for Startups/ enterprises across over 10 countries, in various industries, such as Healthcare, Education, Fintech, E-Commerce, Hospitality…. From scratch to execution, AgileTech consistently applies advanced and cutting-edge technologies to deliver impactful and scalable products.
4. Elinext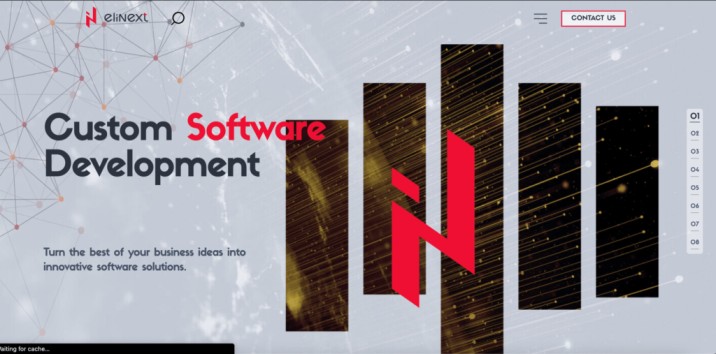 Elinext is a software outsourcing company based in Vietnam and Belarus that has been in business for 23 years. They employ 500 people and specialize on Java,.NET, PHP, and C++. Elinext possesses expertise in software development, web development, mobile app development, and even quality assurance and software testing. They work on projects in a variety of industries, but they specialize in healthcare, finance and banking, and manufacturing, to name a few.
5. Beetsoft Co LTD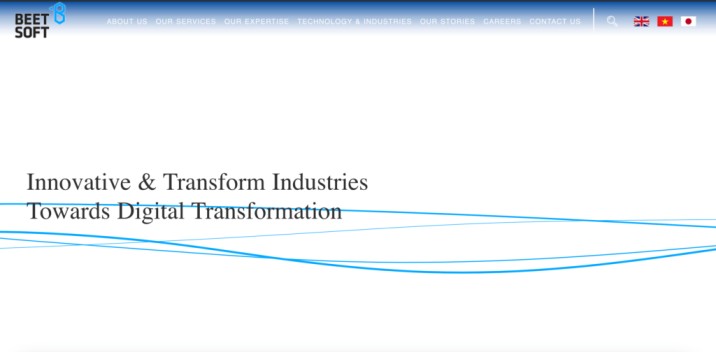 Beetsoft Co. is a global outsourcing firm that employs over 400 developers around the world. Beetsoft Co works on a wide range of projects, including mobile app development, web development, and even game development, employing technologies such as AngularJS, NodeJS, Java, and Swift. They have recently shifted their attention to the healthcare, finance, and manufacturing industries.
6. Amaris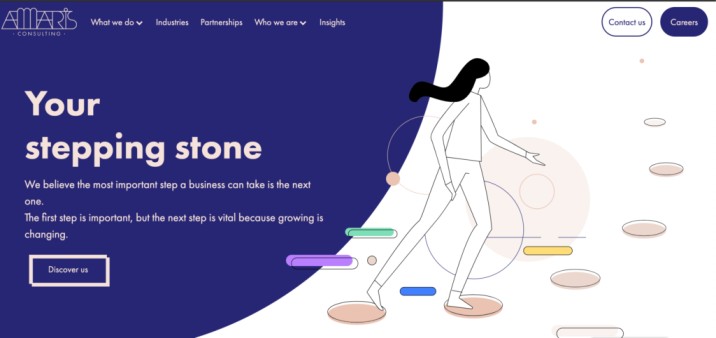 Amaris, which is part of a 6,000-person worldwide organization, is unquestionably the largest software outsourcing agency in Vietnam. It is one of the sector's oldest agencies, having been founded in 2007. With such a massive firm, they have a diverse range of interests, but its primary concentration is on telecommunications, media, entertainment, consumer and retail goods, and transportation.
7. Lotus Quality Assurance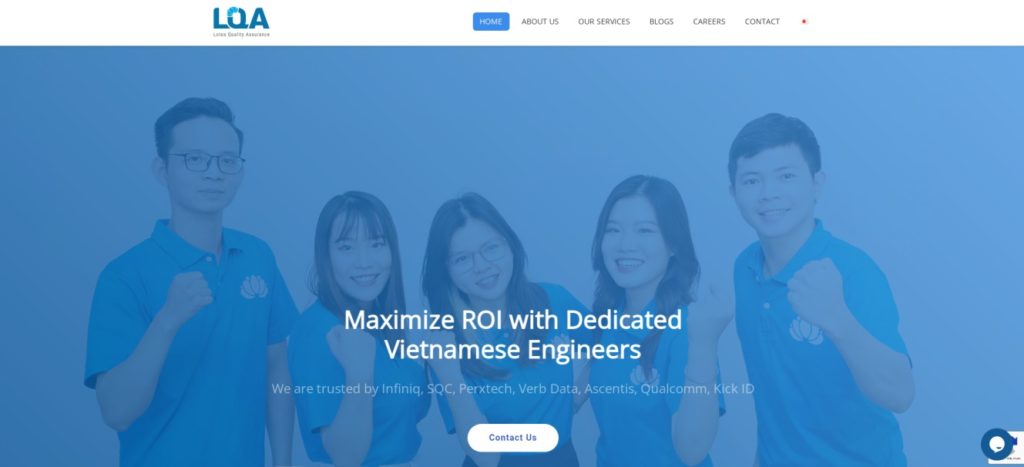 LQA – Lotus Quality Assurance is an emerging Vietnamese IT Outsourcing Company. They provide high-quality end-to-end IT services including: Software Testing & Quality Assurance Service, Software Development, AI Data Processing. As they are a rookie, they learn the elite from the Bigfish and using the energy of the youth along with the new technology to bring you better quality, better productivity at a reasonable cost.
8. KMS Technology

KMS Technology is a global market leader in software development companies, testing services, and top-tier technology consulting. With a customer-centric approach, both US-based and offshore development teams aim to fuel organizational innovation by helping modernize existing systems or bring new software visions to life.
9. Axon Active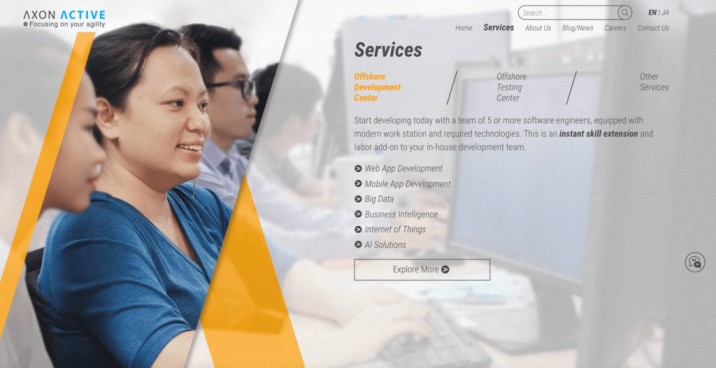 Axon Active started out in Switzerland before expanding to Vietnam in 2008. They specialize on web development, app development, Internet of Things (IoT), and artificial intelligence (AI) solutions. They have offices in three cities in Vietnam. They have offices in both Vietnam and the United States, in addition to their Vietnam offices.
Summary
Vietnam is an ideal place to outsource software development for your business or project. This list should prove useful in your quest for a software outsourcing firm, consultancy firm, or business processing outsourcing organization. Finding professionals who can develop utilizing your technology stack or meet your project criteria is no problem at all, with several organizations supplying everything you would desire. Vietnam provides excellent value for money.
When you cooperate with Bestarion software development company, you'll benefit from our 10+ years of experience in software outsourcing. Our engineers are located in the heart of Vietnam's IT sector, in Ho Chi Minh City. As evidenced by their strong client retention record, our talented and experienced teams are capable of working on any software development project you may require. Please take a look around the site to learn more about our services and technology solutions.
See more: