IT Staff Augmentation vs. Managed IT Services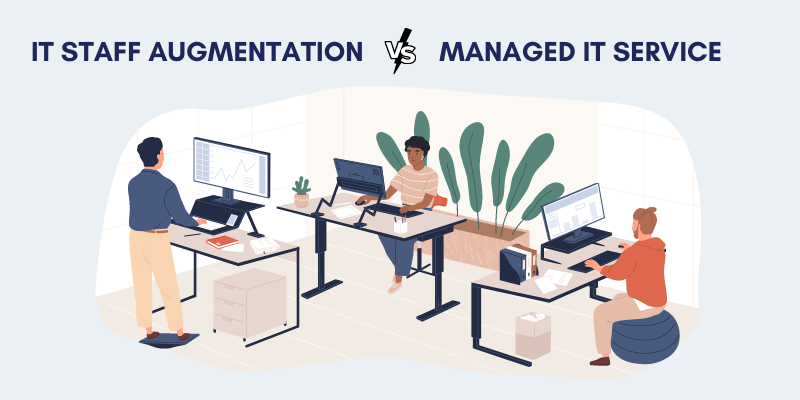 In a global economy defined by quick communication and cutting-edge technology, being competitive is both necessary and difficult. But what should a corporation do if it lacks the necessary internal resources to address a problem? If you hire an in-house team, you risk devoting too much attention, time, and money to recruitment rather than project completion and launch—especially if your project is growing quickly and has a short timeline. As a result, an increasing number of businesses are looking for
IT outsourcing solutions
. In this sector, there are two well-known options: staff augmentation and managed services. Both the SA and MS models are acceptable alternatives to a full-time in-house team, but which model is the most effective depends on the type and scale of your project. In this article, we compare
staff augmentation vs managed services
and evaluate their relative benefits and drawbacks in order to determine which solution is superior. Let's take a deeper look at these two approaches now
What is IT staff augmentation?
Staff augmentation is one of the Software Development Outsourcing Models. It involves hiring more IT professionals and/or tech expertise provided by a service provider. The primary goal is to help your team by filling in the inexperience, lack of expertise, or perhaps both without adding your staff (HR). The key here is to give the necessary input and energy without committing to the outcome.
Benefits of IT Staff Augmentation
Control and lower risk

. Staff Augmentation lets you keep total control over the results of the project and track each step that goes into the project. The team's project manager will prioritize tasks and ensure that the final product is of the highest quality. If you outsource to an external supplier, you lose control over the development process. However, with Staff Augmentation, you maintain all the team members in-house and manage the project, decreasing the risk of producing a poor outcome.

Flexibility.

You can rapidly fill gaps in capabilities and abilities and cover staff shortages that result from unanticipated circumstances during project execution. You are the final decision maker regarding who you work with and the length of time.

Cost – effectiveness

. If your company does not need to hire permanent employees, adding employees will save you the expense of full-time wage payments. You receive assistance from highly experienced experts at the exact time required.

Reduces the time to recruit

. For the IT staff augmentation model, the process of hiring employees is the responsibility of the service supplier. Your work is to decide whom you would like to work together.

Adaptability.

Depending on how big your project is, you might be able to acquire unique talents quickly that aren't likely to be available locally or on short notice. You can also change the size of your team as needed.
Disadvantages to the IT Staff Augmentation Model
Turn to long-term relationships

. The IT staff augmentation model can be challenged in long-term projects. Vendor workers might be required to complete additional duties or quit the company.

Cost efficiency is a problem

. In the long term, the cost of staff augmentation could cost more over the long term than an in-house permanent solution. Of course, this depends on your capacity to hire and keep in-house talent.

Dependence

. Increased staff can result in a greater dependence on a single third-party service.

Engagement scale.

You can not be able to find sufficient talent from one vendor. This could mean you must collaborate with a variety of companies and employees. This may result in inconsistent quality.
What is the best time to use IT Staff Augmentation?
There are instances in which this method of outsourcing is the most effective. The main motives are described below.
Staff Augmentation occurs in the following situations:
Strengthen your internal team

. Even if you already have in-house software developers. You will require the latest expertise if you are working on new projects. In this situation, you should make your IT team stronger.

You are short on deadlines

. The process of recruiting takes many hours, from job advertisements to onboarding. Staff augmentation models provide the quickest method to hire additional developers without regard to the type of contract.

You require specific abilities

. You must quickly increase your team by hiring highly skilled technicians or engineers.

As a bridge for hire

. Short-term employment may turn into longer employee relations.
 Read more: Outsourcing vs Outstaffing: Which is the best choice?
What does Managed IT Services mean?
A managed IT service is a solution that entails outsourcing a business's IT management and support functions to an expert third party. This allows a company to concentrate on its core skills while decreasing expenses and staying abreast of innovative technological advances.
This service is delivered by a managed service provider (MSP) specializing in managing and providing businesses with IT support and strategic technology advice. Access to world-class technological capabilities and expertise without hiring, training, and managing an IT department is possible when managed IT providers handle your technology operations. In addition, unlike break/fix services, an MSP monitors your systems proactively to ensure that business downtime is minimized and IT issues are resolved.
Benefits of a Managed IT Services Model
Saving time and money

. The managed service model allows you to work with a complete team of experienced and competent experts with the necessary tools and equipment to tackle your project. You can save time and money by getting the needed services. Their prices are set and are based on the volume of work done.

Control

. Managed IT Service providers oversee the entire project from the start until the end. But, it is crucial to select a skilled and trusted company with experience in delivering quality products and exceptional results.

Monitoring.

The service provider monitors every aspect of the project and ensures the tools and resources needed are in place. The results of the project are set from the perspective of the supplier. The managed service provider evaluates potential risks and creates a suitable plan for the project.

Improved cost model

. Because managed IT service providers charge according to the results. If you need a certain service grows or decreases in any way, the cost will be adjusted to reflect that change.

The guarantee of a successful outcome

of managed IT services is backed by an

service level agreement

(SLA) that specifies the scope and duration of every project. Managed service providers strive to adhere to their commitments to receive a fair amount and improve the quality of their work.

Access to talent

. Managed Service Providers tends to be larger than staff augmentation companies. It can provide the broadest range of expertise, knowledge, and solutions for the changing demands of clients.
Disadvantages of Managed IT Service Model
Actual presence

. Since the managed IT services company works from afar, you will have to take care of any problems that come up on-site yourself. 

Costs go up

. You can't always get a complete set of tools and resources for a low price. Some of them charge more money.

Security and control.

When you hire a service provider, you give them access to sensitive data and information about your business.

Costs of switching

. If your managed IT services provider goes out of business, you may have to scramble to find a new one, which could hurt your business.

Changing IT needs.

When you work with an IT service provider that doesn't meet your business needs, you can't be limits your efficiency and ability to scale.
What is the best time to use Managed Services Model?
When you are focused on future growth.

Security and networking solutions get more complex as your firm expands and additional employees join your team. Managed service providers can deliver faster and more efficient networking and security solutions.

Rapidly adopt new technology.

With thorough technological preparation, managed service providers may deliver client-centric solutions.

When you require proper budgeting.

Most businesses perceive IT costs as an investment, and managed services offer ongoing maintenance, which helps you avoid costly shocks that can wreak havoc on your monthly budget.

Your company must comply

. Risks to your privacy and security could land you in serious jeopardy. Working with a managed service provider can assure compliance with rules such as HIPPA.

When you want to build a solid technical team

. Your technical workforce requires several distinct roles, and filling such roles may be costly.
 Read more: How To Outsourcing Web Development in 2022
IT Staff Augmentation vs. Managed IT Services: A Comparison
The decision of which model is most appropriate for your business depends on the nature of your business, the mission statement, and your business goals. In most businesses, the complex nature of the information technology field makes it hard to follow a specific model. As companies become increasingly international, adopting one method over another might not be the most effective method. You can reap the benefits of staff growth and managed services by finding the right balance.
Generally, the managed IT service model is the best choice for forward-thinking companies, especially for long-term efficiency and cost savings.
| | | |
| --- | --- | --- |
|   | Staff Enhancement | Managed Services |
| The best for | Flexible projects that have short-term requirements Low-budget projects | Outsourcing whole projects. Long-term projects. Cost savings over some time |
| Contribution | The service provider agrees to provide defined resources for a set price. | The service provider controls all or a portion of IT services' components. |
| Billing | Billed based on time spent on the project, often biweekly | Billed on retainer, often annually |
| Processes | Committed to giving an input | Committed to delivering an outcome |
| Risk | Client | Service Provider |
| Engagement | Full time | Part-time or full-time |
| | Does not provide service delivery commitments | Service delivery commitments are expressed as "service levels" |
| Pricing | Pricing tied to availability and hours worked | Pricing tied to service levels and outcome |
| Management | Client | Service Provider |
Conclusion
Service providers play a vital function in each IT business. However, different issues require various solutions, as do different outsourcing models for software.
When you use managed Services, the vendor team works independently from your team. The outsourced Project Manager oversees all daily operations and workflows. The Managed IT Services model is the best choice if you wish to outsource the project's execution through an outside vendor. This is ideal for simple projects or repetitive processes.
If you're beginning to learn about outsourcing. IT staff augmentation is an excellent and straightforward way to begin. By staff augmentation, our team can fully become absorbed in your project. This will give you greater control, allowing a more flexible approach to the scope and priority.