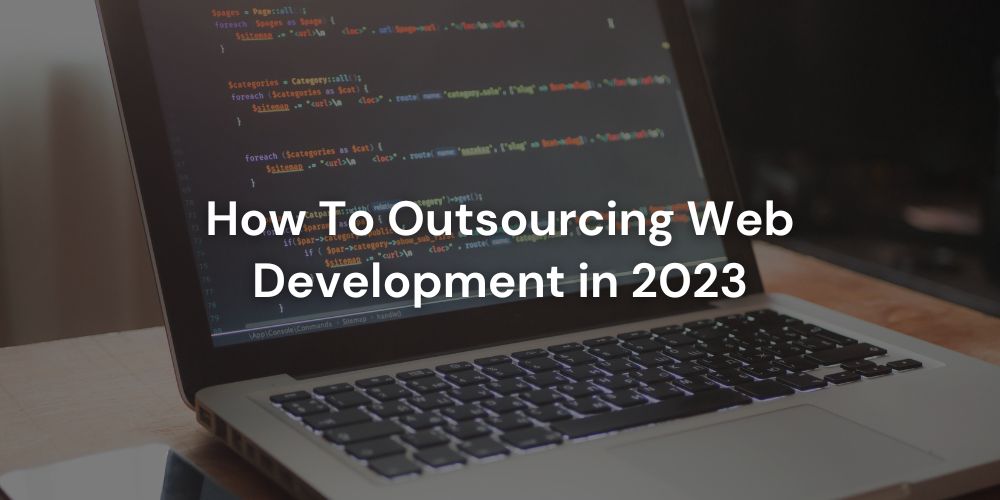 Regardless of size or industry, every business must have a website with an active online presence in today's digital world. If you don't have a website, your business will miss out on virtually all marketing opportunities, potential clients, and sales. On the other hand, designing a website is only a profession for some, as it necessitates a wide range of skills and experience. 'Should you consider outsourcing web development projects?' is a question that every company encounters at some point. In this article, we'll try to answer these issues and dispel any doubts you might have regarding outsourcing web development tasks. We'll also provide you with a list of why outsourcing web development or web app development is a good idea.
Top Myths regarding Outsourcing Web Development
Offshore software development companies have a bad reputation for being difficult to use. They aren't, and we will dispel them below.
If the first time were not good, the second would be just as bad.
According to the old saying, no one gets a second chance at making a first impression. It does not necessarily mean you should give up on other companies after a poor first negotiation. It is worth evaluating whether working with these web development outsourcing companies is worthwhile.
Intercultural communication can be difficult
.
It can be challenging to work with web developers from other countries whose communication styles, outlooks and cultures differ from yours.
These disadvantages can be avoided if you hire a reliable and trustworthy company. Bestarion is a 15+ year old company. Because we've worked with clients in different countries and are familiar with their specific features, Bestarion can facilitate intercultural communication.
Language barrier
You might have difficulty negotiating with an overseas company if you hire them. This should not be a problem. Nearly everyone speaks English, particularly in the IT field.
No one can do it as well as me
.
This feeling familiarizes everyone: "I'll do it all by myself because someone else might do it wrong." However, you need more time or resources to do it all when managing a large company. You should let go of your worries and allow others to take over the problem (it's called outsourcing in this case).
I will get poor quality service and a wrong result
.
This is somewhat similar to the previous problem. A lawyer is the best person to help you sign a contract, and a lawyer can help you understand the situation and warn you of possible pitfalls.
Someone else can use my private information
.
It is understandable. It's like inviting a stranger into your house. It's scary, we agree. Imagine a plumber coming to your home. It will feel less frightening. Even though he is not from your area, you know that he will be there to help. The plumber is an experienced outsourcing company that can benefit you. Trust is important, so don't be afraid of trusting.
These myths can be transformed gracefully into positive pluses. It is essential to see everything from the proper perspective.
We'll show you why third-party web developers are essential for your web project.
Benefits of Web Development Outsourcing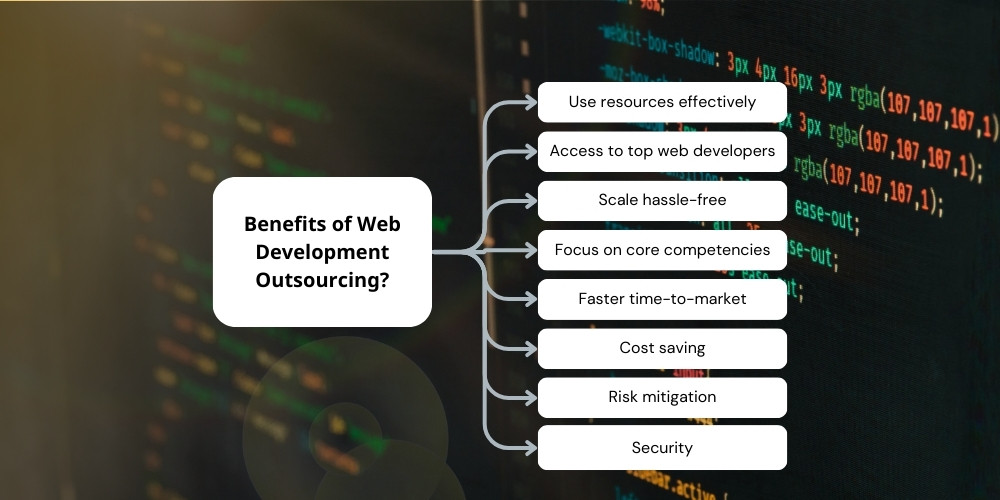 Many web apps started as little ventures that grew into major corporations. Delivering an increasing number of technical jobs to web development outsourcing businesses is the number one reason for their success. What benefits have drawn the founders of successful web app firms to software outsourcing?
The following are the five primary advantages of outsourcing web development:
Use Resources Effectively
The main reason you outsource web development is to lower your costs. You don't need to hire each specialist individually because the outsourcing companies have well-trained web developers. It may seem strange that you should not hire web developers with high-quality skills for your in-house team. It's because it is a slow process that takes time, labor, money, and patience from your side. You don't have to rent office space or purchase equipment when you outsource web development. Outsourcing web development saves you time and money.
Access to Top Web Developers
Do you want your website only developed by skilled, experienced web developers? That is what the trusted web development agencies know. They take recruiting seriously to be competitive, and clients will be more satisfied if they have more qualified staff. It is up to you to find a reliable outsourcing partner for web development. We will discuss the essential criteria in this article.      
Scale Hassle-free
Scaling up your web project can be a great indicator of business growth and motivates web development companies to fulfill your needs. Many web outsourcing companies have more workers than they need for any project. An agency can usually find additional specialists for your project if you need them. Scaling your web project using a web development outsourcing partner is easier than an in-house team.
Focus on Core Competencies
You may concentrate on your business, while outsourcing web app development allows you to delegate the work to professionals. The client is usually the most involved in web app development outsourcing from the start. The core idea, design, features, and timelines are only a few topics to explore. You must regularly monitor the results once you agree with your web developer outsourcing team. You can save time and focus on your key business goals if you want to participate in only some of the development process.
Faster Time-to-Market
Outsourcing software development allows you to get a project up and running quickly, especially if you discover highly talented developers with expertise in building websites in your industry. You may quickly test your company idea, solve errors, and improve your website this way.
Site Security and Managed Risk
It is possible to reduce security risks by working with a reliable outsourcing company. In today's technological landscape, website security is vital for your company, customers, and users. They trust you to protect their data.
Your website could be the victim of a hacker, virus, or data breach that will result in a huge financial loss. Suppose a hacker attempts to access your website and steal sensitive customer information. In that case, your organization will have to pay the cost of fixing the security hole and any legal fees. A professional team will assess your site's security, perform security testing, and recommend the best protection steps.
See more: Outsourcing vs outstaffing: Which is the best choice?
4 Tips For Finding The Best-Outsourced Web Development Firm
Web development outsourcing is becoming increasingly popular among business owners. Outsourcing can help you cut expenses, gain access to the top web developers in the world, and get your product to market rapidly. However, you can only get these benefits if you work with a reputable service provider. Here are some suggestions to assist you in making the best decision:
Review the reputations of the companies you've chosen
.
Companies won't display failures on their websites. It's obvious. A website is not enough, and it is essential to look deeper. You can use platforms like Clutch and GoodFirms to help you decide. These platforms allow you to talk to clients skilled in outsourcing to web developers and let you find key information about companies through reviews. You can also check the news, social media, and corporate blogs. You can then form your own opinion using personal communication.
Deal with outsourcing providers that have completed successful web projects in your industry.
As previously stated, the best outsourcing partner has developed successful web apps in your sector. If you need to construct an online medical assistant app, for example, a web outsourcing company with a well-implemented healthcare app will be able to meet all of your requirements.
Avoid miscommunication
Complete understanding is the key to productive partnerships. You must feel at ease during all stages of negotiations with web development outsourcing agencies. Think about the following:
Are my requirements and requests easily understood and fully realized?

Are there any cultural or language barriers that cause discomfort?

Is it possible for third-party partners to manage time zone differences comfortably for me?

What time should I wait to get feedback?

The collaboration will be more effective when both sides strive for perfect understanding.
Lay the foundation of trust by signing a contract
.
To legalize cooperation, a trustworthy outsourcing web agency recommends signing a contract. The contract includes:
Terms of website development

The preliminary budget for software development

Both participants have the same rights and responsibilities

Warranty

The main definitions of the development process
A non-disclosure agreement (NDA), a document in which a corporation commits to protect your sensitive information, should be agreed upon.
See more: Top 10 software development companies in Vietnam.
How Much It Costs To Outsource Web Development
Calculating the cost of your entire project can be challenging when you are looking to outsource web development. Many factors influence this. These are some of them:
The scale of the web products that you are planning to create

The complexity of web development

The number of specialists involved

The time required for development

Hourly rates
This last factor can vary depending on a web development outsourcing company is location. Let's look at the hourly rates for the most popular regions.
| | | | |
| --- | --- | --- | --- |
|   | North America | Eastern Europe | Asia |
| Hourly rates | $100 – $150 | $25 – $70 | $20 – $40 |
Contrary to popular belief, not all highly skilled specialists and cutting-edge technology are situated in the United States. Today, web developers from Eastern Europe and Asia are gaining traction. Furthermore, compared to the average hourly rates in North America, these regions offer IT engineers at a 30% discount. However, is the ability level of web developers the same in all areas? According to a study conducted by HackerRank, less expensive IT engineers from Asia and Eastern Europe do not provide worse quality.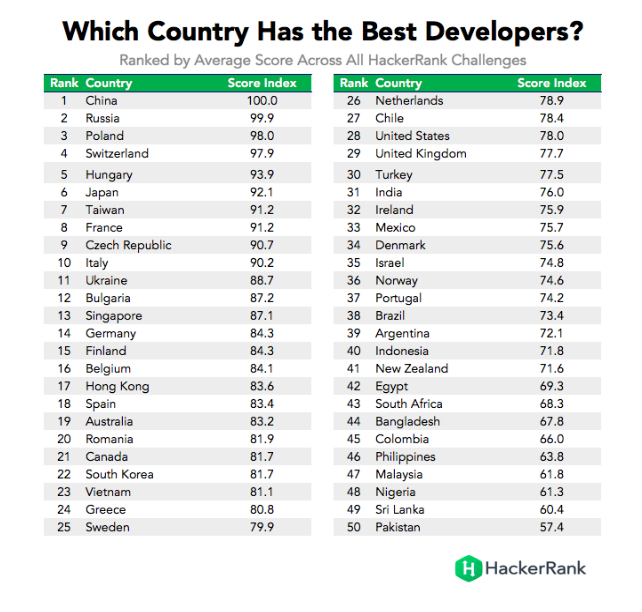 Many businesses worldwide seek to outsource web development to these countries.
A Step-By-Step Guide To Website Development Outsourcing
 
It's now time to break down the measures you'll need to take to select the ideal web development outsourcing partner into three primary steps:
Clarify your most important business goals and requirements
.
These will be of great help to you:
Think about what you want from your web project.

Identify your users and the benefits they will receive from your website.

Define the type of website that you would like to create

Add your requirements to the website development

Specify the terms you would like to see web apps implemented by your development team
Choose a trustworthy web development outsourcing firm
.
Research potential partners in web development and make a decision. Choose 10-15 outsourcing web development firms that meet your criteria.
Find the right fit for you.

Expertise in your field

Find the correct location.

Set reasonable prices

They have been in the market for a while

We have many satisfied clients who leave glowing reviews.

Pay close attention to awards and information posted by news companies. This selection process can be entrusted to Upwork. Finally, contact the best companies.
Control the development of your website from afar
.
Once your collaboration is established, you should keep in touch with your project manager to monitor the web development process. Discuss:
Remote meetings can be arranged in a way that is convenient for you

Deadlines for intermediate results verification

The initial design of your website or app

The approximate budget for site development and other strategic items

These agreements should form any contract you sign with an outsourcing company. You should also sign a nondisclosure agreement to prevent confidential information from being leaked about your project, business, or partners.
Start your Outsourcing Journey Today
Companies can reap many benefits by outsourcing to third-party website developers. It's wise to partner with an outside company if a development project is not within your company's core functions. This will give your organization a competitive edge and streamline company operations.
Our software development outsourcing team at Bestarion comprises experts dedicated to completing your projects the fastest and most cost-effective way. Contact us today to learn how we can help your company succeed.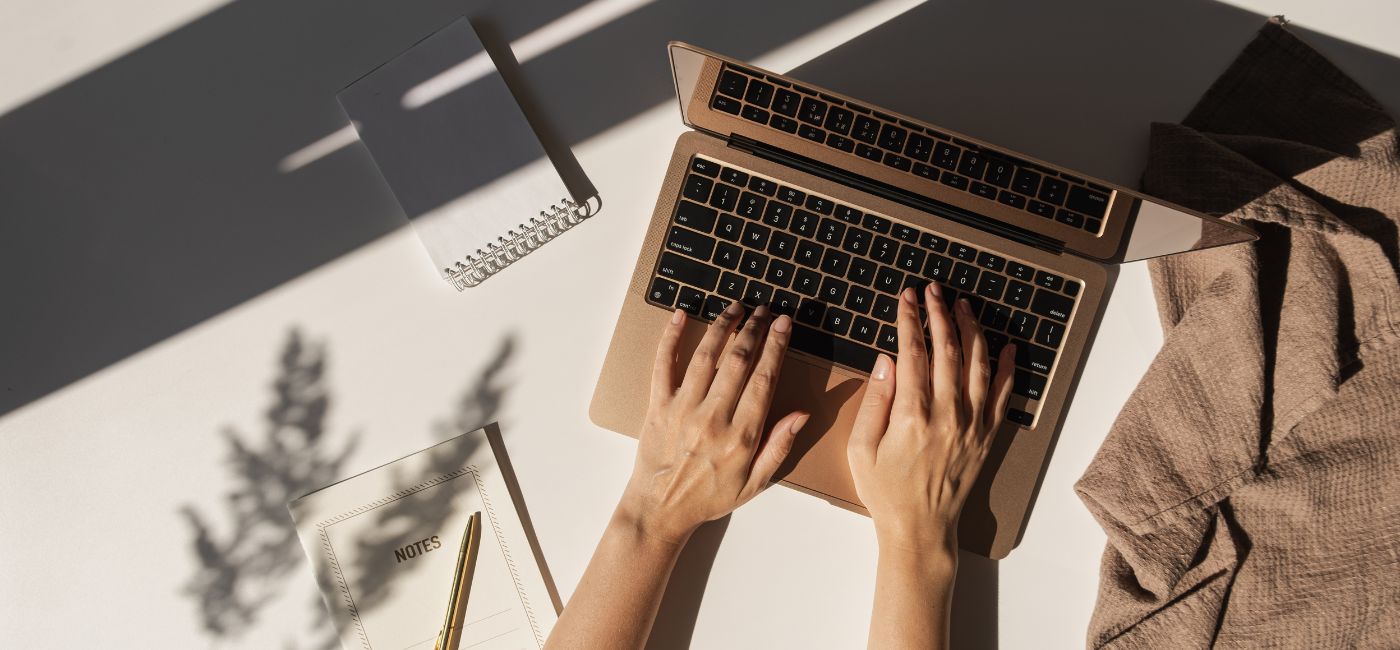 Save Time and Money with a Top Web Development Outsourcing Company in Viet Nam