Outsourcing vs Outstaffing: Which is the best choice?
Do you believe that each process in a firm must be controlled by qualified professionals in that sector in order to produce a successful outcome? Maintaining a highly skilled staff of professionals to carry out each process, on the other hand, is not a "cheap" decision. This article will be analyze about outsourcing vs outstaffing. This is will be valuable to you and your firm if you want to reduce the risks and costs of production processes that are not part of the primary direction but are related to it.
As we all know, selecting a software development firm is simple. If you've already done it a few times. It's a huge difficulty if you're a first-timer or even a second-timer. "Which software development model do you like, outsourcing vs outstaffing?" They ask when you're pretty certain this is the firm you want to work with. We're back to where we started, and things are getting a little crazy.
I've put together a quick comparison of the most important software development paradigms to make your life a little easier. So, let me explain the distinctions between outsourcing and outstaffing.
Outsourcing vs Outstaffing Model
If you have little to no experience with software development agencies, this question will most likely confuse you: "Outsourcing or outstaffing?" Both models are similar in that they both refer to offshore software development and provide dedicated developers. What distinguishes them? How do you make the best decision?
Outsourcing
Let's start with software development outsourcing, which is a more complicated strategy. Consider the situation: your company has no in-house development team and no technical professionals, yet you need to produce a software product. Is it necessary to hire in-house developers if there is only one project that will be completed and closed in a few months? Professional engineers will most likely not be willing to start working for you full-time for such a short amount of time, even if you decide to invest in hiring, onboarding, training, and then offboarding. In this instance, outsourcing your project to an external team of developers — an outsourcing provider – is the most sensible option.
Giving your software product idea to a remote development team and receiving a finished product is known as outsourcing. The structure of your outsourcing software development team is determined by your project requirements; it may or may not include business analysts or UI/UX designers, but it must include software engineers, quality assurance specialists, and a Project Manager. When working with outsourcing businesses, you have the option of closely monitoring the project or totally entrusting it to a project manager.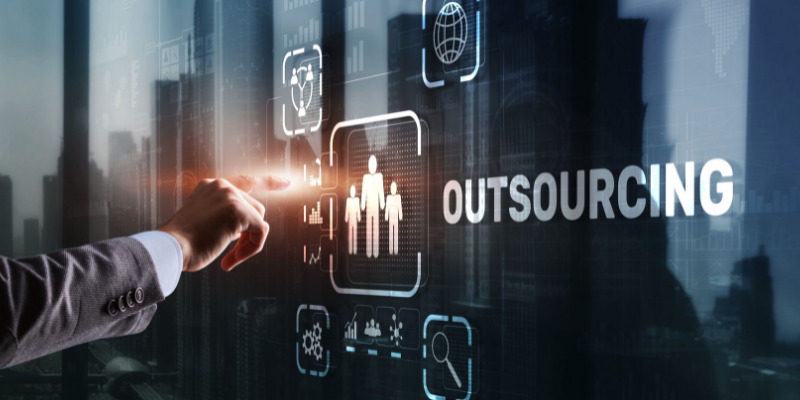 Pros and Cons of Outsourcing
There are important distinctions between software outsourcing and outstaffing, just as there are between any other company strategy. There are other advantages and disadvantages to consider. Here are some of the primary advantages and disadvantages of using an IT outsourcing approach, in our opinion. Aside from that, you're welcome to review all of the advantages and disadvantages of outsourcing software development.
Pros of Outsourcing
The vendor is in charge of code quality.

Quality assurance and ensuring that the coding given satisfies your project parameters should be the responsibility of vendors. At the client level, you are not required to provide any daily management outputs. That's a huge plus.

There is no need for day-to-day managemen

t. Turnkey service is provided by vendors. They organize resources among all IT professionals working on your project, from your in-house team to their outsourced workforce. Schedules, quality assurance, deliverables, and communication are all managed by them.

HR is handled by your vendor

. Do you require additional personnel? Is it more or less? They're in charge of scheduling and recruiting, as well as employee taxes, payroll, and benefits, among other things. Get only the assistance you require, when you require it.

There is no need to acquire any gear or software

. To complete your projects, your outsourced IT staff will require hardware and software, but these costs will not appear on your expense ledger. Your vendor will be accountable for all of those charges, which will very certainly be reflected into their estimate for working with you.

There is a wider, more interchangeable selection of resources available

. When you outsource your job, it's easier for your vendor to send in a variety of professionals for just an hour or two. When you outsource, the vendors you hire are bound to your company's work in the same way that a full-time or part-time employee is, so you must stick to the resources you have. For many clients, the flexibility that outsourcing provides is a major selling feature.
Cons of Outsourcing
The vendor has complete control

. This is the polar opposite of the "pro" we mentioned earlier. Outsourcing may not be for you if you prefer to participate in the day-to-day operations of coding, planning, and scheduling.

Outsourcing is more expensive than outstaffing

. All of that management and turnkey service has a cost. You must pay by the hour for the assistance of not just the IT outstaffed personnel, but also the project management team assigned to oversee your account under an outsourcing arrangement. Many vendors will charge you a higher hourly rate for a minor assignment, but will reduce their fee if they know you will return for larger projects in the future.
The benefits of outsourcing clearly outweigh the drawbacks. Outsourcing is becoming increasingly popular around the world as a result of this trend. Outsourcing's major goal is to minimize gross expenses while also allowing you to better manage your company's resources. The possibility to leverage someone else's highly specialized skills and information collected over time is, nevertheless, the key benefit.
See more: Outsourcing for Startups: Agile Software Development Applications
Outstaffing
Different situations need the use of outstaffing services. You must have an in-house development team to engage in outstaffing. Consider that you've employed a permanent team of developers, designers, testers, and project managers to work alongside you full-time. What if you have an urgent development need and your team doesn't have the time or resources to handle it? If the increasing breadth of work is going to continue, you can engage another full-time specialist. If the increase in workload is only temporary, outstaffing is a better option.
Hiring a distant full-time or part-time specialist who will operate as a temporary member of your in-house team is what outstaffing entails. Depending on your project requirements, this approach allows you to engage any software development specialist or a group of them. Outstaffing, on the other hand, necessitates project management on your end.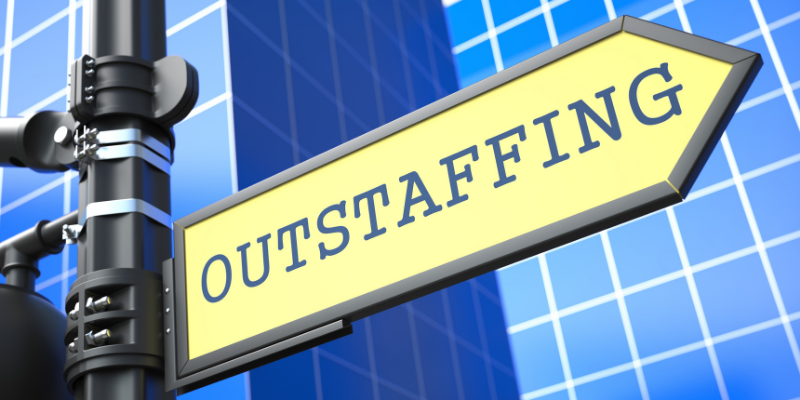 Pros and Cons of Outstaffing
It's critical to grasp the ins and outs of working in an outstaffing model, as well as how to manage your outstaffing team, if you're considering IT outstaffing services.
Pros of Outstaffing
Model of flexible hiring

The next best thing to having your own auxiliary crew is outstaffing. While the vendor handles payroll, staff resources are committed to you and your IT needs.

You are in charge of the development process on a daily basis

. This is generally the deciding factor when deciding whether to outsource or outstaff. Outstaff development is the next best thing if you need extra staff but can't afford to hire them in-house. You'll be able to treat your vendor resources as if they were members of your own team, providing daily interaction and training, and integrating them into your development process alongside your own staff.

Full Access

. When people ask what outstaffing is and why you'd choose to work this way, the answer is that it allows you to have more hands-on management on a daily basis. You are the project manager in this outstaffing paradigm. You are in charge of coordinating resources. You're in charge of quality control.

Reduced expenses

. The hourly pricing of the outstaff team members is frequently lower because the client is undertaking so much of the hard lifting on management, and you eliminate the hours of project management that your vendor usually adds to the quote. If you're willing to put in the extra effort, the savings can be substantial.
Cons of Outstaffing
There are substantial issues with any outstaffing plan. The following are the most common:
Failure to establish effective communication channels

. Communication routes are critical because vendor staff often works remotely, or at least independently, from the rest of your team. As the client, you must guarantee that your outstaff team is completely integrated into your project management software and that their reporting is visible to the rest of your corporate team. Setting clear expectations and being active on a daily basis, just as with your corporate IT team, is essential. We work hard to establish a direct communication system with our clients, utilizing resources such as Zoom, Slack, Skype, Google Meets, and even the company's own project management systems to ensure instant access to our staff.

The client is in charge of the project

. This can be an advantage or a con depending on how much time you have to handle your IT outstaffing services. It's up to you to determine which is more convenient to invest in: your budget or your time.
Without a doubt, the most significant advantage of outstaffing is the optimization of a company's economic model, as well as cost savings. Outstaffing lowers costs and keeps your company's non-core business expenses to a minimum. Furthermore, this strategy allows you to eliminate the expenditures of employee finance and resource upkeep.
See more: What Are The Benefits Of Outsourcing Software Development?
Outsourcing vs Outstaffing: Which is the best for your company?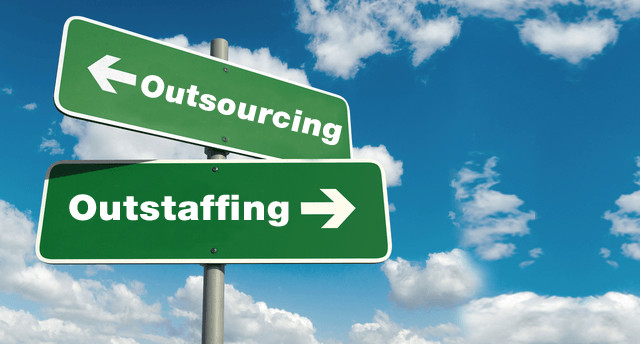 Businesses who don't have in-house personnel who can fully satisfy their needs would benefit from both outsourcing and outstaffing. Both of these tactics will work well for businesses that lack the technical expertise required to complete their development projects. For some businesses, though, there will be a distinction.
Choose outsourcing if your organization does not place a high value on technology and does not have the personnel to manage or hire qualified candidates for tech efforts. If you have a stand-alone unique software project that needs to be finished, a software outsourcing business can help. If you're worried about data leakage, you can always utilize a non-disclosure agreement (NDA).
If you want to hire personnel on a project-by-project basis, an outstaffing provider will be the ideal fit for your needs. This approach is best suited to businesses with strong management and/or directing partners who can oversee projects. If you or your employees are capable of guiding a foreign specialist, outstaffing makes sense. This method will also come in handy if you find yourself in need of a specific workforce that you don't have.
If your firm requires the services of a remote professional, you have two excellent options. Outsourcing and outstaffing will both assist you in meeting your company's objectives and growing your business. Examine the advantages and disadvantages of each option and choose the one that best meets your needs.
Development Software Outsourcing and Staffing with Bestarion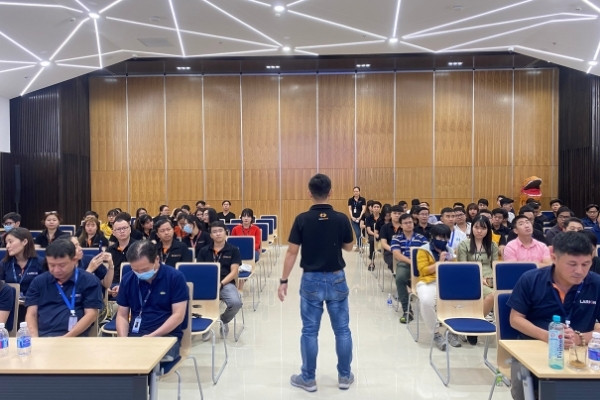 Bestarion is a subsidiary company of Larion (www.larion.com ) and provides software development/consultation services specializing in Healthcare Supply Chain, Financial, Hospitality, Banking, Education, Security Trading services for the last 14+ years. Moreover, we helped the U.S. healthcare organizations of savings up to 15% of the annual supply chain spend on 34,000 subscribed users.
We are a global Software Development firm providing services to clients spread across 15 countries and have been successful in outsourcing services and notably in Ruby on Rails, C on Linux, and .NET
At BESTARION, we provide both outsourcing and outstaffing services. We provide our customers with the model that best meets their business needs. We choose the model based on our clients' skills and business objectives. Our software development outsourcing firm is always willing to assist you with your software development project.
Besides that, we have been extremely experienced in web development, so you could refer our existing customers to learn more about our customer satisfaction.

Let's schedule a call to discuss all your needs!
Read more: