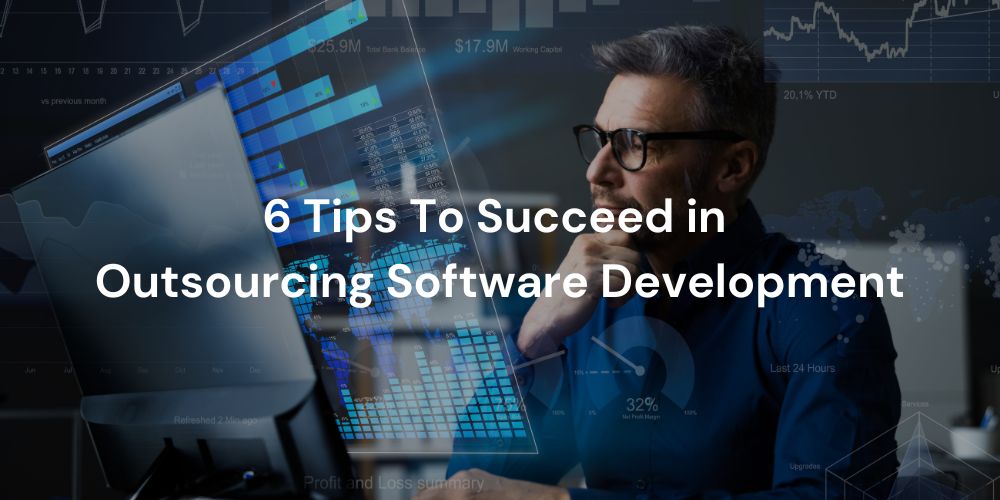 Outsourcing Software Development is one of the most discussed business strategies, as technology is developing at an incredible rate, and companies are more competitive than ever before.
In this article in this guide, we'll explain the importance of software outsourcing and how it can be an effective strategy for your company in terms of time, cost, quality, and efficiency. Let's look more deeply to see what the concept of software outsourcing can do and how it can benefit your business.
Read more: Top 6 Tips To Succeed in Outsourcing Software Development
What Is
Outsourcing
Software Development?
Software outsourcing occurs when businesses decide to use custom software developed by a third party. Outsourcing software development offers numerous advantages, including lower costs and efficiency improvement, reduced risks, and increased security.
In the current digitally-driven business environment, businesses can connect with the top software developers in the world. Established companies and startups alike are using outsourcing software to build their products.
But that's only the beginning. Let's understand what outsourcing software can do and how it could benefit your company.
Read more: The benefits of Outsourcing Software Development?
Outsourcing
Software Development
Models
There are three primary models for outsourcing software development. These are dedicated developers models, the staff augmenting model, and the project-based models.
Dedicated Team Model
Through this model, you'll be able to access a dedicated group of skilled and experienced developers who are experts in the necessary technology stack to complete your project. Furthermore, the outsourcing firm will provide you with the most dedicated staff so that you are not in doubt regarding the team's skills you're working with. The Dedicated Team Model is the preferred method for many companies because it provides greater control and flexibility.
Staff Augmentation Model
The software development company can add skilled people to your team in the staff augmentation model. The significant benefit is that you'll get access to the top engineers on a large scale.
Project-Based Model
The Project-Based Model involves the developers working on a project with a clearly defined timeline. The company that develops software will manage the entire process of developing your product from start to finish. This can be cost-effective. However, there isn't space for scope changes during the development phase, and the quality of the product could be sacrificed as a result of this.
How to Outsource a Software Development Project?
To ensure that your project runs smoothly, We have listed 3 ways to outsource software development.
Evaluate Your Team's Skills
Before outsourcing software development, you have to determine the expertise you need. Review the capabilities of your team and determine any areas of weakness in their skills. Once you have identified the abilities, you require to develop specifications for your project that outline what the product will perform and how the task is to be carried out.
Then, you can contact the outsourcing software companies listed on your shortlist and choose which is the most appropriate partner. At Bestarion, we look at the project's specifications in detail. Our distinctive Design Thinking mindset is distinguished by our process, which guarantees that each project is finished within the timeframe.
We follow a five-step approach in software design: empathize design, define, think prototyping, test and prototype. This approach allows us to finish projects fast without sacrificing quality.
Verify the Quality of Outsourcing Software Development Companies
Before you decide to hire a company to develop software, check their credibility on the market. Check out their website and look at the case studies. It is also recommended to check reviews from third-party review sites and their social media pages to determine how they're being positioned within the market. Additionally, you must call their former customers to confirm the quality of their work.
Implement Project Management Processes
After selecting your outsourcing software company, the project management tools can track the progress. Platforms such as Basecamp, Trello, and Jira permit tasks to be delegated to developers specifically responsible for the task. They also facilitate interaction between the client and developers via calendars and messages threads.
Your outsourcing company must assign an Engineer Manager and team leaders to ensure that the milestones are met and that responsibilities are fulfilled. The key to outsourcing software development success is communication, and when communication channels are in place, projects can be developed effectively and launched in time.
It can take some time to locate an outsourcing software firm you'd like to collaborate with over the long term. The effect outsourcing development could affect your business is what makes it worth the effort.
How to Choose the Right
Outsourcing
Software Development Company?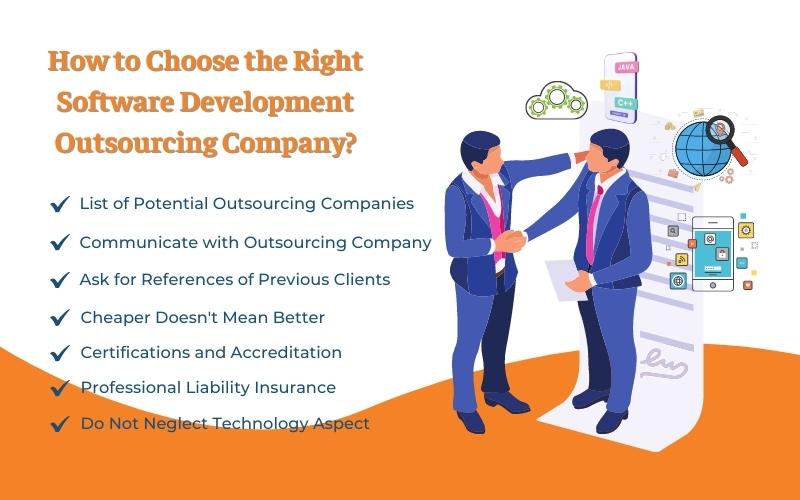 An accurate assessment and choice of offshore companies are essential for your company's success with outsourcing software overseas. Therefore, it is essential to choose the best offshore vendor to perform the task according to your specifications and possess an acceptable working culture and high ethics. Here are some things to be looking for in companies that develop software:
Make a List of Potential Software Outsourcing Companies
One of the best ways to know whether a company is a good fit for you is to search for and select the potential partners that can offer the services you require and make sure you send out an RPP (Request For Proposal). If you distribute an RFP, you will be able to verify that the vendor will meet your needs and expectations. Additionally, you can talk to your contacts in the business or colleagues to find out if they have any suggestions.
Be sure to communicate effectively with the Outsourcing Company
Communication between your and the overseas vendor is crucial. Please make an appointment or call to understand their style of communication. Seek out a suitable match. Good communication improves quality. It is possible to use tools such as Microsoft Teams, Google Hangouts, Zoom, Skype, and many more. Tools allow your team to work effectively.
Ask for References of Previous Clients
It's an excellent idea to look over the software outsourcing company's references portfolio and connect with the customer they've worked with when you require confidence in the quality of their services. It is recommended that you contact the references customers to ask for their comments.
References are helpful, but be sure to study their case studies and conduct your research. Review their cases and accomplishments to determine if they are proficient in similar projects or have expertise in specific technologies required to implement your project.
Cheaper Doesn't Mean Better
Be wary of outsourcing services for software development that provide "cheap" costs or "rock-bottom" prices. It is not good to compromise on quality when outsourcing your software development. Instead, ask about the company's expertise in particular technologies, what they can provide and how they've been successful in the past.
Verify a Vendor's Security and Privacy Policies
An offshore vendor should have secure servers that ensure the security of sensitive data. Check the way that software development companies safeguard your information. Usually, an offshore provider must follow strict security standards to protect the client's private data.
Certifications and Accreditation
Vendors must be accredited and certified according to industry standards. Checking a company's software outsourcing certification and accreditation is an essential element of the screening process to assure security, quality standards and privacy.
It is strongly recommended that you check your company's accreditations with institutions like the International Organization for Standardization (ISO). Additionally, search for certificates such as ISO 9001 and ISO 27001. ISO 27001 is especially important since it covers the data and security of systems.
Professional Liability Insurance
Before developing software, ensure that the company has insurance for professional liability. Professional liability insurance could aid in protecting your business from potential damage resulting from mistakes or faults.
One of the most significant risks associated with outsourcing software is the possibility that the project may not be able to take off due to external factors like pandemics, natural disasters or the third-party becoming into bankruptcy. So, your outsourcing partner should have a risk and continuity plan and business continuity mitigation plan that will help them overcome any problems.
Do Not Neglect the Technology Aspect
While there are numerous other factors to consider when choosing an outsourcing service provider for software, avoid overlooking the technological aspect. For instance, the offshore provider must provide all the programming languages required to develop your software. Additionally, it is essential to know whether their process for developing software matches yours. The agile software design process is the preferred development method by most businesses these days.
Things to Consider When You Outsource Software Development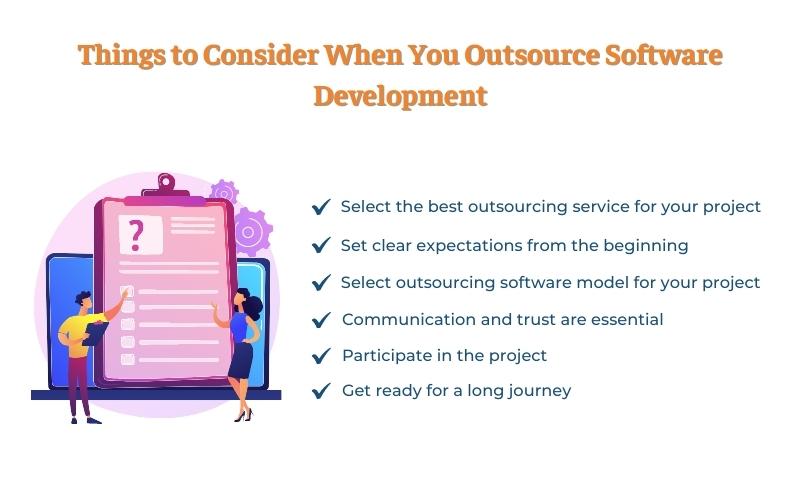 The Outsourcing of your project can ensure that you build a more flexible team that can focus on the aspects of your project they have the most expertise. Here are some points to think about in outsourcing your Software Development project.
Select the best software outsourcing service for your particular project
When selecting a partner, you should ensure that they possess the necessary abilities and resources to enable them to complete your project. Be sure to find out the software development processes they're following. Not all outsourcing companies for software are created equal.
Set clear expectations from the beginning
Even in a strong partnership, things can be a mess when both of you don't set specific expectations right from the beginning. While there is great trust between the partners, it's still essential to establish clear boundaries that define what elements of work each participant is accountable for.
Select the appropriate outsourcing software model for your particular project
As we mentioned earlier, there are three primary outsourcing options. Each has its own set of advantages and disadvantages, and it's vital to comprehend the distinctions between them and select the most suitable one for your requirements.
Communication and trust are essential
When you outsource your project, it is essential to communicate with your partner regularly to prevent any unexpected issues. Communication increases the confidence between the partners and will ensure that your outsourcing runs smoothly.
Participate in the project
The most successful businesses that outsource software development remain involved with their outsourcing partner for the time. This will allow them to assist in achieving better results.
Get ready for a long journey
It is a long-term strategy and will require a significant commitment from both sides. Your business should be prepared to establish an extended relationship and commit time and money to ensure it works.
Tips For How To Get Started With Outsourcing Software Development
Here are some suggestions to get started outsourcing software development following the selection of the outsourcing firm for software development.
Understand Your Requirements
The first step is to be aware of the competencies you require to work with for your project. It is also important to decide what you expect of your outsourcing software company. Do you need them to focus on the front end or the backend? Or both? What kind of input do you require in design and architecture choices? When you have a concept of what you're seeking, it will be much easier to identify the best outsourcing firms for software to provide the results you want.
Start Small
If you're beginning to get into outsourcing software development, it is recommended to begin with smaller projects to become familiar with the procedure. Start Small will allow you to understand the way things work and which relationships work best for your particular project. It is an alternative to jumping with both feet and tackling an enormous project.
Project Management is Important
Find out which tools and tools for managing projects the outsourcing company employs and how they integrate.
Contact your project manager often. This will help you keep in touch and ensure that there is no confusion between your team and theirs. A project manager can assist in solving any issues.
Make Your Outsourced Developers At Home
If you're looking to collaborate with your outsourcers in the long run, it is essential to ensure that they feel like a company member. You can accomplish this by interacting with them, discovering their interests, and sending them material you think they'd like.
Look For Ways To Increase Trust

Like any relationship, it is a lot of work. If you're willing to make an effort, it will pay off for you and your partner. You can establish confidence with the team members by granting them access to the entire structure of your organization and sharing ideas and knowledge with the team you outsource to.
You can be transparent and honest about any issues occurring during software development. Another method to establish trust is to define what you want from your outsourcing provider and ensure that they communicate transparently, provide timely updates, etc. Finally, after you've established trust between you and your outsourcing partner in software development, you can continue to expand your relationship with them.
Identify and Solve Problems As They Arise
A further aspect that is crucial to success is to be able to recognize and resolve issues at the earliest possible time. It's not just about technical issues. And it is also any problem that could be encountered, such as budgetary constraints, scope creep or changes to the timeline. You must be proactive concerning these issues to have an effective outsourcing partnership that allows you to proceed with your project without difficulties.
VietNam – Best Outsourcing Software Development Destination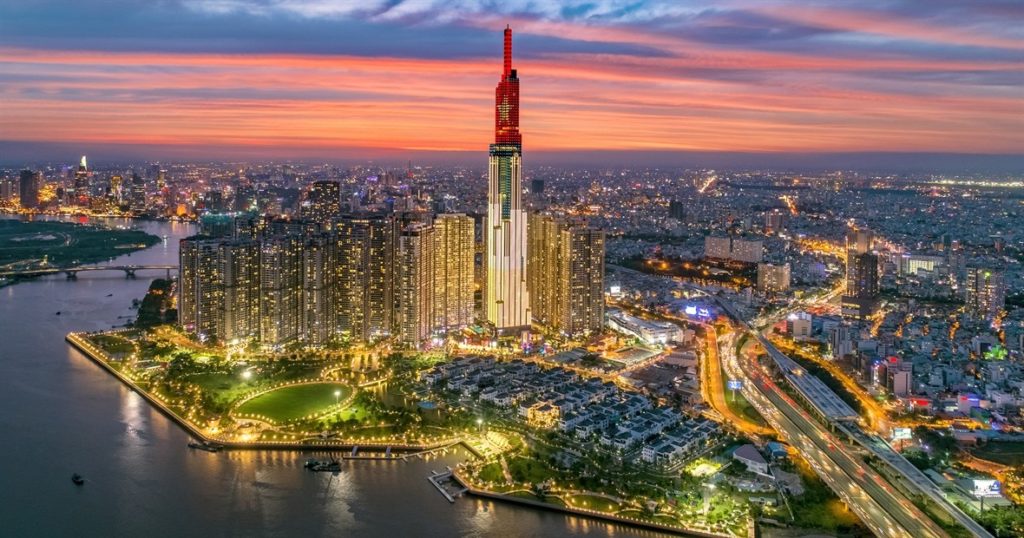 The primary reasons Vietnam is considered one of the most desirable destinations for outsourcing software are the quality and affordability of its human resources and its technologically advanced base.
Young Population and High IT Talent Density
Southeast Asia holds an extensive collection of IT experts – over 10 million programmers, and South East Asia has the lowest labour costs for outsourcing software. Vietnam particularly has a young population. Seventy percent of the population are less than 35 years old and have an intense concentration on IT, focusing on Machine Learning, Artificial Intelligence and Mobile applications. Vietnam is also considered a middle-income state and is among the most vibrant emerging countries in the East Asia region, which means that the labour cost will be reasonable and the quality of education will rise.
One of the most prestigious IT hubs around the globe
According to the international real estate advisor Cushman & Wakefield (C&W), Vietnam topped the Global Ranking for top outsourcing destinations for software development in 2015. Vietnam is also regarded as the most popular software outsourcing destination for Japanese firms and numerous international partners, such as Apple, IBM, Intel, Microsoft, Bosch, etc. The market is expected to be at least $300 billion by 2025, making Vietnam the fastest-growing country for outsourcing software services.
Although it is a latecomer in the field, Vietnam boasts a new experience in outsourcing software development. The country's success is more than 400,000 IT engineers, with more than 50,000 students graduating each year from 153 IT schools.
Cultural Fit
Cultural fit is an essential aspect to consider for outsourcing to any country. In Vietnam, Vietnamese society is described as welcoming and accommodating and hardworking. Additionally, Vietnam's Vietnam workforce is well-known for its commitment to discipline, discipline and team-oriented, which are the ideal traits for outsourcing software development.
Read more: Top 10 Software Outsourcing Development in Vietnam
You're Ready to Outsource Software Development. What is next?
Are you in the process of outsourcing? Contact potential partners with an email of welcome, open yourself to a new partnership, and see your business grow in the coming years!
Do not be reluctant to seek an expert's advice. Every outsourcing software development company will offer suggestions regarding your project. Consider this as an opportunity to understand more about the required technology and what kind of process is best appropriate for your particular project.
The most important thing is always to keep an emergency plan. It is impossible to anticipate all dangers and be prepared for the unexpected, and you will be able to overcome any difficulties.