How To Handle The Top 5 IT Staff Augmentation Challenges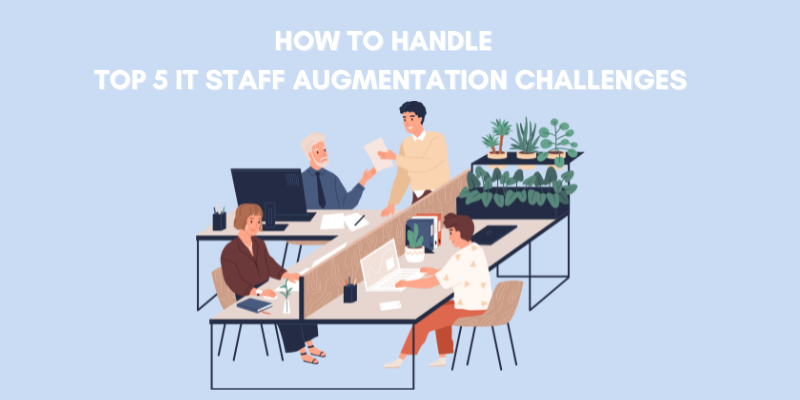 Staff augmentation is increasingly regarded as one of the most effective methods for improving time-to-market, lowering costs, and embracing innovation. The Covid-19 crisis demonstrated the effectiveness of a remote working approach. As a result, despite the challenges of staff augmentation, many firms intend to increase their usage of IT outsourcing. Furthermore, those who have never used staff augmentation services intend to do so for the first time in 2022.
Businesses are increasingly comfortable adding offshore or nearshore IT specialists to their teams. This allows them to access IT talent worldwide while keeping costs under control. Virtual job interviews, contract signing without a formal handshake, online training, and celebrating project success over a virtual cocktail party have all become the new normal.
Are you prepared to adapt to the new reality and capitalize on staff augmentation? If you've had trouble extending your team with offshore or nearshore IT expertise, we'd be pleased to assist you with these and other staff augmentation concerns.
Top 5 Staff Augmentation Challenges
1.  Finding the correct expertise
Today, a critical lack of talent exists in America and Western Europe, making it increasingly challenging to locate IT workers with the requisite skills, experience, and background. As a result, many businesses opt for IT staff augmentation services and recruit offshore specialized developers in prominent IT outsourcing locations such as Eastern Europe, Asia, and Latin America.
Solution: Collaborate with a trustworthy technology vendor.
To identify the best IT outsourcing destination, consider factors such as cultural compatibility, time difference, the size of the talent pool, service range, technology knowledge, the level of English proficiency of IT experts, and so on. When choosing a staff augmentation vendor, follow these best practices:
Choose the finest location

: The location of the vendor's delivery center is an important consideration when looking for a dependable staff augmentation company. Because of its abundant engineering talents, India has long been a pioneer in IT outsourcing. Mexican and South American developers are well-known for providing nearshore development services to US-based companies. However, compared to other destinations, these countries have less developed infrastructure. More and more often, Western businesses cooperate with Eastern European vendors. This region features a highly qualified workforce, strong STEM education, and a large talent pool. It is also culturally close to Western Europe and the United States, allowing for more effective communication. In addition, Asia is also a perfect choice because of its abundant human resources, cheap labor costs, and extensive IT knowledge.

Make a list of vendors

based on their service offerings, case study portfolio, experience, technical knowledge, security standards, etc.

Conduct an introduction call

with a vendor to resolve any outstanding issues during a live conversation (staffing and onboarding process, legal issues, management, possible challenges in staff augmentation projects, best practices in testing, PM, DevOps, etc.)

Examine the shortlisted suppliers' evaluations, references, success stories, and video testimonials

. This information is available on the organizations' websites, LinkedIn pages, and ranking platforms like Clutch, Manifest, Goodfirms, and others.

Consider the suppliers' size and recruitment skills

, as mid-size and big vendors are more likely to have the resources you require internally.

Look for a vendor with

extensive experience building dedicated development teams

to deliver the required solutions, especially in your industry.

Check that your partner

adheres to security standards

such as ISO or industry-specific certifications such as PCI DSS and HIPAA and that it has adequate information security and business continuity (BC) procedures.

Choose the vendor who understands your company's needs and requirements, schedules more calls with you, and sends you follow-ups.

Communication and empathy

are essential for the success of your collaboration.
Read more: IT Staff Augmentation vs. Managed IT Services
2. Communication and management 
The keys to the success of any cooperation are practical communication and management. And now, during the coronavirus epidemic, when everyone is so far apart, it's critical to establish close links amongst your scattered teams so that everyone feels integrated and a part of the total.
Solution: Establish effective teamwork
Large staffing firms have created management processes and communication best practices to enable seamless service delivery to clients. Project Management is typically assigned full management responsibilities in small businesses. Whatever type of company you select, the following points should be highlighted when establishing a collaboration with a new IT Staff Augmentation provider:
Check with your provider to determine if they will assign someone to oversee the project's completion.

At Bestarion

, we give the delivery manager to your team for free.

For efficient communication in a digital context, select the appropriate collaboration tools.

Conduct regular reviews of the services provided.

Acceptable project management approaches include Agile, Scrum, Kanban, and SAFe.

Agree on coding standards.

Check that your IT Staff Augmentation provider offers security while you work from home.

As much as feasible, socialize with your remote teammates.

Choose a location where you will have at least a 2-3 hour overlap with your outsourced workforce and use time zone differences (to ensure 24/7 support or to roll out a new version, for example).
3. Legal issues
Contract negotiation is crucial because it adds openness and security to customer-vendor relationships. A poorly constructed contract may have a negative influence on your business. It may result in unforeseen outsourcing costs, poor quality control, compromised information security, and other staff augmentation issues.
Solution: Make a win-win contract.
Most software development outsourcing contracts follow one of three collaboration models: long-term dedicated development team, short-term time & material projects, and fixed-price projects with clear required scope. The sort of contract depends on your business goals, and some terms may differ, but there are many key things that each contract must contain to prevent legal complications from escalating:
Penalties for any party who fails to comply with the contract conditions.

Liability clauses that establish your and your partner's responsibilities;

Warranty to ensure a particular degree of quality in the services provided.

Notice periods are when a team can be scaled up or down. Project execution and delivery can be hampered by ambiguous notice periods.

Data protection rules, such as deidentification, reidentification, and data anonymization.

If the contract is international, this is the prevailing law.

Terms for issuing and paying invoices

Non-solicitation agreements that ban each other from recruiting IT professionals.
4. Scalability
Extending a team with extra IT expertise is one of the most challenging staffing difficulties many firms confront. If you intend to have a large software development team with various teams working on different projects, a lengthy recruitment procedure will only delay your time to market. As a result, you should specify how long a vendor typically takes to build a team with one IT specialist. Even in nations with large talent pools, recruitment may take some time, especially if you require specialists in unusual tech stacks such as Scala, Golang, or Data Science/AI-related technologies. As a result, you should factor this into your project estimates.
Solution: Select a vendor with sufficient recruitment capabilities and a large network of IT professionals.
We've compiled a list of items you should consider before forming a relationship with a vendor:
Check to see what the average company's attrition rate is. According to LinkedIn and other related sources, it should be around 10-15%.

Determine how many recruiters the organization employs.

Learn about the company's internal pool of IT talent.

Examine whether the organization has a strong employer brand. Employees leave companies for various reasons, one of which is a poor employer brand. Check whether an IT outsourcing firm provides employees with pleasant working circumstances, professional growth, training opportunities, fair compensation, and so on before partnering with them. This would alleviate many of the difficulties associated with staff augmentation.

Agree on reasonable notice periods for scaling up/down a team with a vendor.
Also, how quickly team members may join is typically essential to the client. The client frequently determines the speed of onboarding. For example, you should ensure that you provide prompt feedback following interviews with potential employees. Today's IT market is highly competitive. And if people have to wait for feedback for several days or weeks, they may choose a IT Staff Augmentation provider that responds faster.
5. Project knowledge transfer 
Knowledge transfer is critical at every stage of the project, including the project kick-off phase, project implementation, and project completion. You risk organizational waste if the entire process is rewritten from scratch. You don't have a solid plan for what information assets to collect and how to arrange the process.
Solution
:
Ensure excellent information sharing 
Hire a vendor with best practices for effective knowledge transfer to ensure a smooth and safe journey. Bestarion has a track record of effectively completing projects acquired by clients and former providers. We have learned from experience that knowledge transfer fails when it is haphazard and informal and works when it is deliberate, well-planned, and well-communicated. The following are some basic actions your vendor should take to ensure successful knowledge transfer:
Define which items of knowledge should be passed.

Determine who will be in charge of knowledge transmission.

Examine the appropriate technical documentation availability: the new partner must understand the existing code, infrastructure, and product.

Conduct the necessary meetings and Q&A sessions, and invite the appropriate stakeholders to the call so that only correct information is provided on time.

Make some measurements to evaluate the outcomes (time spent for project kick-off, team velocity, etc.)
How Does Bestarion Assist With Staff Augmentation Challenges?
Bestarion has assisted businesses worldwide in augmenting their software development teams with top IT experts. Bestarion has been chosen as a strategic IT outsourcing partner by over 200 corporations and tech companies in Europe and the United States. And this is why:
Variety of expertise and technologies

Significant cost savings

Simple and fast hiring process

A large pool of IT specialists

No administrative burden

Seasoned recruiters

Recruitment method that has been tried and tested

Assistance with interviewing and onboarding

A comprehensive candidate screening procedure

Excellence Centers that assure expertise and service quality

Experience with various technologies such as AI, Mobile App Development, Web Development, Data Science, DevOps, etc.

The ability to fill any gaps in your skill set

Flexibility in expanding up and shrinking down the team

IT infrastructure that is ready to use and secure

Experienced delivery managers will assist in avoiding frequent issues in staff augmentation initiatives.

Efficient knowledge transmission

Scrum and SAFe hands-on experience

A well-structured and well-established remote working model
Our IT Staff Augmentation Process
1. Tell your requirements
Our IT Staff Augmentation service analyzes your needs. We collect job requirements and project specifications to ensure a great match for your project.
2. Choose developers
After receiving your requirement, we identify the most appropriate software developers for hire, submit the CVs, and organize an interview.
3. Interview
You can attend an interview with selected candidates or assign a test for them.
4. Agreement
After you confirm the hires, we discuss with the agreement issues and set up the working process.
5. Project kick off
After signing the contract, the software development team starts working in a few days.