Supply chain (SC) management is the handling of the entire production flow of a good or service — starting from the raw components all the way to delivering the final product to the consumer. To accomplish this task, a company will create a network of suppliers (the "links" in the chain) that move the product along from the suppliers of raw materials to the organizations who deal directly with users.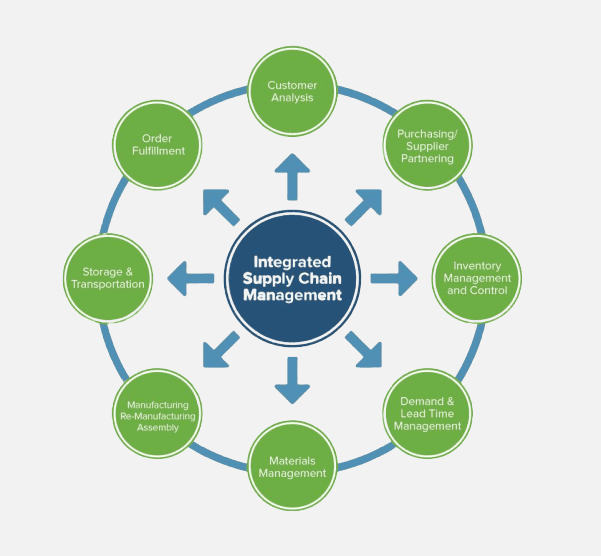 According to CIO, there are six components of traditional SC Management :
Planning – Plan and manage all resources required to meet customer demand for a company's product or service. When the supply chain is established, determine metrics to measure whether the supply chain is efficient, effective, delivers value to customers and meets company goals.
Sourcing – Choose suppliers to provide the goods and services needed to create the product. Then, establish processes to monitor and manage supplier relationships. Key processes include ordering, receiving, managing inventory and authorizing supplier payments.
Making – Organize the activities required to accept raw materials, manufacture the product, test for quality, package for shipping and schedule for delivery.
Delivering (or logistics) – Coordinating customer orders, scheduling delivery, dispatching loads, invoicing customers and receiving payments.
Returning – Create a network or process to take back defective, excess or unwanted products.
Enabling – Establish support processes to monitor information throughout the supply chain and assure compliance with all regulations. Enabling processes include: finance, human resources, IT, facilities management, portfolio management, product design, sales and quality assurance.
Using software for SCM
With SC Management becoming so complicated, many types of software have been developed to optimize supply chain performance. Software products cover the gamut — from supplying timely and accurate supply chain information to monitoring sales — so that manufacturers produce and ship only as much product as can be sold. By reducing unneeded inventory, both manufacturers and retailers can lower the costs of producing and shipping goods and services.
For instance, IBM has developed many software products to increase the effectiveness of SC management, with some of the software even using artificial intelligence (AI) technologies. With AI capabilities, the software can actually "learn" an ever-fluctuating production flow and can anticipate the need for changes. IBM products include:
IBM Order Management enables the execution and coordination of order orchestration processes across an extended SC network.
IBM Supply Chain Business Network enables companies to see all relevant transactions from a single dashboard. The software can quickly pinpoint and assess issues without IT involvement, allowing resolution in minutes not hours.
IBM Supply Chain Insights has Artificial Intelligence (AI) capabilities to help you cut through data noise and get the insights you need to act faster, with confidence.
Key Features of Effective Supply Chain management
The supply chain is the most obvious "face" of the business for customers and consumers. The better and more effective a company's SCM is, the better it protects its business reputation and long-term sustainability.
IDC's Simon Ellis in The Thinking Supply Chain identifies the five "Cs" of the effective SCM of the future:
Connected: Being able to access unstructured data from social media, structured data from the Internet of Things (IoT) and more traditional data sets available through traditional ERP and B2B integration tools.
Collaborative: Improving collaboration with suppliers increasingly means the use of cloud-based commerce networks to enable multi-enterprise collaboration and engagement.
Cyber-aware: The supply chain must harden its systems and from cyber-intrusions and hacks, which should be an enterprise-wide concern.
Cognitively enabled: The AI platform becomes the modern supply chain's control tower by collating, coordinating and conducting decisions and actions across the chain. Most of the supply chain is automated and self-learning.
Comprehensive: Analytics capabilities must be scaled with data in real time. Insights will be comprehensive and fast. Latency is unacceptable in the supply chain of the future.
Many supply chains have begun this process, with participation in cloud-based commerce networks at an all-time high and major efforts underway to bolster analytics capabilities.