In today's fast-paced business landscape, startups often face numerous challenges and constraints that can impede their growth and success. One of the most significant hurdles they encounter is the need to develop high-quality software products quickly and cost-effectively. Agile software development outsourcing has emerged as a powerful solution for startups, offering a range of benefits that can help them navigate the competitive technology market and achieve their goals. This article explores the concept of agile software development outsourcing, its advantages, potential challenges, and best practices for startups looking to leverage this strategy.
What is
Agile Software Development Outsourcing?
Agile software development is a methodology that focuses on iterative, incremental development and encourages collaboration between cross-functional teams to deliver high-quality software. The Agile approach emphasizes flexibility, adaptability, and customer-centricity, making it an ideal fit for startups seeking to develop innovative and competitive software products.
Outsourcing, on the other hand, involves contracting third-party service providers to handle specific tasks or projects, often to reduce costs, access specialized skills, and improve efficiency. When startups combine agile principles with outsourcing, they create a dynamic approach known as Agile Software Development Outsourcing.
This approach allows startups to harness the advantages of both agile software development and outsourcing to expedite their product development cycles, manage limited resources, and enhance their overall competitiveness. Here are some of the key benefits that startups can derive from Agile Software Development Outsourcing.
5 Benefits of Agile Software Development Outsourcing 
Gartner has surveyed IT and business professionals about adopting Agile software development. According to the study, 59% of the businesses that have adopted the Agile approach say they have improved their capacity to deal with changing priorities, while 58% report faster delivery of products.
Agile management is regarded as one of the top methods of work, particularly during times of uncertainty, where you have to be able to change and react quickly to changes. Planning sprints, daily stand-ups, demonstration sessions, Retrospectives, and backlog grooming can make your work more efficient and manageable.
Agile software development is built on three fundamental concepts: values, adaptability, and transparency.
The value increases through constant feedback and planning, which allow for continual improvements to the product.

The ability to adapt is gained through iterative design: an agile team of software developers can adjust the software to meet the demands of the business at hand;

The visibility is achieved through regular software testing, which aids in monitoring and improving the performance of programs at every stage of development.
Agile allowed for flexibility and was developed to adapt and respond rapidly to changes quickly.
Agile software development outsourcing can bring advantages that are crucial in lockdown times. Here are a few:
Faster Time-to-Market
Agile methodologies emphasize shorter development cycles, making it possible to release a minimum viable product (MVP) quickly. This not only allows startups to validate their ideas and gather user feedback but also puts them ahead of the competition in terms of time-to-market.
The Agile development team could be distributed across multiple workplaces when you work remotely. This type of work is commonly called Agile development distributed. This technique allows you to develop software continuously, which speeds up product delivery.
Through constant planning and fixed sprints, your agile team of software developers can deliver new features in a short time, regularly, and with an excellent degree of certainty.
Improved ability to manage to change priorities
Flexibility is crucial in the present when businesses have to react quickly to changes to weather the storm. One of the significant benefits of Agile outsourcing software development is the capability to change and implement changes as needed.
The Agile Software Development Team could remain focused on delivering product features and attributes. However, there is the possibility of improving and revising the overall backlog. In this Agile software development process, you can launch modifications and new features within only a couple of weeks.
Better Quality
Agile software development involves dividing the project into manageable pieces that allow you to conduct reviews and testing during each iteration. This makes it simpler to identify and correct flaws at an early development point. This brings us to our second important benefit:
Lower costs
The cost of fixing a problem is contingent on the stage that it occurs in the software development lifecycle (SDLC). The price for fixing bugs can increase by 100 times over the phases, as per the IBM study. Therefore, the project's cost can be cut significantly because of the constant monitoring of quality in Agile software.
Cost and Time Savings
Additionally, before each sprint is completed, an Agile development team calculates the time it'll take to build a specific feature. Since there are predetermined work hours for each sprint, estimating the cost of features is more straightforward. This means that the price can be more easily predicted in Agile software development outsourcing.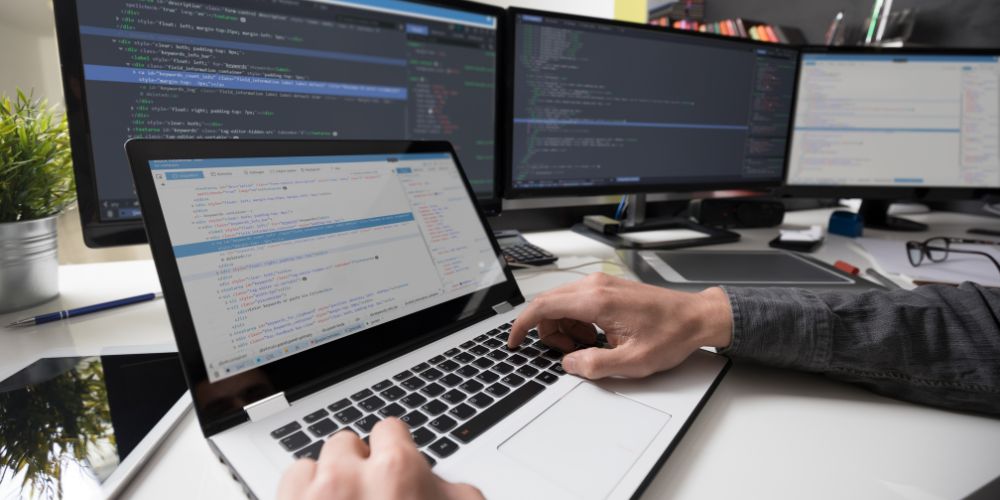 4 Challenges Of Agile Software Development Outsourcing And How to Overcome Them
Remote working presents problems that are a challenge for Agile team members working on software. The disruption of a team's constant coordination, hindering interactions, and other issues can lower productivity. Furthermore, working from home can increase any absence of clarity regarding the roles, responsibilities, and goals.
Remote work globally is a problem we all have to face, but Agile methods can be modified to tackle it successfully.
The best option is to work with smaller, agile teams to maximize efficiency in the age of remote work. Based on McKinsey's research, work quality and schedule compliance are more excellent in teams with ten to 15 individuals. Additionally, Agile distributed teams need to concentrate more on increasing the use of technology that facilitates efficient collaboration.
What are the main challenges, and how can you overcome these most significant challenges?
Access to the resources
In terms of software development, there are two kinds of resources: digital and physical. Physical resources comprise both hardware (laptop chargers, laptops, etc.) and applications (code editors, integrated development environments, and more.). Digital resources include office suites, code repositories, IT support portals, etc.
Agile teams for software developers require access to both sources. To overcome this problem regarding remote access to the team, you and your Agile outsourcing partner must examine and extend the licensing for the source used and provide employees with the appropriate credentials to access the resources remotely. Go through the post for more information on securing this process to protect your data.
Communication Barriers
Smooth, efficient, and prompt communication is crucial to productivity and Agile processes. Differences in time zones, language, and culture can lead to communication challenges between the startup and outsourcing partner. Effective communication is essential for successful project execution. There are a few guidelines to ensure efficient and clear communication when you are in remote working mode, where face-to-face communication is impossible.
Establishing communication channels
An Agile development team has to be flexible and ready for a quick response to any announcements of changes. Therefore, it is essential to establish communication channels to ensure that developers remain up-to-date with the most current developments. It is crucial to increase the utilization of technology that facilitates efficient collaboration. Here are a few examples of tools and channels that our teams of Agile software developers make use of to ensure effective communication:
Keeping availability transparent
The time for responding for all team members has to be clarified for all team members. If there is a time that a person cannot respond, the appropriate time must be spelt out in the calendar, and it is best to announce it in advance.
Taking stock of all communications
In terms of communication, it's an excellent idea to make calls rather than write. This can accelerate the process because voice communications and video calls require shorter than instant messaging.
Setting goals clearly and prioritizing
In the case of remote working, everyone on your Agile developers must see the full view of the overall picture. Because the work is broken down into smaller chunks, it is essential to communicate your team's goals and expectations.
To tackle this problem To overcome this challenge, make sure the objectives are clearly stated and clear. When it comes to agile outsourcing of software development, it is suggested to establish a measurement system that clarifies goals and critical outcomes.
Physical distance
We've mentioned before that the Agile approach can be used with team management distributed. However, the physical distance between team members working remotely, particularly those who work from different time zones and locations, could create a challenge for collaboration.
Here are some guidelines that we adhere to to ensure the efficiency of cross-border collaboration among teams that are distributed:
Teams should be reminded to help facilitate the team's interactions and not just the outputs of the group

The establishment of a common understanding of the results of work;

Recognizing and accepting the challenges physical distance poses and using the appropriate tools to conquer these challenges.

Inviting managers of remote teams to ensure that meetings are less remote through technology to establish real-time communication.
How to Choose an Agile Software Development Outsourcing Company?
Locating a trustworthy Agile software development provider can be challenging, so we've compiled the most important points that will assist you in your quest to pick the right company.
Pay attention to the company's communication culture
.
An agile software development outsourcing provider is concerned about the long-term success of its client. Select a company that takes the initiative to comprehend your company's needs, set appointments for additional calls with you, and follow up with you. The desire of a company to provide you with every detail and nuance can ensure that you are successful in your relationship over the long term.
Make sure the vendor has established Agile procedures
.
Check out the testimonials and references of potential partners through their sites, LinkedIn accounts, and Clutch. co profiles. For example, at Clutch.co, you can discover how successful your collaboration with this vendor proved to be for other businesses and the vendor's areas of expertise, what issues other customers were experiencing, etc.
Here's an illustration of the client reference on Clutch. co
Verify the certifications of the company and recognition from the industry
.
Agile software development company has certified professionals like Scrum Masters, Scrum Professionals, or Scrum Product Owners. Additionally, trustworthy vendors are typically acknowledged with GSA UK Awards, Global Outsourcing 100, IAOP, and Clutch.co, or other awards that recognize their outsourcing efficiency and expertise.
Pick an agile yet well-structured company
.
Select a seasoned partner because it indicates that the business has streamlined and reliable business procedures.
Keep in mind that larger or midsize businesses have more capacity to fulfil the demands of your business. It is vital to choose an organization with an organized structure and low levels of bureaucracy to achieve the highest efficiency.
Check out the company's DevOps expertise
.
McKinsey reports that, on average, the infrastructure and engineering teams complete projects in line with their initial estimations only 20 per cent often. DevOps can help address this issue by optimizing the process of development and deployment.
Utilizing DevOps provides benefits like increased visibility into the project's progress, a shorter time to bootstrap when starting new initiatives, improved development efficiency, etc.
For example, Bestarion DevOps engineers enhance the transparency of the progress of their software by developing and installing software in stages using completely automated cycles of deployment (CI/CD).
The efficiency of development can be achieved through standard software development environments with automated deployments that enable your team to concentrate on their work.
Read more: What is DevOps lifecycle? Benefits and Method.
Take cultural compatibility into consideration
.
In this age of the internet and remote communication, the fear of miscommunication is commonplace since it can affect productivity at work. Cultural variations are one of the elements that affect the communication process directly. Therefore, you should look for the right provider who is akin to your own culture and your communication style and work ethic.
Final Thoughts
Overall, outsourcing agile development is a good alternative for startups in terms of cost savings, timely delivery, and increased productivity. However, choose your service provider carefully and communicate effectively. Following that, there's a good probability that revenue will increase and work efficiency will improve.
Read more: