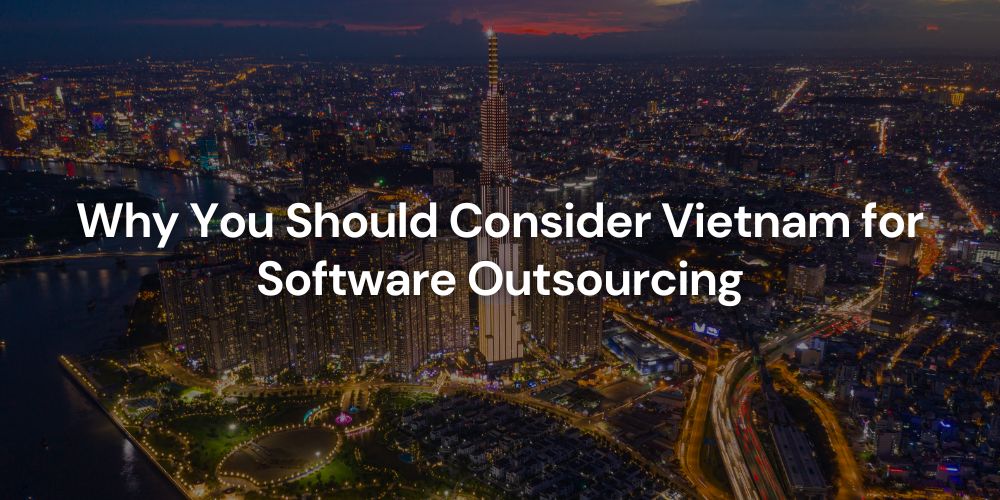 In recent years, Vietnam has emerged as a rising star in the world of software outsourcing. Located in Southeast Asia, this picturesque country boasts a dynamic economy, a highly skilled workforce, and a thriving tech ecosystem. As a result, it has become an increasingly attractive destination for companies seeking to outsource their software development needs. In this article, we will explore the compelling reasons why you should consider Vietnam for software outsourcing.
Read more: Top 10 Software Development Outsourcing Countries in 2023
Why Viet Nam for Software Outsourcing?
This might be the first question when discussing the prospect of software outsourcing to Vietnam. The prevailing perception of Vietnam may depict it as a relatively small and economically modest nation. Indeed, Vietnam fits this description. However, it is imperative to recognize that Vietnam has assumed a remarkable and consequential role in the realm of technology, particularly within the software outsourcing industry. To dispel any doubts, let us delve into the evidence derived from reputable sources, which unequivocally demonstrate Vietnam's ascent as a rising star on the global stage of software outsourcing.
In the 2023 A.T. Kearney's Global Services Location Index™ (GSLI) report, Vietnam (GSLI rank 7) remains a strong Asian outsourcing destination. The presence of major technology companies demonstrates that Vietnam is a global digital hub, motivating it to continue upskilling its workforce.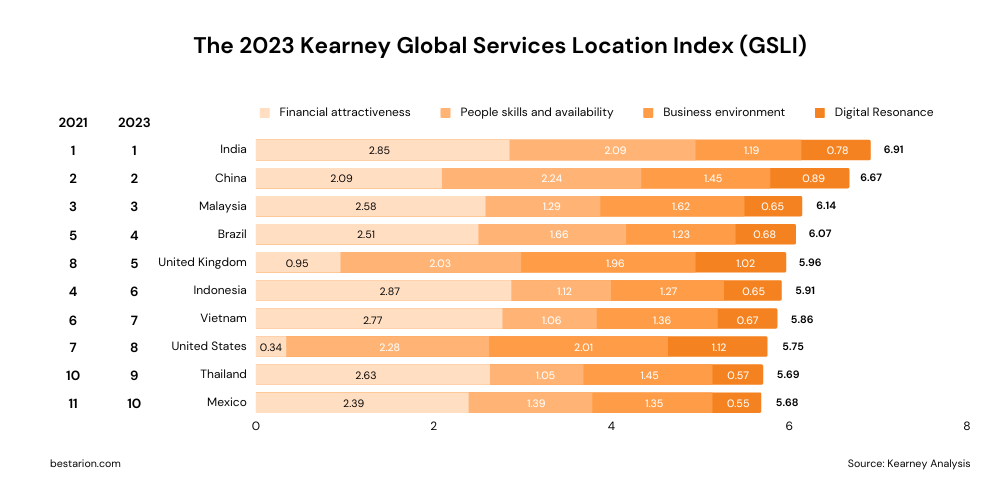 Top 5 Reasons for Software Outsourcing to Vietnam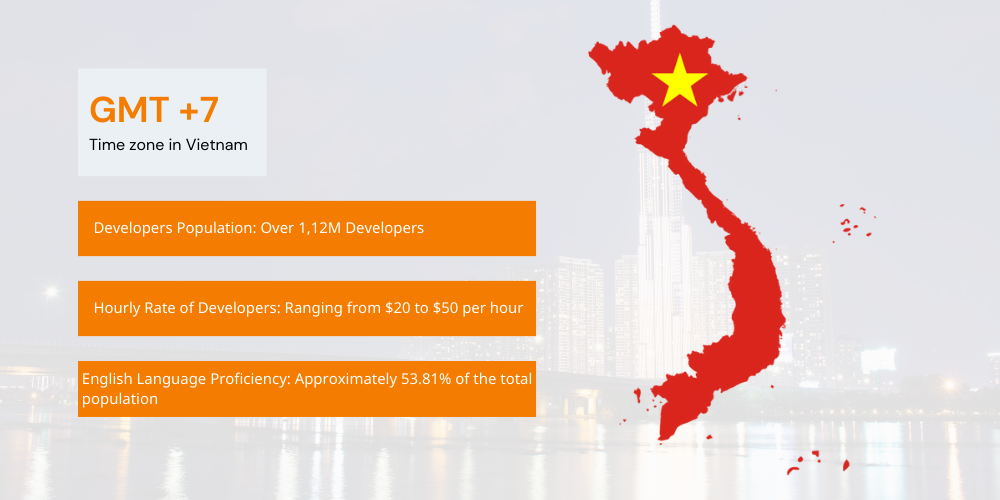 1. A Large Pool of Educated Young Talents
Vietnam's educational system places a strong emphasis on STEM subjects, and as a result, there is a constant influx of highly skilled IT professionals who possess proficiency in English and a deep understanding of international business practices.
Vietnam boasts a youthful demographic profile, with approximately 53% of its nearly 100 million inhabitants under the age of 35, resulting in a median age of just 32.8 years. This youthful population forms a formidable talent pool that propels the country's thriving IT industry. Moreover, Vietnam maintains one of the world's lowest unemployment rates.
According to a report by TopDev, Vietnam annually produces around 400,000 IT engineers through its 153 recognized educational institutions. Furthermore, the Ministry of Information and Communications (MIC) reported that the total number of digital tech firms in Vietnam in 2022 reached 70,000, reflecting a 9.6% increase from the previous year. Impressively, 60% of these companies have transitioned from low-value to high-value manufacturing processes.
Vietnam has consistently demonstrated its prowess on the global stage:
In 2018, Vietnam ranked 29th, just ahead of France, in the Skill Value Report's Developer Skills Chart.
In 2021, Vietnam secured the 3rd position for Artificial Intelligence Coders according to HackerRank's report.
Vietnamese Coders earned the 11th highest rating globally in 2022, according to the Developer Skills Charts of the Topcoder Report.
The international community has recognized the immense potential in Vietnam's IT landscape, with tech giants such as Qualcomm, Intel, Sony, and Samsung making substantial investments in the country in recent years. These investments extend to both hiring top talent and funding research and development initiatives. Notably, the IT-related industries in Vietnam have experienced minimal turnover, underlining the stability and attractiveness of the sector. Additionally, the growing presence of IT outsourcing companies in Vietnam offers a wide range of options, fostering healthy competition and providing ample choices for businesses seeking IT services.
2. Competitive Cost
In a nation where the GDP per capita hovers around $4,000 USD, despite robust economic growth, the cost of both infrastructure and labor remains exceptionally competitive when measured on a global scale.
Vietnam presents an extremely compelling value proposition for IT outsourcing services. The average hourly rate for a software developer in Vietnam stands at approximately $25 (falling within the $20-40 range), significantly undercutting the rates typically found in other outsourcing destinations such as India or China. This cost advantage positions Vietnam as an alluring choice for businesses aiming to reduce expenses while upholding the standard of quality in their software development projects.
CIO magazine goes even further by asserting that outsourcing to Vietnam can yield savings of up to 90% in software development costs when compared to the United States of America. Other studies also suggest that software development expenditures in Vietnam are approximately 50% lower than those in India. This means that outsourcing software development projects to Vietnam represent one of the most cost-effective choices available worldwide. Vietnamese software development companies consistently offer their services at highly competitive rates, making it an unparalleled value-for-money proposition for businesses seeking quality IT solutions.
Read more: The Benefits Of Outsourcing Software Development
3. Stable Environment
Vietnam's political landscape is renowned for its exceptional stability, supported by a well-established legal framework and a remarkably robust economy. In contrast to several neighboring countries like India, Thailand, Myanmar, and the Philippines, which occasionally grapple with uprisings, regional conflicts, or social unrest, Vietnam remains a bastion of stability.
Since the 1990s, Vietnam has charted a course of impressive and consistent economic growth, a trend that persisted even in the face of the challenging COVID-19 crisis. Notably, Vietnam stands out as one of the very few nations worldwide to maintain a significant portion of its economic activity during the turbulent years of 2020 and 2021, achieving an annual GDP growth rate of approximately +3% during this period. The resilience of this economy continued into 2022, with Vietnam experiencing a robust growth rate of 8.0%. This remarkable rebound followed an average growth rate of 7.1% from 2016 to 2019, signaling a positive outlook for the years to come.
Even amidst global upheaval, Vietnam consistently upholds a steadfast commitment to stability, providing an unrivaled environment for the security of your projects and the assurance of meeting their deadlines.
4. A Strategic Business Hub
Vietnam occupies a pivotal position at the heart of Southeast Asia, a region currently recognized as the most dynamic economic powerhouse globally. It serves as a vital bridge connecting China to the rest of the Association of Southeast Asian Nations (ASEAN).
Immersed in the global economy, Vietnam stands as a nexus for businesses, situated within easy reach of key destinations like Singapore, Bangkok (Thailand), Kuala Lumpur (Malaysia), and Hong Kong. These significant hubs are all conveniently less than a two-hour flight away from Vietnam, fostering seamless connectivity and business opportunities.
Vietnam's transportation network continues to expand and evolve, with plans in motion to introduce new international airports. These strategic developments will elevate Vietnam's global relevance further, establishing an extensive web of frequent and accessible flight routes that connect it to destinations across the globe.
5. Language Advantage
While it's true that India has long been regarded as a prime destination for English-speaking business interactions due to its historical context, it's essential to recognize that Vietnam also possesses a valuable asset in the form of its Latin alphabet. Unlike many other Asian nations, Vietnam, alongside the Philippines and Malaysia, employs a "Westernized" version of its written language.
This linguistic characteristic lends itself to a notable advantage: Vietnamese individuals find it relatively straightforward to learn English, which happens to be the most widely studied foreign language in the country. A survey conducted by Statista in June 2021 in Vietnam revealed that 86% of respondents reported learning English. Approximately 50% of Vietnam's population possesses the ability to communicate in English, with even higher proficiency rates in major cities like Ho Chi Minh City and Hanoi. Most college graduates in Vietnam exhibit a high level of English proficiency.
The Vietnamese government also exhibits a strong commitment to expanding English language education to meet the demands of skills-intensive positions in high-tech industries. As of today, Vietnam ranks an impressive 7th on the English Proficiency Index among 24 Asian countries.
Therefore, when choosing to engage in outsourcing projects in Vietnam, you'll discover that the oft-cited "language barrier" is virtually nonexistent, especially when collaborating with our international teams, where we offer expertise in English, French, Spanish, Japanese, and Vietnamese.
Read more: Outsourcing Software Development Challenges and How to Solve Them
Top 4 Cities in Vietnam for Software Outsourcing Services
Vietnam stands as a fertile ground for the flourishing of information technology services and businesses, boasting several advantages that set it apart from other destinations. At the heart of this allure lies its abundant tech talent pool, where not only is quantity ample but the quality and qualifications of Vietnamese IT professionals are truly noteworthy. This pool extends across various cities, including Hanoi, Ho Chi Minh City, Da Nang City, and Hue City, among others.
As the saying goes, "Go fishing where there are plenty of fish."
Ho Chi Minh City: The Epicenter of Opportunities
Ho Chi Minh City, also known as Saigon, stands out as the foremost destination for those seeking managed services and IT resources. It is heralded as a land of opportunities, especially for the young and dynamic developers who climb the ladder of success fueled by their enthusiasm and passion for technology. Furthermore, Ho Chi Minh City plays host to a multitude of software development outsourcing companies, startups, and agencies. The city's unrivaled economic growth, dense population, proximity to global tech hubs, ties to well-funded venture capitalists, and other factors converge to make it a prime choice for tech companies seeking to hire skilled engineers.
Hanoi: A Stalwart in the Tech Landscape
As the capital of Vietnam, Hanoi stands shoulder to shoulder with its southern counterpart in the nation's tech landscape. The city houses a significant number of startups and mid-sized companies engaged in software development, all while boasting a substantial pool of IT talent. Although it may appear less vibrant in the IT outsourcing sector compared to its southern counterpart, this is largely attributed to Hanoi's deep commitment to preserving traditional Vietnamese culture and heritage. With a strategic vision to transform into one of Vietnam's foremost science and technology hubs between 2021 and 2025, Hanoi is poised for remarkable growth, holding vast potential for the future of the software services industry.
Da Nang City: The Emerging Hi-Tech Hub
Da Nang, often dubbed as the most livable city in Vietnam, is anticipated to become the new hub for the hi-tech industry, not just within Vietnam but across the Asian region. This coastal city effortlessly combines the tranquility of a beach town with the modernity of an urban center. It boasts a youthful population and a cost of living that is notably affordable. These attributes contribute to an abundant IT workforce and a favorable business and investment environment. As a result, Da Nang City is viewed as a paradise for entrepreneurs looking to start new ventures or expand their existing operations in software engineering, drawing the most passionate and creative minds in Vietnam.
Hue City: The Quiet Tech Achiever
Despite its modest size and relative obscurity compared to Ho Chi Minh City and Hanoi, Hue has been quietly advancing in the tech industry in recent years. This steady growth trajectory suggests that Hue is poised to emerge as an appealing destination for global companies seeking to outsource their IT requirements. This evolution positions Hue as a potential powerhouse in the IT outsourcing landscape in the near future, making it an intriguing prospect for businesses seeking to tap into Vietnam's growing tech prowess.
Key Indicators for Identifying the Best Service Provider
In the dynamic landscape of the IT industry, it is a common sight to witness global software development firms forging partnerships with service providers for various projects. Recognized Fortune-500 giants such as Microsoft, IBM, Oracle, and Amazon have engaged with IT companies in Vietnam, leveraging their services for outsourcing due to the cost-efficiency and myriad advantages these agencies offer.
As the outsourcing market experiences rapid expansion in harmony with the ever-evolving technological landscape and the escalating demand for software solutions, identifying the perfect fit amidst a vast array of service providers can indeed be a daunting task.
While the list of top software outsourcing companies in Vietnam may be extensive, the ideal match remains unique. Typically, a technology enterprise embarks on a journey of meticulous vendor selection and due diligence, a process often repeated to ensure the right choice. It is crucial not to settle for services until they convincingly align with the following discerning indicators:
1. A Comprehensive Spectrum of Technology Solutions & Strategic Consultation Services
A telltale sign of a proficient, tech-savvy vendor is their expansive offering of software outsourcing services. Why is this significant? The answer lies in the ability to gauge the depth and breadth of technical expertise and the maturity level of a service provider and its workforce. This breadth allows them to navigate intricate projects across diverse domains and custom-tailor software solutions that cater to the distinct needs of clients worldwide.
However, it's worth noting that specialization should not be underestimated. A niche company, one that excels in a particular service, can still be an excellent partner, especially if your requirements align with their expertise. The all-encompassing capabilities act as the foundation for evaluating a competent service provider. Therefore, you should select a specialist in the service that precisely matches your needs.
Custom Software Development
Vietnam stands as a prolific hub for crafting world-class digital solutions through custom software development. In this service model, a software solution is meticulously designed and developed from the ground up, entirely tailored to the unique requirements of a business. The spectrum of custom development encompasses web development, mobile app development, game development, e-commerce solutions, and enterprise application development.
Software Testing
Quality assurance stands as a paramount aspect of delivering a functional product devoid of vulnerabilities and glitches. On par with their counterparts in renowned IT outsourcing destinations, Vietnamese service providers offer an extensive array of testing methodologies. These encompass design testing, functional testing, integration testing, user experience testing, security testing, performance testing, and more, comprehensively catering to the diverse testing needs of clients.
System Integration & Deployment
Software development encompasses two equally vital processes, necessitating the expertise of seasoned technicians. System integration involves harmonizing various software components, enabling them to interact seamlessly and operate as a unified system. In contrast, deployment involves the transition of the finalized product to production-level servers, ensuring public accessibility or internal usage.
Technology Consulting
Tech companies often seek strategic guidance and digital transformation services, which rank among the most coveted offerings in the realm of outsourcing. These services span cloud consulting, big data consulting, software architecture consulting, and various other technology domains. Their objective is to furnish strategic blueprints for digital solutions. Business owners can leverage these services to align project objectives with technological capabilities, enabling the formulation of timely strategies and a competitive edge. Notably, 92% of G2000 companies are reported to be utilizing some form of IT outsourcing, emphasizing the widespread significance of such advisory support.
Staffing Services
The relentless pursuit of talent and the scarcity of software engineers have propelled the wave of tech companies outsourcing their endeavors to offshore software development hubs. Consequently, IT staffing services have emerged as prime offerings in the Vietnamese outsourcing landscape. These services encompass diverse models such as dedicated teams, extended teams, and remote staffing. They empower organizations to assemble teams of engineers dedicated exclusively to their projects.
UI/UX Design
In the realm of product development, user experience (UX) and the customer journey hold pivotal roles. Neglecting these critical aspects can lead to adverse outcomes concerning user engagement and return on investment. Hence, numerous software houses engage project-based UI/UX designers to collaboratively craft seamless products characterized by intuitive navigation and appealing interfaces, ensuring a delightful user experience. This approach enables businesses to enhance their products without the need for additional full-time designers, conserving valuable resources.
Years of Experience & a Track Record of Client Retention
In your quest for the right service provider, experience serves as a pivotal marker that should never be underestimated. A service company's history of operations offers insights into its preparedness and its track record in delivering for its clients. Pay attention to the cumulative number of years they have been active in the market and examine their portfolio of successful projects.
However, it's essential to remember that the longevity of a service provider should serve as a reference for your decision, rather than the sole determinant. Sometimes, the number of years in operation may not precisely align with the breadth of experience. A vendor delivering excellent software development and boasting a diverse portfolio may not have been in the market for an extended period, while another with many years of service may still be at an amateur stage.
The excellence of a software engineering partner, their commitment to quality, and their reliability can be discerned through their rates of customer satisfaction and retention. Those garnering positive testimonials are more likely to sustain a steady influx of both new and repeat clientele.
Embracing Cutting-Edge Technologies
In the technology sector, progress is not an option but a necessity. The latest digital solutions are hewn from cutting-edge technologies, including Artificial Intelligence (AI), Machine Learning, Internet of Things (IoT), Blockchain, Cloud Computing, Augmented Reality (AR), and Virtual Reality (VR).
Swift adaptation and proficiency in emerging technologies confer a substantial advantage in staying ahead in the competitive landscape. The ability to adeptly navigate the ever-evolving terrain of technology and meet shifting market demands underscores a tech company's dedication to excellence. When selecting a partner, it is imperative to ascertain that they are well-versed in the most up-to-date technologies and boast an extensive knowledge base.
Transparent Pricing
Undoubtedly, outsourcing affords cost savings and efficiencies in development. However, it carries inherent risks if service providers do not operate with transparency in their pricing.
During the due diligence or interview process, some service companies might be enticed with the lowest possible cost, potentially sacrificing critical aspects such as development speed, quality assurance, or staff retention. Even if they manage to meet project timelines, there is a possibility that they have compromised in other dimensions to curtail costs.
Hence, the right choice does not always hinge solely on the lowest cost but on a provider that offers quality services at a reasonable price, coupled with the crucial attribute of transparent pricing.
Bestarion – Top Software Outsourcing Based in Ho Chi Minh City, Vietnam
Established in 2003, Bestarion has consistently occupied the forefront, delivering cutting-edge technology solutions and services to a diverse spectrum of clients. Whether catering to startups, SMBs, or tech enterprises spanning the globe and diverse industries, Bestarion has been a trusted partner for nearly two decades.
Bestarion boasts an expansive repertoire of services. With an impressive customer satisfaction rate of 95% and a substantial rate of repeat business, we have rightfully earned our status as the premier company in software outsourcing services, unwaveringly committed to the pursuit of service excellence.
At Bestarion, each project embarked upon contributes to our rich tapestry of practical experience. Over the years, we have adeptly executed a multitude of projects across diverse categories, each one serving to refine our skills and augment our knowledge base. We have nurtured a formidable cadre of exceptional talent, embodying the finest attributes the IT industry has to offer.
Let's partner together for success! Contact us today to explore our top-tier software development outsourcing services and unlock a world of possibilities for your business.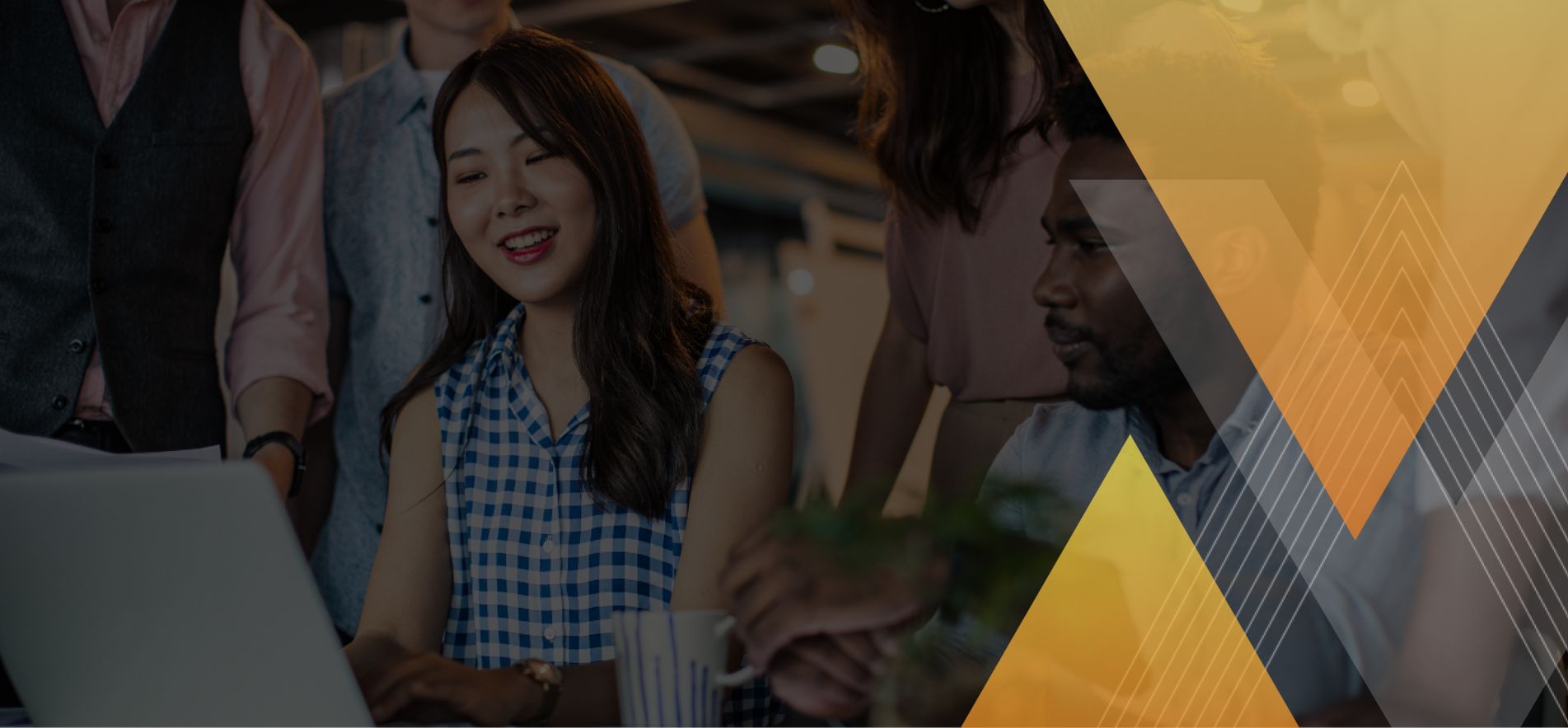 Save Time and Money with a Top Outsourcing Software Development Company in Viet Nam