8 Myths About Hiring Outsourcing Developers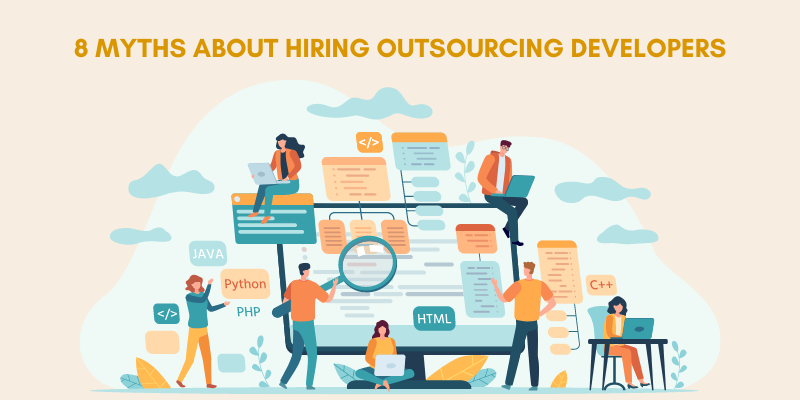 Although outsourcing is a well-established sector, some companies still resist hiring outsourcing developers from other countries due to concerns about their safety, legality, and dependability. On the contrary, the fact that numerous organizations, including IBM and many medium-sized enterprises, outsource indicates that it is still a viable business solution. Finally, we've compiled a list of 8 outsourcing myths about hiring outsourcing developers to debunk.
Myth #1: "Low Cost Mean Low Quality."
When a business thinks of outsourcing, the first thing that comes to mind is that cheap means low quality. Businesses didn't see hiring outsourcing developers in other countries as a strategic advantage because some outsourcing firms didn't do a good job.
Reality: This can happen if you work with the incorrect outsourcing partner. Popular outsourcing destinations, including the Philippines, India, and Vietnam, create thousands of IT experts annually. Each country's IT workforce has steadily improved its skill sets to maintain a competitive edge in the global tech industry and provide high-quality output.
Also, remember that time might be a factor in delivering poor results. Because some businesses outsource to meet deadlines, quality may suffer due to time restrictions. To avoid this, search for an experienced offshore partner with fair costs and a proven track record of dealing with various companies.
Myth #2: "Outsourced developers cannot communicate in English."
Many assume that the cultural and linguistic barrier is one of the most significant disadvantages of employing engineers from other countries. Because most preferred outsourcing destinations are from non-native English-speaking countries, variations in language, customs, and behavior can result in misunderstandings and delays on both sides.
Reality: According to the 2017 EF English Proficiency Index, the Philippines is one of the top English-speaking countries, scoring 15th out of 80 and surpassing certain Eastern European countries. In addition, the country ranks third out of 20 Asian countries. This is hardly surprising given the Philippines' consistently high literacy rates. According to the UNESCO Institute for Statistics, the Philippines consistently had a literacy rate above 90% since 1995 for 15 years and older. These high levels of English proficiency are one of the reasons why the Philippines and other IT offshore countries are favored as top outsourcing destinations.
Myth #3: "Time zone differences decrease productivity."
Businesses don't use outsourcing because the time difference makes it hard and inconvenient.
Reality: Most offshore services operate in the same time zone as their clients, making it easy for both parties. You need to pick a service that offers the ideal setup based on your requirements.
Myth #4: "Only large corporations can outsource."
Google and IBM are well-known for massively outsourcing their development and back-office operations. Hiring outsourcing developers abroad give huge corporations a significant edge because it allows them to operate on a large scale without incurring high costs. Because of this demand, most outsourcing companies often exclusively serve large IT enterprises.
Reality: Although most offshore providers work with major corporations, some work with small enterprises. In fact, the majority of IT outsourcing customers are small and medium-sized businesses (SMEs). Outsourcing firms also like to engage with SMEs with a lot of growth potential because they are more likely to become long-term partners. Both large and small firms can reap the benefits of outsourcing, regardless of their size.
Myth # 5: "It's difficult to manage offshore IT projects."
Because operations and development take place abroad, many businesses believe they will be unable to manage or monitor their offshore developers adequately. As a result, they regard outsourcing as a high-risk corporate move that can spiral out of control if not adequately handled.
Reality: Not influencing your outsourced team is a relic of the past. With the availability and accessibility of many project management tools, there is little difference between working with an on-site and offshore crew. Businesses and offshore teams may interact and cooperate more effectively with the help of online project management tools and communication apps.
Myth # 6: "Outsourcing poses security risks."
Because outsourcing entails entrusting your operations and data to a third party, many organizations are concerned that outsourcing providers would misuse their data or have inadequate cybersecurity protections. This is a legitimate problem for businesses.
Reality: While this is a serious worry, know that offshore providers follow conventional security protocols based on the client's and outsourcing firm's company and nation standards. The best offshore organizations are frequently outfitted with the most up-to-date security technologies to ensure that their clients' data is safe from dangers.
According to EY's 2016-17 Global Information Security Survey, 56% outsource their company-specific cybersecurity activities. Even for highly secret activities like cybersecurity and monitoring, some firms outsource these functions to save money and hire qualified cybersecurity personnel.
You must describe the unique security requirements, methods, and liabilities in your contract further to reinforce security between your company and the offshore provider.
Myth #7: "Offshoring is illegal."
Many feel that firms outsource solely to avoid paying taxes and exploit workers in developing countries. Some further believe that the company is based in another country is suspicious.
Reality: Whether offshore is illegal is a constantly debated topic. Businesses outsource to obtain the best human resources for specific projects, not to evade taxes or mistreat overseas labor. Know that both the client's and the outsourced destination's countries have legal systems to ensure both parties' safety.
To guarantee that you and your outsourcing provider follow the law, make sure you understand the rules and regulations in your own country as well as the country of your supplier. Check out your outsourcing partner's team structure, management skills, and previous experience.
Myth #8: "Outsourcing is not suitable for long-term project."
The majority of the services provided by outsourcing are non-value-added jobs and consultation services. Furthermore, most organizations outsource only to fill a role for short-term projects. Businesses believe that outsourcing is only suitable for short-term strategies due to its services and project duration.
Reality: Long-term outsourcing is a wise business decision. Clients not only save money on an outsourced project or activity, but they also get a valuable business partner. Because offshore providers are trained to give business solutions to your needs, the longer you work with them, the more they will learn about your business goals and processes, allowing them to provide a superior business solution. Your offshore partner can assist you in streamlining operations and developing better products or services.
When you work with an offshore provider, you have a committed strategic business partner ready to address your IT outsourcing problems.