Managed Services for Cloud Infrastructure and Healthcare Applications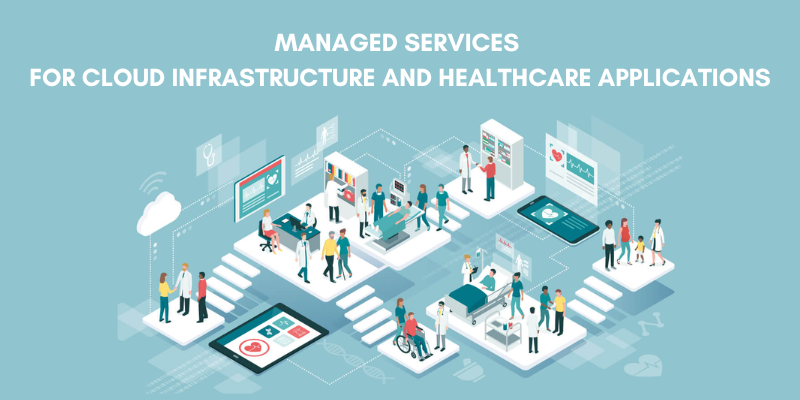 IT operations are an ongoing process that takes time and resources. Managed services can help organizations free their technical staff from supporting and maintaining cloud infrastructure and healthcare applications. The IT teams can then focus on the most important tasks, like developing new ideas and making the business grow. Organizations can also predictably manage costs while improving efficiency and customer satisfaction.
What is Managed Services?
Managed services allow a business's support and maintenance tasks, like hosting applications, setting up security measures, and keeping the cloud infrastructure up and running, to be taken care of by third-party service providers who are experts in these areas. Managed service providers (MSPs) are third-party companies that can take care of and manage all or part of your IT functions and business applications.
Service Level Agreements (SLAs) spell out how much a business will depend on managed services and control what kinds of services are offered. The SLAs are made to fit the organization's needs and offer flexible service models.
A business owner usually buys and sets up the IT equipment and then hires a managed service provider to take care of its management and maintenance. Depending on the terms agreed upon, an managed service provider may offer services like problem resolution, reporting, monitoring around the clock, security needs, VoIP solutions, backup recovery, and more. Most of the time, these MSPs charge a flat fee for their service over a specific period. This cuts labor costs and eliminates the cost of hiring new IT workers.
Is Outsourcing The Same As Managed Services?
Outsourcing and managed services are not the same things. Even though both of these models involve hiring outside help, that's all they have in common. Outsourcing and managed services have very different types of work.
Outsourcing companies offer specific services that help with well-defined tasks and business processes. When you outsource, you choose specific tasks that are often not very important and give them to a third party to do. On the other hand, managed services take a much more comprehensive and proactive approach to improving the efficiency of business processes through good IT services.
Because of this, the solutions that MSPs offer are all-encompassing. Operations are run by a large team of skilled IT and software development professionals who work to improve the end-user experience by providing support for operations and making improvements to existing IT services and software applications.
10 Problems That Managed Services Can Solve
Managed services give you access to a team of professionals who help you feel like you own and are in charge of these ten common problems:
1. Cybersecurity
Managed service providers can set up firewalls, access management solutions, manage identities, and ensure that data in the cloud is secure.
2. Experience
MSPs have a lot of experience in different areas that most in-house IT teams can't match. By partnering with an MSP, organizations can figure out how much they spend on IT, not worry about keeping operations ready, and put complex and up-to-date security policies in place.
3. Mobility
As more and more people work from home, security problems have grown in number. Managed service providers can set up security measures that let people use their devices safely outside their office walls. This is called mobility.
4. Costs
Managed IT services save money and time because they can be scaled up or down. This helps healthcare organizations save up to 40 percent on costs. With MSPs, businesses can get high-quality IT support at a much lower cost.
5. Data backup
Managed service providers can use effective methods to back up important data and help with its recovery in case of an emergency.
6. Machine support:
Managed services can take over the routine tasks of supporting machines, from desktop computers to data servers that run in the cloud. This frees up your tech resources in-house, so they can work on tasks that can help your business.
7. Help desks
With managed services, you don't have to spend time and money on people to handle user questions and problems. Managed service providers can instead set up virtual or on-site help desks to ensure that all questions are answered.
8. Vendor management
Even though it sounds strange, a third-party organization may be the best way to simplify vendor management. They can act as a single point of contact between a business and its vendors, taking this task off the hands of people who work for the business.
9. Standards
MSPs follow necessary standards like PCI compliance, which is needed for IT operations in the finance, healthcare, and education industries. This reduces risk and ensures that IT operations use the most recent technologies, strategies, processes, and information.
10. Task Management
Managed service providers cut down on operational tasks that are done repeatedly, and this frees up resources to improve tech capabilities. With a shortage of 4.2 million IT jobs, it's important to work with outside experts to cut down on downtime and improve performance.
Read more: 5 Best Examples Of Big Data In Healthcare
Keywords And What They Mean
Learn some of the terms and how they are used in the context of managed services so you can make a wise choice:
Agent

is a program that lets MSPs gather information about machines and IT systems from a distance, which helps with their management, upgrades, and problem-solving.

BDR

: Backup and disaster recovery combines data backup and disaster recovery solutions that help keep an organization's systems running even during a crisis.

Managed IT services

are when a third-party company takes care of IT tasks and processes.

Fully managed IT services: Managed services combined with a Network Operations Center allow proactive systems monitoring, problem resolution, and better performance.

MDM

: Mobile device management uses security platforms to track, secure, and manage devices like cell phones, tablets, and laptops used by employees.

Service-level agreement (SLA)

: An SLA is a contract between a managed service provider (MSP) and a client that outlines the scope of managed services.
Most common types of managed services
In the same way, organizations of all sizes can use different types of managed services:
Application managed services:

This means taking care of an organization's software, digital products, platforms, and the technology infrastructure that goes with them.

Managed Networks and Infrastructure:

In this IT support service, an MSP usually takes care of all network tasks, from setting up WAPs and LANs to managing systems, backing up data, and storing files.

Managed Security: This complete security service for remote infrastructure includes everything from backup and disaster recovery (BDR) to cybersecurity.

Managed Support Services: It is one of the most commonly used services, and it covers all kinds of IT help, from troubleshooting to dealing with complex problems.

Managed Print Services:

This type of service involves remote help with print-related data and file infrastructure. Businesses with complex file management systems are the best fit for this type of service.

Managed Cloud Infrastructure:

This comprehensive service option covers all cloud infrastructure management needs, from network to storage to computing to virtualization services for operating systems, apps, and more.

Managed Software as a Service (SaaS):

In this type of service, the providers offer a subscription-based software platform.

Managed Wireless and Mobile Computing:

This service is for mobile computing and wireless needs, like providing wireless connections that can be used on an organization's internal networks.

Managed Communication Services:

Managed service providers that offer this service take care of communication infrastructure needs like

VoIP (voice over internet protocol)

, messaging software, and sometimes even third-party call centers.
Why are managed services a good fit for healthcare?
Software applications and IT are used in every part of healthcare services today, from diagnosing to taking care of patients. Because of this, technology-related costs have increased steadily, with software maintenance taking up 90% of all tech costs. By working with an MSP, healthcare CIOs and CMIOs can reduce the time and money spent on maintaining applications and IT infrastructure by nearly 30%, which they can use to improve other skills.
Depending on their services, an MSP can handle many non-medical staff operations, acting as a single point of contact for customer service, placing orders for inventory, managing accounts, and more.
Also, KPIs based on IT are becoming less important in healthcare. Instead, the focus should be on KPIs that are important to the business and can help improve performance and cut costs simultaneously. This is what healthcare providers can do when they work with an MSP.
Here are a few more reasons why healthcare providers need to use managed services:
Ensuring successful cloud migration
As healthcare organizations switch from old systems to new ones, like electronic health records and software apps, cloud infrastructure can make operations cheaper and more efficient. MSPs help healthcare providers smoothly adapt to this change by helping them move to the cloud and ensuring that necessary security and compliance features are built into the system. Managed services are efficient and cost-effective to move to cloud infrastructure strategically and safely.
Improvement in system uptime and application reliability
An MSP can help healthcare organizations optimize uptime and reliability by managing application integration, security, and speed requirements and meeting network availability expectations. Business continuity plans with solid security, operations, and risk-mitigation features are in place to ensure this.
Addressing compliance requirements
The number of cyberattacks on the healthcare industry has grown a lot, and IT systems are now more vulnerable. Managed service providers help ensure that healthcare organizations' tech deployments and services are properly evaluated, monitored, and changed to keep up with the latest security and HIPPA-compliant protocols. For this, these service providers use 24/7 support, specialized engineers, industry-specific knowledge, and the ability to switch to secondary resources in a crisis. This makes it possible for high-quality patient care to be given smoothly.
Improvement in customer experience
Customer experience used not to be a thing in healthcare, but now it is one of the most important things. Managed services can help healthcare providers with this by creating personalized experiences for patients through apps that give them access to medical information, treatment options, and more. These can also help break down data silos so that brilliant insights can be gained to improve this personalized patient care. Managed services also make it possible to meet expectations for data transparency, security, and privacy.
Application managed services for healthcare organizations.
Here is a list of application-managed services that healthcare organizations can choose from, either as individual managed services or as an SLA-specified end-to-end service offering:
Application maintenance and support 
It includes a full range of support and maintenance services for digital health products and healthcare apps. This helps businesses ensure their applications are reliable, easy to use, and relevant to their business needs. Some services include fixing bugs and doing routine maintenance, small enhancements and change requests, 24/7 support and SLA-driven delivery to fix application problems faster.
Cloud Infrastructure
The option for in-depth cloud infrastructure management helps customers keep a cloud ecosystem that is flexible and scalable and fits their needs and business goals. Here are some of the services:
Backup and Disaster Recovery:

Managed service providers store important business and medical data and make it easy to get them back quickly. This protects them from outages and natural disasters, helps organizations make their work more stable and secures their growth.

Patch management and version upgrades

—Version upgrades and patch management should be done promptly and consistently to improve applications with new features and fix security problems. MSPs keep applications healthy and up to date so that organizations can focus on other management tasks.

Compliance and security management:

Use modern security tools and best practices to keep data from being hacked or accessed by people who shouldn't be able to.

Monitoring and alerts:

To ensure the system is safe, you should monitor how applications are doing and set up alerts when security problems happen.

Provisioning and orchestration– Automated and easy deployment of cloud infrastructure with consistent provisioning of resources to eliminate time-consuming manual processes.

Application performance management:

Keep an eye on how well applications work overall and help test them to find problems like slowdowns and load. This helps organizations ensure that their applications meet the expectations set and stay stable and scalable.
Quality Testing and Assurance
Managed service providers offer quality assurance and testing services to help healthcare organizations ensure that the apps and digital health products they give patients are helpful and of good quality. MSPs can help improve applications by fixing bugs and adding new features and integrations because they know much about testing. This includes testing for integration and regression, testing automation, and testing for security and compliance. End-to-end test automation is also suitable for organizations because it helps them keep up with the faster release cycles and shorter time to market.
Release management
Effective release management lets organizations make the most of their resources and development pipelines and deliver high-impact features in a DevOps implementation. MSPs build and improve pipelines for continuous integration and deployment (CI/CD) to make businesses more agile. Developers can also meet requirements and make code changes more often when they use release management. By automating where it makes sense, organizations can ensure their systems are safe and free up time to work on strategic projects instead of day-to-day maintenance.
Application Value Management
These services improve both how well things work and how well they work. Organizations can find opportunities and develop new ideas for helpful healthcare apps and products through MSP's application value management services. This support is made even better by ensuring quality and performance continually improve, automating as much as possible.
Managed service offerings for optimizing operations
Managed service providers have service offerings that can reduce unsystematic risks, optimize costs, and speed up investment returns. Whether the investment is in new patient applications or in protecting sensitive data, this is true.
With Bestarion's managed services, healthcare organizations of all sizes and shapes have reached these goals.
We offer a wide range of managed services, such as support and maintenance for digital health products, digital health platforms, and healthcare mobile, web, and cloud applications. These services are backed by a complete technology stack that includes mobile, web, cloud (GCP and AWS), IoT, EHR, interoperability, CMS, rules engine products, data analytics, AI, ML, and integration with enterprise applications and SaaS solutions.
With these skills, we can help with any cloud and application management need, from application maintenance and support to quality assurance and testing, release management, and environment management.