5 Ways IT Outsourcing Service Can Help You Get to Market More Quickly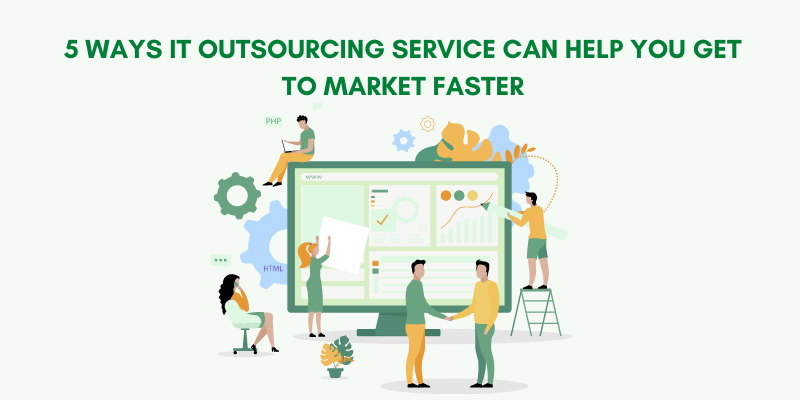 Outsourcing your software development needs has various advantages: One of the key advantages is that it allows you to come to market faster. If you have a business or product line where software development or new feature development is time-critical from a marketing aspect, or if you want to launch a revolutionary software product and be the first to market, you should seriously explore IT outsourcing possibilities. Outsourcing software development work to an IT Outsourcing Service Provider may be the most excellent solution in this circumstance, allowing you to come to market faster. Here are five reasons why.
Cover more work hours in a given day
A worldwide team could be in a different time zone, on another coast or continent. It can allow you to work more hours in a single calendar day.
Teams at a global development center can collaborate with your local team to supplement their work during off-hours. When you return to work in the morning, the international team can pick up where yours left off, move forward, and offer a new progress report.
Your working hours will more than double, as will your output. You can now achieve project deadlines while having access to the appropriate resources.
Save time on headhunting, hiring, and onboarding candidates.
Finding excellent talent is difficult, especially in technology. It necessitates focused time and effort, both of which have their price. These challenges might be resolved by outsourcing your requirements to an IT outsourcing partner.
Choose a vendor with the right talent pool to get your project off the ground and up and to run quickly. This vendor should be an IT partner who can help you finish your project on time. The right global development center will have everything you need to get started on the first day and a pool of skillsets from which you can choose to meet your specific needs.
Also, an IT outsourcing vendor can give you the resources you need based on the important dates for the project and the market. When you outsource IT, you can scale up or down as required during the different stages of your project to meet important deadlines and dates for your business. This can be the difference between your project's success and failure.
Shorten the learning curve
If your primary business isn't software development, you may be unfamiliar with the Software Development Life Cycle (SDLC). Creating and managing an in-house team necessitates a learning curve to discover and adhere to appropriate IT practices and processes.
It is best to obtain assistance from a vendor firm that has been doing this for many years. They can help you with everything from design and specification to app development. In addition, the correct vendor will ensure that quality assurance operations are carried out following standard project methodologies and best practices.
Learn more: How to Avoid IT Outsourcing Failures
Third-party validation detects problems early on.
You should also consider outsourcing the software testing activities to a QaaS (Quality-as-a-Service) or Testing Services provider. A third-party QA team will examine your product early on to identify bugs or flaws that your team may have overlooked throughout design and development.
An external QA team approaches the project with an open mind and without prior knowledge of the product or design stage artifacts. Their comments on usability, user experience, or even simple, functional testing can be eye-opening and crucial in developing your product for future success.
It can also assist in discovering and resolving issues early in the product development process. This reduces risks later in the product's lifetime when it comes time for release and avoids last-minute, compounding, and cascading delays when going to market.
Paying attention to non-technological activities
Having a dependable technical team can help you focus not only on your core business but also on other product/software launch preparation activities such as:
Marketing and campaigns, Target audience outreach,

End-user acceptance,

Logistics

Operational support to enable an organizational technology shift, etc.
These factors play a significant role in deciding the success of a new product or software development, and they must be considered and met during any development process.
Engaging the proper technology services partner helps keep you technologically secure. You will have a competent and professionally managed staff that will offer efficient and high-quality work openly and transparently.
You also won't have to worry about the technical infrastructure and configuration required for software development operations because the vendor will provide these.
Outsourcing Can Be a Huge Help
These five benefits might save you time and effort while focusing on other elements of your organization that require care. Finally, this will ensure that your product is market-ready when you need it.
Contact Bestarion to learn more about your numerous IT outsourcing services that are right for you.