Vietnam's Business Process Outsourcing (BPO) industry has experienced significant growth and transformation in recent years, making it one of the emerging global hubs for outsourcing services. Notably, the BPO sector in Vietnam is experiencing robust growth, expanding by a remarkable 30% annually, and currently hosts over 200 BPO companies. Projections indicate that Vietnam's BPO industry is on track to surpass $1 billion by 2025.
Key Factors Contributing to Vietnam's BPO Success
Several factors have contributed to the success and growth of Vietnam's BPO industry:
Skilled Workforce:

Vietnam boasts a large pool of young and educated professionals proficient in English. The country's workforce is well-equipped to handle a wide range of BPO tasks, making it an attractive destination for businesses seeking cost-effective and skilled labor.

Cost-Effectiveness:

Labor costs in Vietnam are significantly lower than in Western countries. This cost advantage has made Vietnam an appealing choice for businesses looking to outsource various functions while maintaining quality.

Favorable Business Environment:

The Vietnamese government has introduced business-friendly policies, streamlined administrative procedures, and provided incentives for foreign companies to invest in BPO operations in the country. This proactive approach has attracted foreign investment and contributed to the industry's growth.

Robust Technological Infrastructure:

Vietnam has made substantial investments in its technological infrastructure, including modern data centers and reliable internet connectivity. This has enabled BPO companies to operate efficiently and compete on a global scale.

Strategic Location:

Vietnam's location in Southeast Asia offers a convenient time zone for global operations. This allows for 24/7 support and collaboration with clients from different parts of the world.

Cultural Compatibility:

Vietnamese professionals are known for their strong work ethic and commitment to excellence. They often have a good understanding of the working styles and values of Western businesses, making collaboration smooth and productive.
Current State of Vietnam's BPO Industry
As of 2023, Vietnam's BPO industry continues to thrive and evolve. It encompasses a wide range of services, including:
Software Development: Many BPO companies in Vietnam specialize in software development, catering to the needs of clients from various industries. They offer expertise in application development, web development, and mobile app development.

IT Consulting: Vietnam has become a hub for IT consulting services, with companies providing expert advice on technology strategies, infrastructure management, and digital transformation.

Finance and Accounting Services: BPO companies in Vietnam offer finance and accounting services, including payroll processing, financial analysis, and bookkeeping.

Customer Support: The country has a growing number of call centers and customer support service providers, offering multilingual support to international clients.

Data Entry and Processing: BPO companies assist clients with data entry, data conversion, and data processing tasks, helping businesses manage their data efficiently.
Vietnam's BPO industry shows promising prospects for the future. As businesses worldwide continue to seek ways to optimize their operations and reduce costs, Vietnam remains well-positioned to meet these demands. The government's ongoing commitment to creating a favorable business environment and the industry's adaptability and innovation are expected to drive further growth.
The industry is also expected to expand into emerging technologies such as artificial intelligence, machine learning, and blockchain, which will open up new opportunities for BPO companies to provide cutting-edge services.
Top 10 BPO Companies in Vietnam 2023
1. Bestarion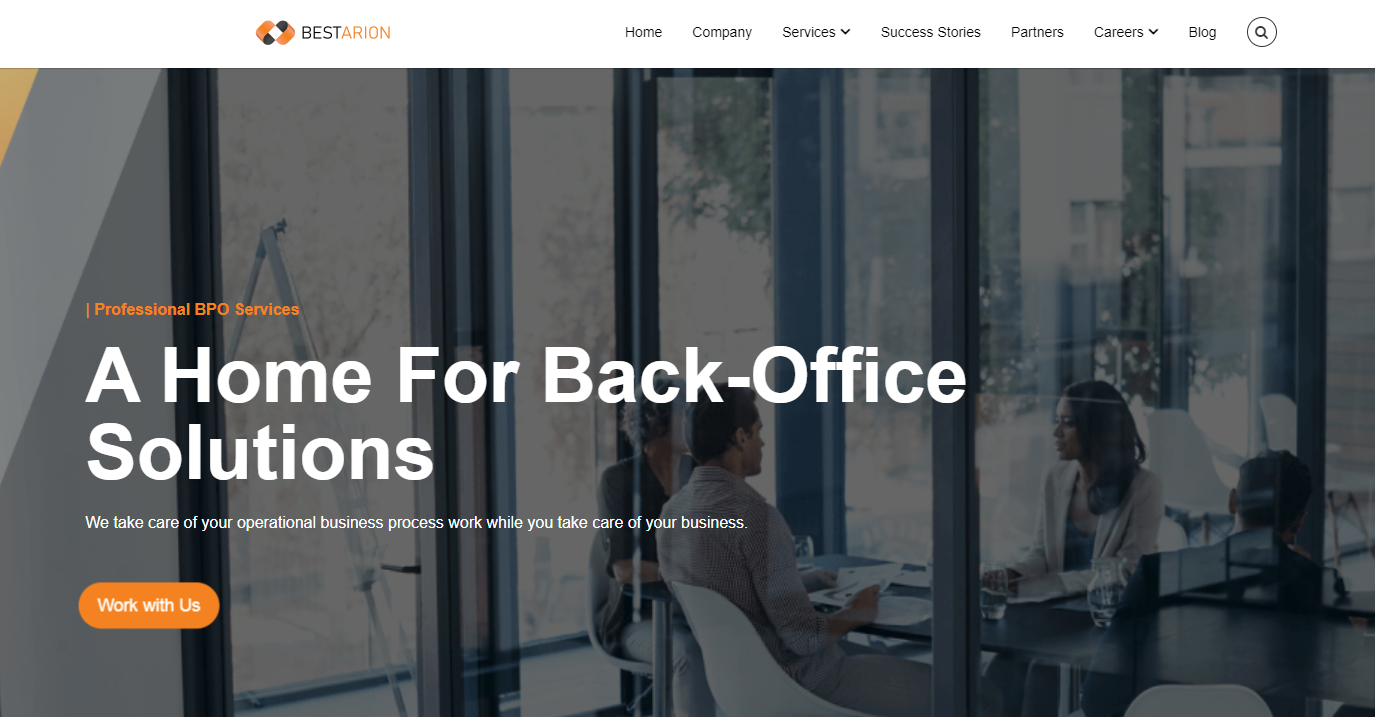 Bestarion is a trusted outsourcing company in Vietnam that specializes in Business Process Outsourcing (BPO) services and IT software development services. Bestarion offers a range of tailor-made solutions, catering to various business needs, including:
1. Finance & Accounting Services:
General Accounting

Accounts Payable

Accounts Receivable

Bookkeeping

Payroll Processing

Tax Services, and more.
2. Data Operations: 
Data Entry

Data Cleansing

Data Migration
3. Medical Billing and Coding
The company places a strong emphasis on building enduring and trustworthy relationships, not only with clients but also with business partners and employees. Bestarion has had many customers stay on for over 10 years is a testament to its commitment to delivering top-notch BPO solutions that help businesses expand their global presence.
2. Innovature BPO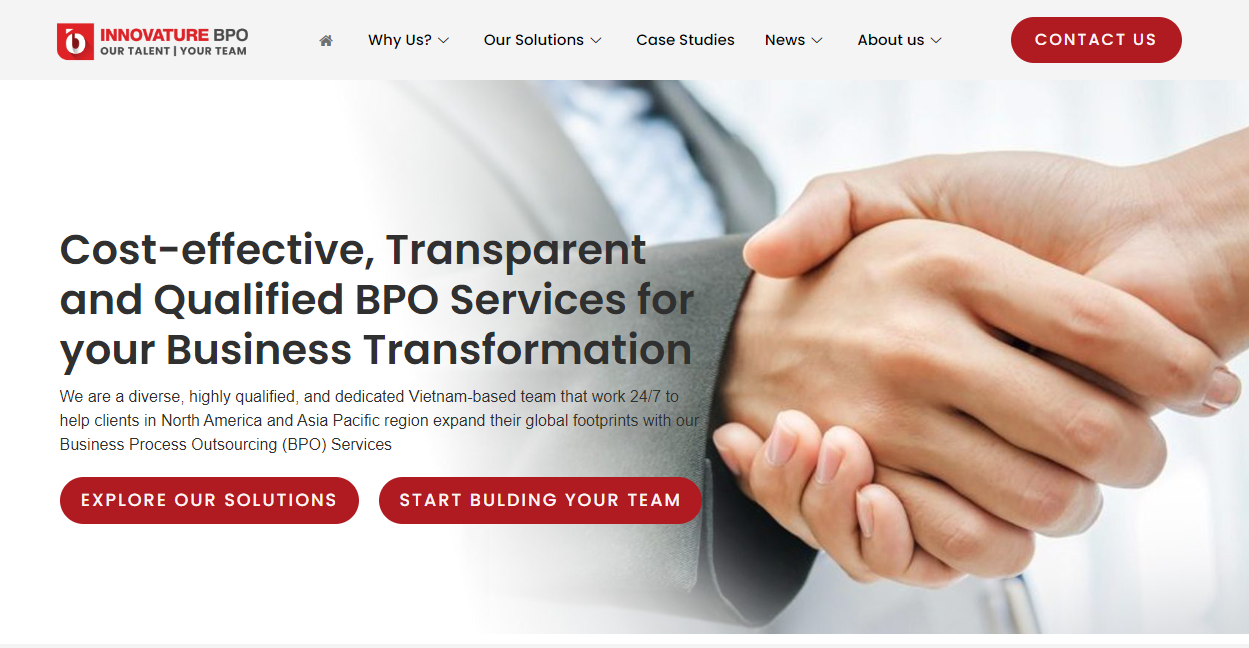 Innovature BPO, officially known as Innovature Consulting Company Limited, is a dedicated and diverse Vietnam-based team that operates around the clock, serving clients in North America, Canada, Australia, and the Asia-Pacific region. The company specializes in Business Process Outsourcing (BPO) services and is recognized as one of Vietnam's leading pioneers in this field.
Innovature BPO offers a range of specialized services, catering to various business needs, with a focus on Finance and Accounting Services, Business Intelligence and analytics Services, Customer Services, and e-commerce Post-Production Services. Their boutique, tailor-made solutions have consistently garnered positive feedback from satisfied clients, including a prestigious US IT Staffing Firm and a prominent Global Insurance Company listed on the Fortune 500.
3. THIEN TU

THIENTU CO., LTD stands as a prominent BPO and telecommunications services provider, offering cutting-edge outsourcing solutions. The company excels in both inbound and outbound customer support, encompassing a wide spectrum of services, including customer care, consulting, telesales, telemarketing, debt collection, market research, medical reminders, appointment setting, web chat, email support, SMS services, and support across various social media channels. In addition to its customer support services, THIENTU CO., LTD provides an array of data-related solutions, including data entry, SEO services, image processing, content writing, and data labeling.
THIENTU CO., LTD serves a diverse range of industries, including consumer electronics, e-commerce, banking, automotive, insurance, travel agencies, telecom, and logistics. The company's headquarters are located in Ho Chi Minh City, Vietnam, with an additional four branches strategically positioned across the country. This expansive presence enables THIENTU CO., LTD to deliver comprehensive solutions to clients not only within Vietnam but also around the world.
4. BEETSOFT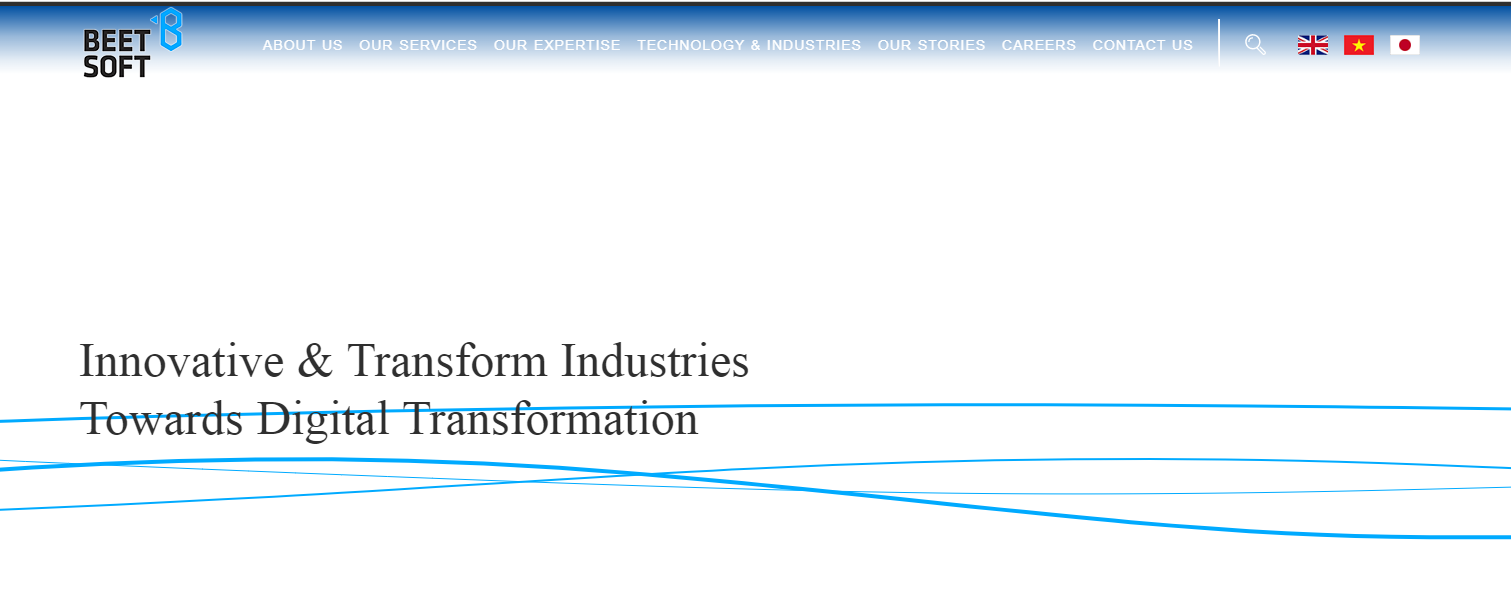 BEETSOFT stands as a trusted partner for outsourcing IT-related services. Established in 2014, and having grown over 8 years, BEETSOFT now boasts nearly 600 employees, headquartered in Hanoi with an additional presence in Japan. The company has gained prominence for its successful collaborations with a wide range of partners from the UK, Europe, USA, Israel, Japan, Korea, and more.
At BEETSOFT, their unwavering commitment lies in providing IT outsourcing solutions and pioneering technology. This dedication has earned them several accolades, including the prestigious Top 50 + 10 Leading IT Companies in Vietnam Award in 2019, the Sao Khue Award, the most esteemed recognition in the Vietnamese IT sector, for the years 2018, 2019, and 2020, as well as the Ideathon Award at Hackathon in 2018 and the Spaceshare Startup Talent Award in 2019.
Expanding their client base and service offerings may pose a challenge for BEETSOFT, given their focused expertise in IT and technology.
5. Saigon BPO

Established in 2016 and headquartered in Ho Chi Minh City, Saigon BPO has grown to a workforce of approximately 1000 employees. The company has earned a distinguished reputation as a prominent enterprise specializing in outsourced finance, banking, and insurance services.
Throughout its operational journey, Saigon BPO has garnered an impressive collection of accolades, including the prestigious "Sao Khue Award for Outstanding BPO Service" bestowed by VINASA and the honor of being recognized as "The Fastest Growing IT Enterprise" by HCA. Furthermore, the company has achieved ISO 9001:2015 and ISO/IEC 27001:2013 certifications, attesting to their commitment to quality management systems.
At Saigon BPO, an unwavering emphasis on technology underscores their provision of financial and banking services. Moreover, the company boasts a leadership team with over two decades of experience in the BPO industry and a dedicated cadre of long-serving professionals well-versed in finance, banking, and insurance.
With a strong focus on expertise and a commitment to round-the-clock customer service, Saigon BPO remains the preferred choice for numerous businesses. However, its specialized nature may present challenges when attempting to broaden its service offerings and expand its client base into other sectors.
6. Minh Phuc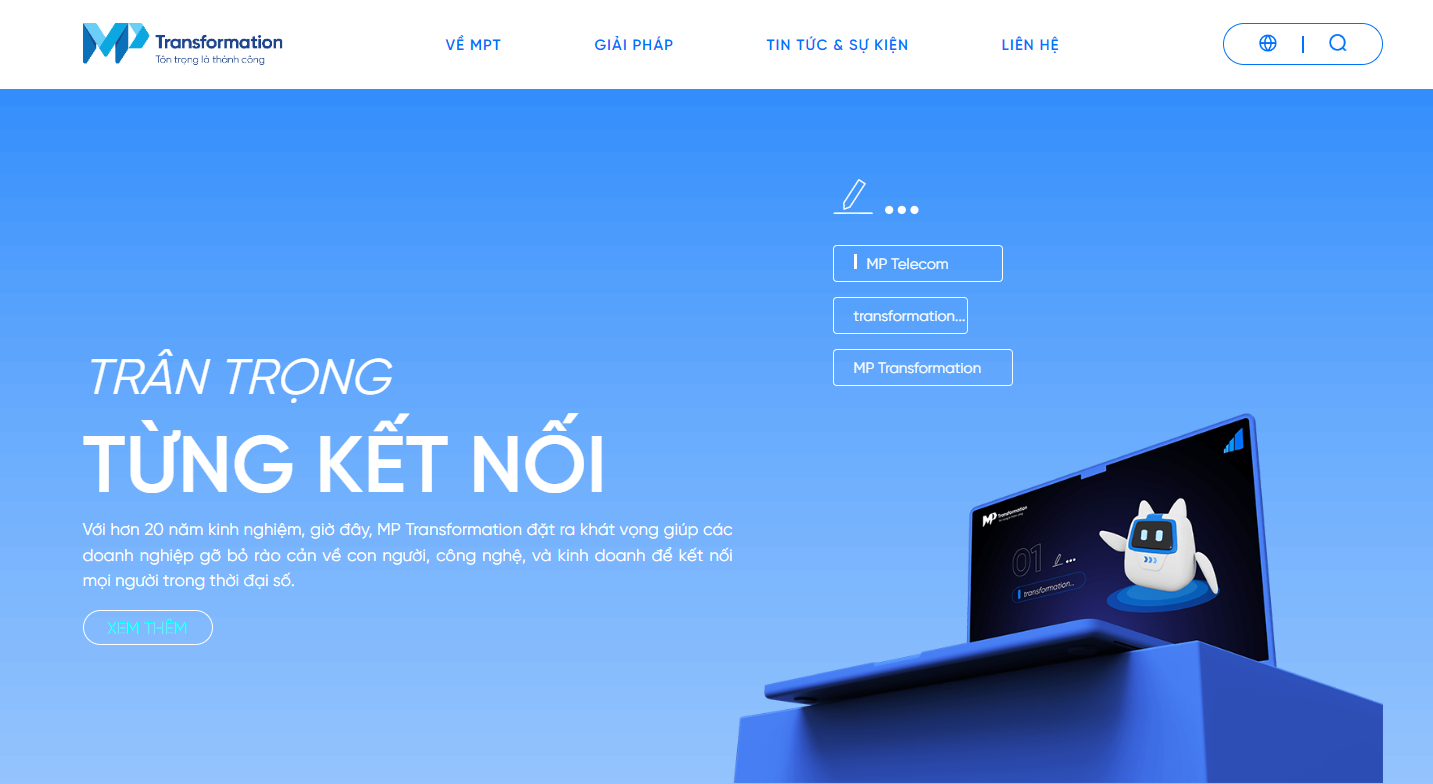 For businesses in search of outsourcing services, Minh Phuc (MP) is a prime choice. Established in 2002, MP Telecom stands as a trailblazer in the Contact Center sector in Vietnam.
Throughout its growth journey, MP Telecom has relentlessly pursued its vision to lead in providing Contact Center and Business Process Outsourcing (BPO) solutions, skillfully uniting People, Technology, and Solutions.
At present, MP boasts a workforce of approximately 2,500 employees, with its headquarters situated in Hanoi and representative offices located in Da Nang and Ho Chi Minh City. The company has obtained certifications in information security and quality management systems, reflecting its unwavering commitment to high standards.
While MP Telecom has had the privilege of collaborating with prominent partners, it's important to note that their familiarity with larger clients may make them less inclined to cater to the needs of smaller companies, potentially resulting in limited customization options.
7. Digi-Texx Vietnam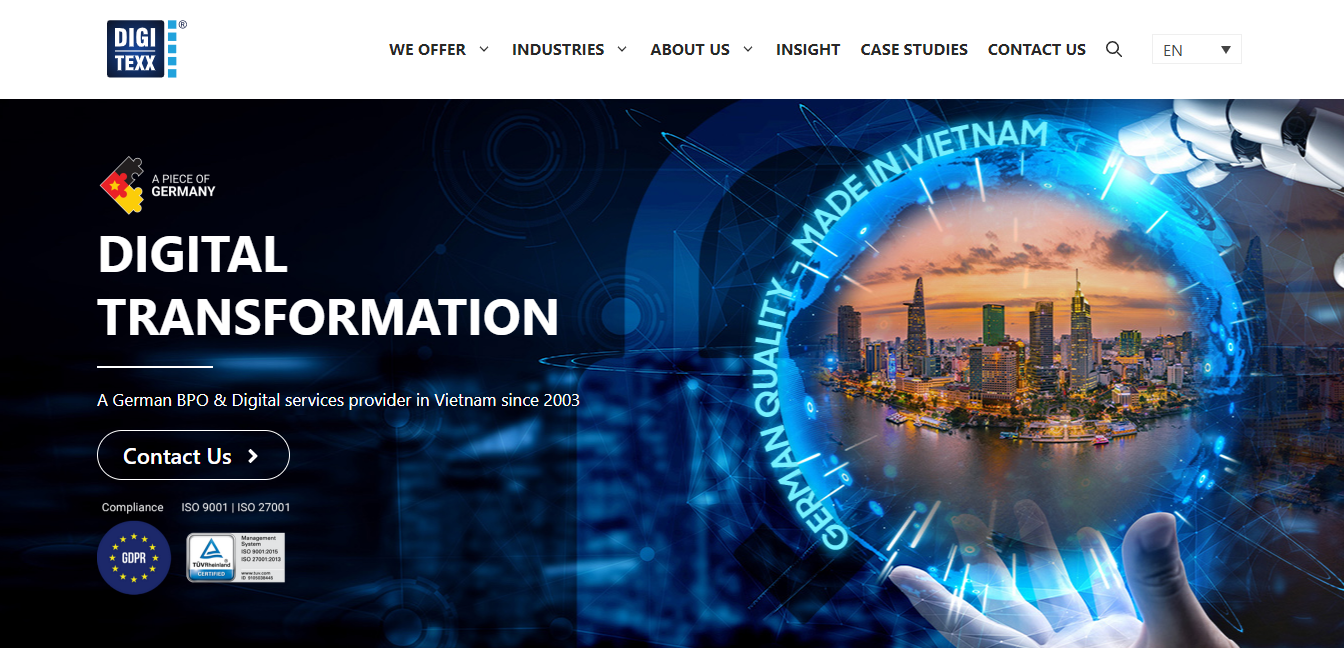 Founded in 2003 with substantial investment capital from Germany, Digi-Texx Vietnam is a standout in its field, leveraging modern technology to deliver top-notch outsourcing solutions to its clientele. The primary services currently offered by Digi-Texx Vietnam encompass Data Entry and Document Processing, Contact and helpdesk Center, Digital Solutions, and IT support.
With a workforce exceeding 1,000 employees who bring diverse expertise to the table, Digi-Texx Vietnam consistently upholds service excellence and provides exceptional customer care. After 18 years of steadfast growth, the company's headquarters is now situated in Ho Chi Minh, with additional branches in Can Tho, Vietnam, and Japan.
Digi-Texx Vietnam's operational ethos embodies a professional and Westernized approach, complemented by a highly skilled team proficient in various languages, including German, Japanese, English, and more.
While Digi-Texx Vietnam's substantial scale and its focus on prominent markets like Japan and Germany are noteworthy, this specialization may limit accessibility for small and medium-sized enterprises (SMEs) in other markets.
8. Cekindo Vietnam 

Cekindo Vietnam proudly ranks among the nation's foremost providers of global market entry services, offering businesses an all-encompassing solution to ensure their seamless entry into the Vietnamese market.
The company's comprehensive range of BPO (Business Process Outsourcing) services spans accounting, payroll processing, recruitment, and more. In addition to these BPO services, Cekindo Vietnam extends its support by providing assistance with business setup and product registration, thereby offering an all-inclusive suite of services to facilitate a smooth market entry process for its clients.
9. Swiss Post Solutions Vietnam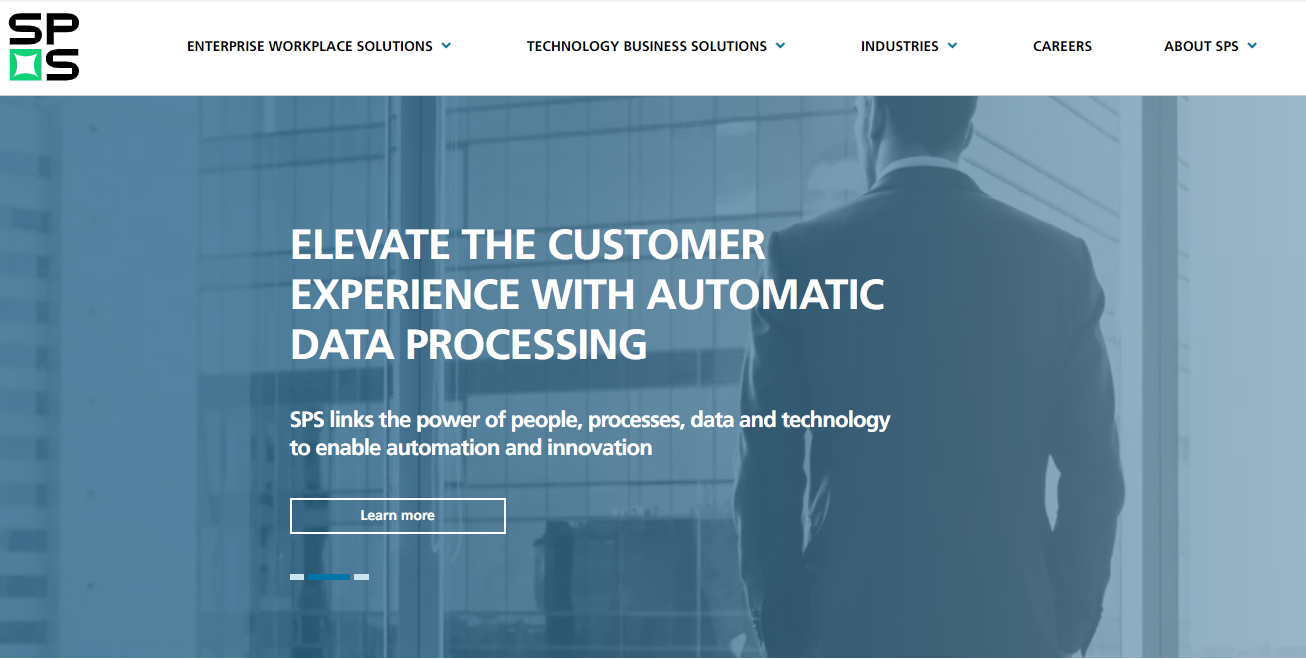 Swiss Post Solutions Vietnam, established in 2004 and headquartered in Ho Chi Minh City, stands as a leading force in IT outsourcing, boasting a workforce of nearly 1000 dedicated professionals. The company specializes in Data Processing and Complex Business Process Outsourcing.
Swiss Post Solutions holds an unwavering commitment to quality assurance, ensuring that all its services adhere to Swiss standards of excellence and are crafted by local experts. As an integral part of Swiss Post Solutions, the company wholeheartedly embraces the ethos of "Swiss Quality – Made in Vietnam."
The core strength of Swiss Post Solutions lies in its expansive scale and wealth of experience within the services it provides. Notably, as a pioneer in IT services, Swiss Post Solutions thrives on the application of advanced technologies, setting them apart in their field.
Moreover, Swiss Post Solutions excels in providing exceptional customer service, marked by a professional and responsive attitude. Their commitment to addressing client inquiries around the clock, 24/7, further underscores their dedication to client satisfaction.
10. Transcosmos Vietnam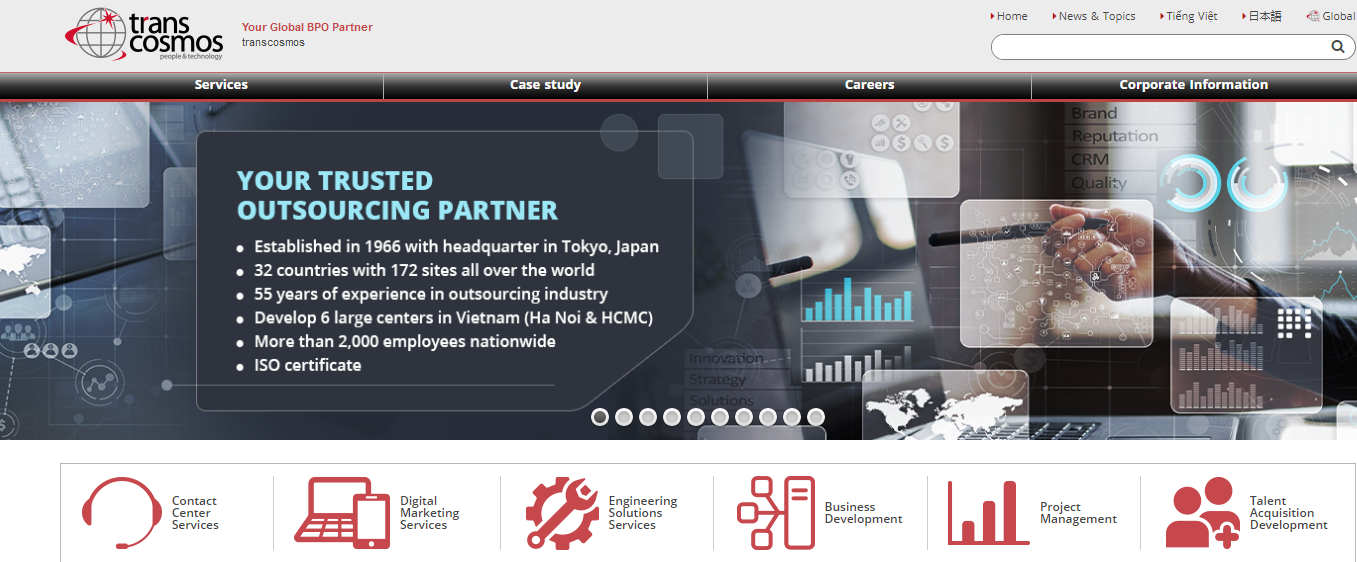 Transcosmos Vietnam, a renowned Japanese outsourcing company founded in 1966, extends its footprint to Hanoi, Vietnam. The company boasts a dedicated team of approximately 2,000 employees, offering a diverse array of services that encompass customer service, telemarketing, telesales, a round-the-clock contact center, engineering solutions, and more.
With over five decades of experience in the industry, Transcosmos has garnered prestigious accolades, including the honor of being named the "First Place Market Share Leader in Business Process Management in the Asia/Pacific and Japan Region Based Total Software Revenue for 2013" by Gartner in 2014, as well as the "Intelligent Business Innovation Award" by Ebrun in 2018.
Leveraging its extensive experience, Transcosmos Vietnam has expanded its presence to 32 countries, with 172 sites worldwide. This global reach, combined with the company's commitment to upholding the Japanese work ethic and professional standards, ensures clients of top-notch service quality and 24/7 customer support. Furthermore, as a foreign entity, Transcosmos Vietnam remains at the forefront of high-tech solutions.
However, owing to its substantial scale, it's worth noting that Transcosmos Vietnam may prioritize larger corporate partnerships over smaller and medium-sized businesses.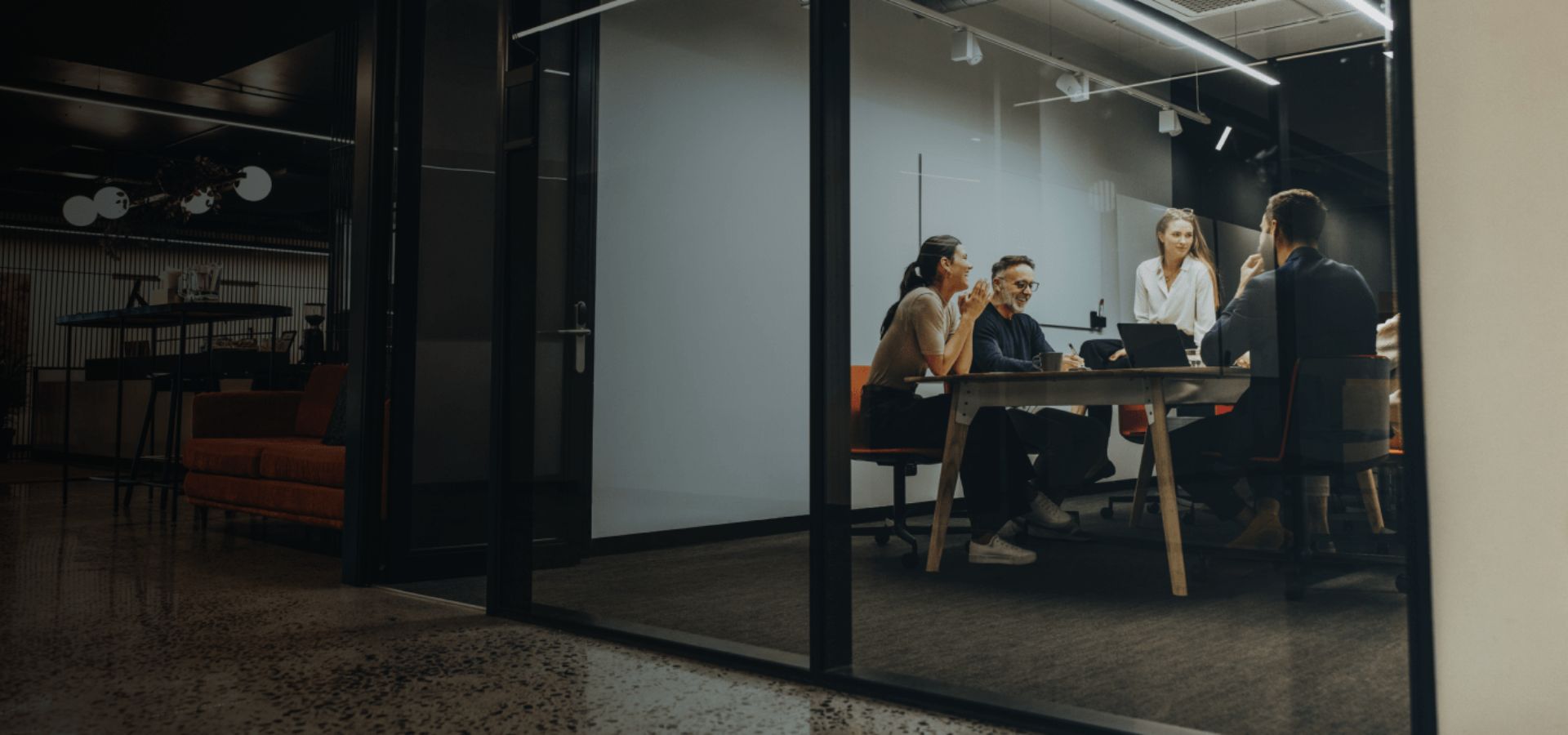 A Home For Back-Office Solutions