Top 10 Best Scrum Software for 2022
Scrum allows teams to self-organize and learn from their mistakes while overcoming hurdles. Many Scrum development teams now use project management software to manage work and boost productivity.
Scrum software  can help you implement the most important elements that make up the Scrum agile process in your organization. Scrum software can aid you in planning and scheduling your daily Scrum schedule perhaps or assistance in tracking the backlog of your sprint and product backlog. Most importantly, Scrum software can collect all the information you need to prepare for your unavoidable review of your sprint, which will take the notes-taking and administrative tasks off your list.
In this post, I'll give a reliable list of the most effective Scrum software and tools and discuss how each one can best be utilized to facilitate Sprint planning, agile project management, iteration, planning, and many more.
What Is Scrum Software?
Scrum software is a digital tool that allows agile teams in software development to utilize the Scrum framework in their daily activities. Scrum software is defined by its capacity to organize Scrum-related tasks, such as:
scheduling your daily Scrum meeting

building Kanban boards

feature prioritization feedback

developing sprint goals

Helping your team develop into self-organizing

assembling your sprint review,
And the list goes on and on.
The criteria for selecting Scrum software
Project Managers are always looking for top-quality tools for managing projects, specifically tools that are flexible and can be modified to fit the Scrum framework. When selecting the best Scrum tool, here are some key criteria to consider. This list doesn't function as a complete list but rather as a guideline to help you choose a Scrum software.
Fit for industry
 The most important aspect to consider when selecting Scrum software is "Do they meet my specific industry specifications?" The best Scrum software is customized and adapted for various types of project teams, sizes, styles and even industries.
User interface (UI)
Scrum relies on team members self-organizing. Therefore the user interface reflects that by being simple, clear and easy to learn. It should also be flexible. Additionally, burndown charts, roadmap templates, and the other important items must be easy to locate with only a few clicks.
External sharing
Following accessibility, an additional important aspect is the capability to share information among team members and even with external parties. This is essential since external sharing makes information available to everyone working on the project, including contractors, vendors, and even external stakeholders.
Management of tasks
The best Scrum software should include robust task management tools. Task management will allow you to assign tasks to team members. Establish deadlines and keep track of deadlines. Additionally, the software should be able to send email notifications to team members.
Real-time and customizable reporting
One of the most important aspects when looking into the Scrum software is real-time reporting. Users must be able to collect vital information that shows the status of their projects and work. The information must be available in flash and in real-time.
Integrations
Scrum is a cross-functional team model; therefore, other project management software will be necessary for your everyday routine. The most effective Scrum tools will be able to connect with tools for managing projects like cloud storage and task lists, mind mapping, communications and messaging, real-time collaboration tools, and much more.
Value for money 
How appropriate is the price of the capabilities, features, and use case? Pricing is transparent, clear and flexible?
Another crucial aspect to bear in mind is that the software you select should let you create custom fields and export the data. A reliable Scrum software must also allow the flexibility to change how data will be displayed to the stakeholders.
Although these are some of the most important aspects to consider when selecting the ideal Scrum software, there are many other elements to think about according to the type of project type, size, and use case.
Scrum Software Key Features
Prioritize transparency and visibility

: Members of the team and the product owner, and all stakeholders should be able to access the same information, whether via shareable dashboards or automated reports.

Stories and story point for users

: The customer is the main focus of every product iteration and the Scrum development process. Therefore, using tools to define the person they are and what challenges (the "issue") they confront is vital.

Burn up charts and other metrics

: Knowing who's completed what works for lifecycle goals, increments work, or backlog work will notify everyone on the team of important dependencies, bottlenecks, roadblocks, or bottlenecks.

Budget billing and time tracking capabilities:

The best Scrum software will allow cost tracking and offer an easy and precise report on budget results. If you frequently have several clients, your Scrum software must also keep track of the amount of time you spend on projects that allow you to create invoices according to the completed work. Scrum software that includes time tracking features can help you save a lot of time for admin each week.

Documentation:

All information about the project must be all in one location. It doesn't matter if it's calendar events coming up or tasks completed, the customer and project manager, and bills and expenses that are prepared to be sent out to clients. An ideal Scrum tool must provide quick access to information so that team members can review and share data in only a few clicks.

Scheduling and planning:

Scrum software has features to plan and schedule tasks, set deadlines and priorities, and assign tasks to team members.

Resource Management:

Time management isn't just the one thing to control – tracking other resources that impact results is equally important. For example, office materials and meeting rooms are also resources that must be managed to improve efficiency and effectiveness.
Overviews Of The 10 Best Scrum Software
Below is a short description of each scrum software tool's best features on my list.
Monday.com
–
Best for highly collaborative Scrum teams
Monday is a cooperative work OS utilized by Hulu, Adobe, Gameloft, BBC Studios, and Universal. The user-friendly, vibrant tool emphasizes the importance of collaborative work by incorporating drag-and-drop group scheduling, RAG's status updates, and easy access for guests and sharing. The free plan includes unlimited boards, over 200 templates, more than 20 columns, and unlimited viewers. It comes with great iOS and Android applications, too.
Monday.com costs as low as $6 per month and includes a free 14-day trial. They provide a free trial for up to two users.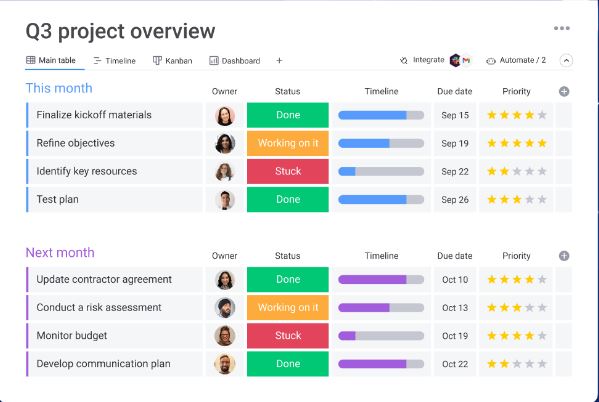 PROS
A huge focus is placed on collaboration.
A long list of integrations that are supported
Pulses in the form of spreadsheets to track advancement
CONS
Do not have forecasting of resource
Horizontal pipeline views result in excessive scrolling
Single-user plans are not available.
Wrike – The best to use for Scrum Agile templates
Wrike is a project-management software for teams with five members or greater. It comes with Scrum software and tools and is extremely customizable, allowing users to alter workflows, dashboards and reports, and request forms.
Wrike lets users switch between agile Kanban boards, single-click Gantt charts, and more traditional workflow views. The software also comes with several already-built Agile templates and has task lists, subtasks, scheduling, collaborative workflows, file-sharing, and real-time collaboration. Automatically prioritize backlogs and schedule sprints using Gantt charts and Kanban boards. Additionally, monitor the success of your sprint by generating reports.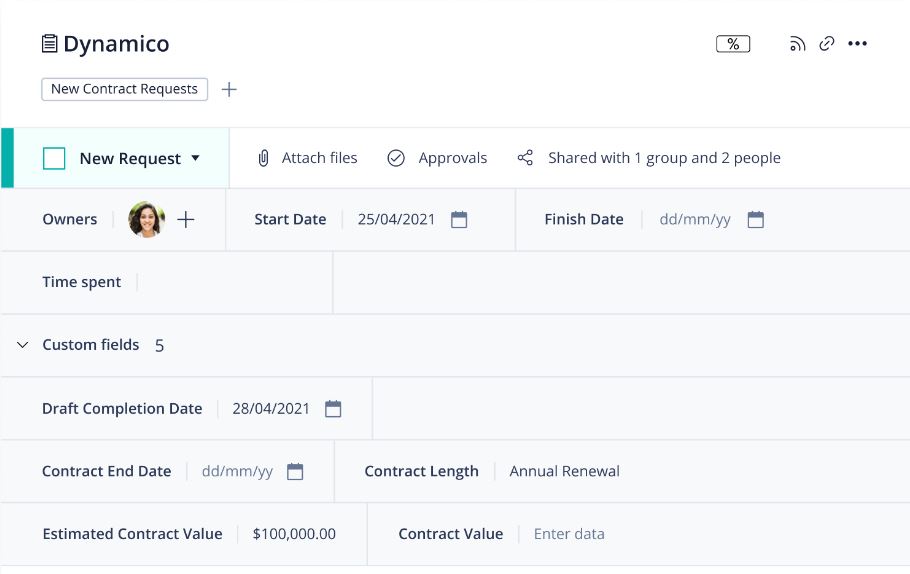 Wrike offers an easy-to-use and intuitive interface and navigation, with distinct areas, folders and tasks. Users can switch to the homepage screen, timesheets and dashboards, calendars, reports, and an activity tracker. Wrike offers a dedicated help centre that includes videos, interactive training and tutorials, a 'Getting Started' guide, and a vibrant community.
Wrike has over 400 natively built integrations that are pre-built. These include integrations with the most well-known file management software such as Microsoft, Google, and Dropbox and marketing and sales software by Salesforce and Marketo.
Pricing begins at $9.80 per user for a month. There are four pricing ranges, including a no-cost version and plans that offer the possibility of inviting other collaborators for free to the paid account.
PROS
Users can access various completely customizable dashboards
Easy to use and user-friendly for all levels of experience
View tasks and projects in multiple views (list or table Kanban, Gantt)
Fantastic email integration
CONS
Time tracking is provided only in Business/Enterprise plans.
There are no task priority levels. High priority flags are only allowed.
No alerts to alert against untagged or unassigned tasks.
Zoho Sprints – Best Scrum board to facilitate real-time collaboration
Zoho Sprints is a handy tool for managing projects that can help Scrum teams manage the user's stories and backlogs, monitor them and monitor the progress of their Scrum Boards. It's an easy and clutter-free Scrum software that allows teams to focus on producing top-quality work.
The drag-and-drop planning builder aids teams plan their next sprints by transferring things from the project backlogs into their sprint's backlog. The project backlog is the storage for the user stories, tasks and bugs. A planning centre is a dedicated tool that allows teams to enhance their project backlog using options to filter, sort, and search through the default and custom parameters.
The Scrum Board in Zoho Sprints can be easily customized and gives the ability to see and understand everyone's performance. It's easy to drag and drop stories to completion, make custom statuses and assign WIP limits. Teams can organize tasks into swimming lanes according to the priority of levels and their importance or estimation points and monitor how fast sprints progress on an exclusive dashboard of sprints.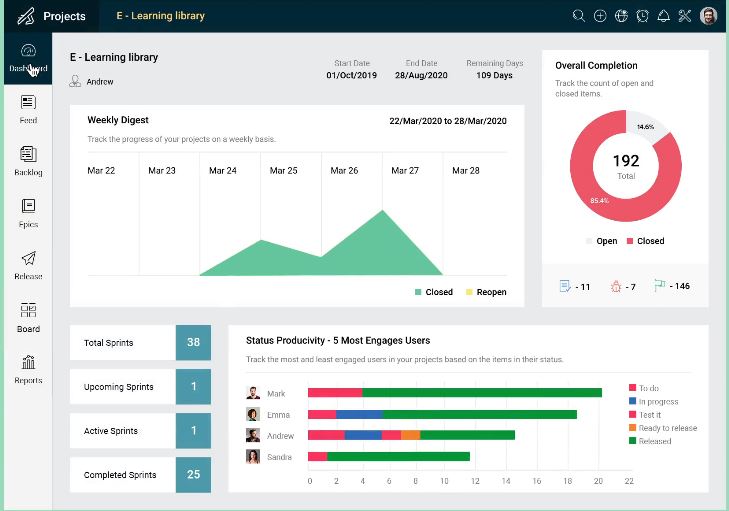 Zoho Sprints provides real-time reports and provides insight into the overall development. This Velocity Chart calculates the amount of work completed during each sprint and allows teams to determine and plan the future sprints. Additionally, Burndown and Burnup charts assist teams in keeping track of the rate of their burning estimation points by reviewing the current and ideal progression line.
Collaboration and communication are vital in all aspects of life and they're particularly important when working with teams with different functions. With Zoho Sprints, Product teams can work together in the context of their work by using tools like chat built-in virtual meetings and an interactive feed of their projects.
Zoho Sprints is well integrated with the most popular repository management tools such as GitHub, GitLab, and Bitbucket. DevOps teams also can automate their CI/CD pipelines by joining with developer tools such as Jenkins or Azure DevOps. Teams can use webhooks and APIs for their integrations or browse through an ever-growing collection of apps available at Zoho's market.
Zoho Sprints costs $6/month for users (billed each year). The service is free with up to 3 users on three projects. Zoho Sprints offers a free trial for 15 days (no credit card required).
Teamwork – Ideal for API documentation
Used by more than 20K companies, Teamwork is a project management tool that emphasizes the importance of collaboration and accountability through time tracking, management of workload as well as templates and automated. The API of Teamwork is flexible and available with various self-help tools to manage data, build integrations, create custom product workflows for development, and even visualize your data. Teams that are Scrum-focused and cross-functional will appreciate the flexibility of this API.
The cost for Teamwork starts at $10/user/month. They also provide a freemium version of the program that allows up to 5 users, and they also offer a 30 day trial free for every paid subscription.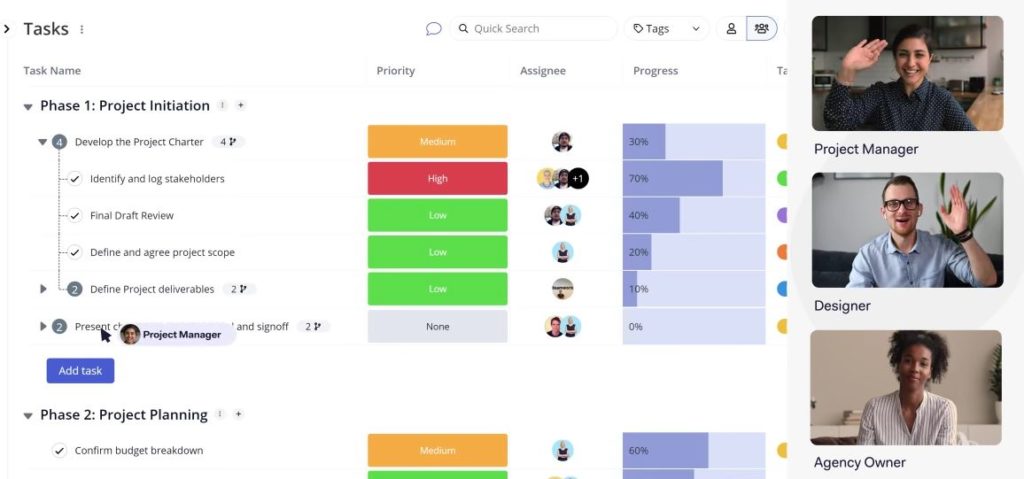 PROS
Features can be turned off or on (tasks messages, tasks time, risks billing)
Easy zoom in/zoom out on project plans
Simple to communicate tasks' status to the team or clients
CONS
There is no CSS template option to allow for advanced customization
No templates or formats
There's no way to quantify the capacity of your team
ClickUp – Best for freelancers & entrepreneurs
ClickUp claims to be "one app to replace them all", and I agree. It's an excellent jack-of-all-trades tool that can handle the basics of tasks, documents, team chat and more, all in a clean user interface that is welcoming and inviting. Remote scrum teams will appreciate the simple capture and screen recording options to facilitate stand-up meetings over long distances. In addition, their free plan is very large, with unlimited tasks, unlimited members and the capacity of 100MB storage.
ClickUp charges $5/user per month. ClickUp also offers the option of a free version that includes unlimited tasks and unlimited membership.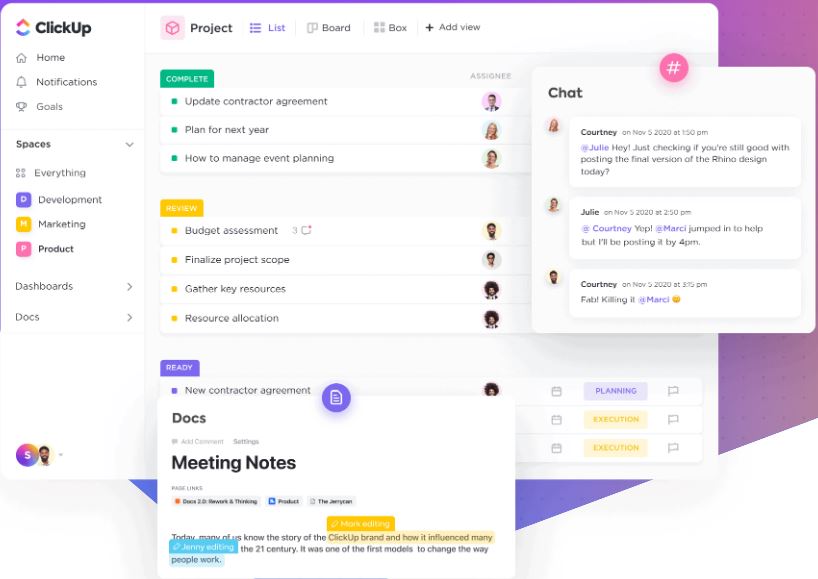 PROS
Free forever plan provides unlimited members
Unlimited file storage for all paid account Tiers
Can you email (set up) the task directly from Outlook
CONS
The guest's permission to read-only is limited to a paid account
The reporting suite is available to plans that are paid
The wide range of customization options can result in an extensive setup
Jira– Best scrum software for companies
Jira Scrum board takes this software's powerhouse of workflow and focuses it around collaboration among teams, and then incremental delivery begins. The most important features scrum masters will appreciate are their customizable stories for agile users, more than 25 agile filters and extensions and a powerful template manager for projects. Atlassian has Jira, Confluence, Trello, BitBucket, SourceTree, and Bamboo. It is a perfect fit for businesses that need everything within one place.
Jira is priced at $7 a month per user for 10 people. Jira also offers free licensing to groups that have 10 or less.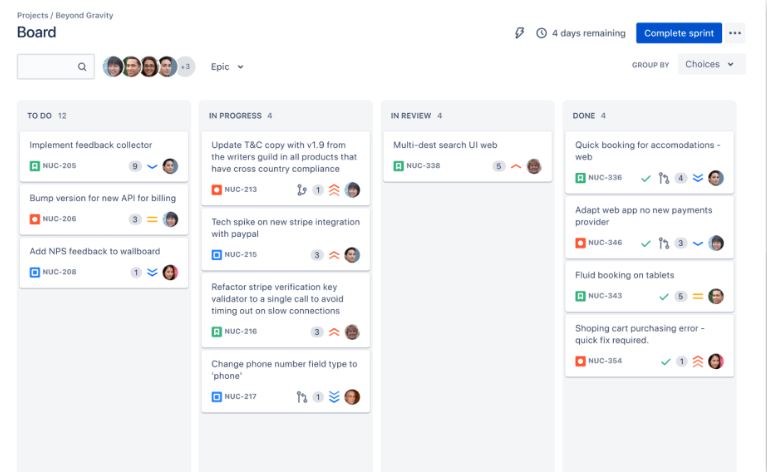 PROS
One view of all user stories
It can create tasks, sub-tasks, epics, spikes, and tasks
All historical works are housed to be able to refer back to in the future.
Administration centralized across the entire Atlassian Cloud products.
CONS
Limited collaboration features
It is necessary to improve the linkage between the stories and tasks
No scripting or mass editing (rename a whole group of labels, etc.)
Targetprocess– The best for Sprint retrospectives.
Targetprocess is a Scrum team management application that provides specific solutions for product managers and releases train engineers, portfolio managers and coaches who are agile. They simplify sprint retrospectives using built-in tools to monitor the team's happiness, record feedback or even keep an overview of the project. Targetprocess is equipped with board tags that include "worked well," "didn't work well," and "improvement ideas", making collaboration in retrospectives much simpler.
Targetprocess provides customized pricing on inquiries.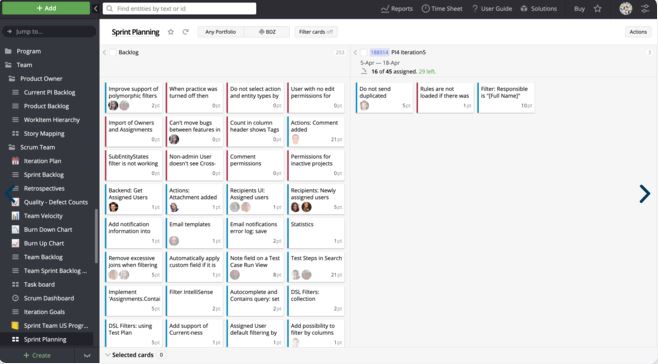 PROS
Can choose between unique or standard views per user
The supportive and responsive customer service team
Customized reports and graphics to identify patterns
CONS
There is no way to duplicate steps
Does not include tracking iteration
It can be not easy to transfer entities to different stages of the hierarchy
VivifyScrum -The best for small-sized teams and startups.
VivifyScrum is an online project management tool that includes free Scrum training in their VivifySCrum EDU training course. This is only one of the many additional advantages small and startup teams will enjoy. They also offer fixed-price licensing options for SMBs navigating through the ever-growing universe of monthly workflow app subscriptions. Furthermore, teams of all sizes will appreciate their agile and flexible board, charts for burndown, and Scrum statistics graphs.
VivifyScrum is priced at $96 as a one-time cost for 10 users. The program provides a free 7-day trial and a 30-day return policy after purchase.
PROS
Easy to add or move tasks around on the board
Cards and labels are great for a bit of organization
Useful shortcuts to quickly designate, assign and label or type tasks
CONS
Not integrating with 3rd party services.
Can't sort backlog items in a dashboard view
Gitlab connection may be improved.
Axosoft – Best Sprint dashboard
Axosoft is a Scrum software suite utilized for Cisco, Fujifilm, IBM, and Oxfam. Its features comprise bug-tracking, help desk and wiki tools specifically designed for teams working on development. Their Release Planner is great for planning sprints, as well as their Rank mode can help rank items in your backlog according to the priority. Their modern sprint dashboard's UI and clear, uncluttered visuals allow for a quick-glance view of data with simple access to the deep dive features.
Axosoft is priced at $8/month for a user and gives a 14-day no-cost trial.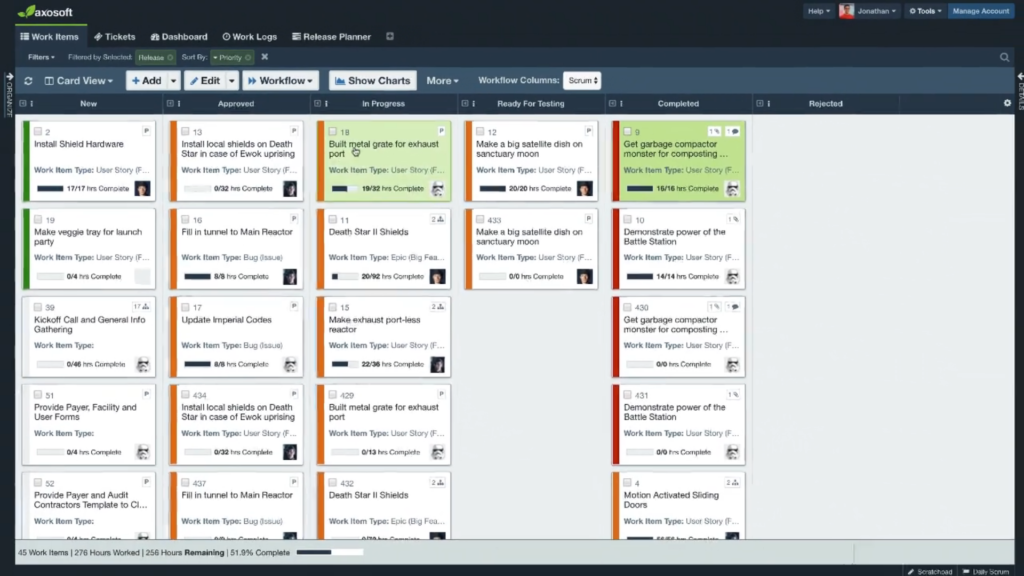 PROS
Time tracking up to the second to provide exact sprint estimations
Complete audit trail for changes, comments and modifications
Wiki page development for endless test cases and documentation
CONS
It can be not easy to attach or add images
No auto-response feature for ticket creation
Auto-refresh is a feature that causes the screen to leap
Orangescrum – The best Scrum software with Resource management
Orangescrum is a cloud-based or self-managed scrum solution that includes customized status workflows and templates for projects, Scrum and Kanban boards, and tracking of resource and time management. Managers can take advantage of other features, such as allocating resources, leaving management templates for recruitment, and their free e-books on project management. The product is available with applications for iOS and Android also.
Orangescrum is priced at $9/month for 10 users. They offer a 14-day trial free of charge.
PROS
The cost per user is comparatively low.
Respond to tickets and read them by email without having to sign in
Elegant and elegant dashboards and views
CONS
Tasks and projects are divided between two pages/spaces
Apps for Android and iOS cost more as an additional
Chat in-app and wiki restricted to professional plans
Other Scrum Software
Here are a few others that didn't make the top 10 list.
Final Thoughts
The best Scrum software will allow you to define the tasks to be completed, plan the resources needed to finish the project, and anticipate conflicts that could arise if resources are exhausted. The data on resource use will indicate the need to define the boundaries or limits on certain resources. The team's leaders can assign the resources needed to specific duties and ensure that the team members have all the help they require to fulfil their responsibilities.