Daily Scrum Meeting – A Brief Guide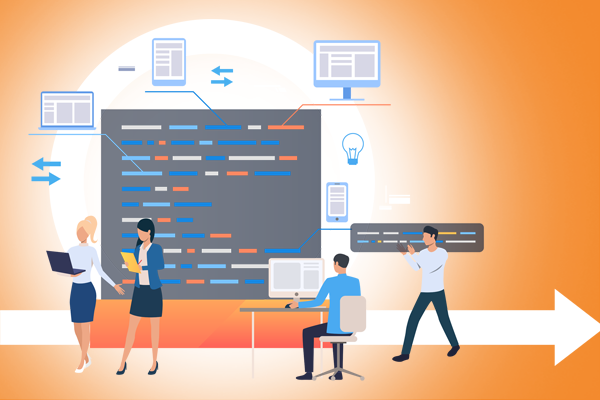 Daily Scrum meeting are vital for the success of any
Scrum sprint
. They form part of a standard
Scrum workflow
and keep track of the sprint's progress, discuss issues that arise, and resolve obstacles. This Scrum guide will give you tips and the best practices to have productive and effective
daily Scrum meetings
. Let's begin by providing a complete everyday Scrum meetings definition.
What is a Daily Scrum meeting?
A daily Scrum meeting (also known as a stand-up meeting) is a short, time-boxed meeting when members of the Scrum team assemble to deliver updates on what they worked on the previous day, what they plan to do today, and what obstacles or challenges they faced (if any).
Stand-up meetings are a part of
Scrum ceremonies
and are that is built into
Agile
Scrum, promoting self-organization, problem solving, and continuous improvement.
The daily Scrum meetings are usually short and generally last around fifteen minutes. To cut down on complexity, daily stand-up meetings should be held on the same day and time in the location every day. Some teams have the meeting in a standing position to emphasize the importance of timing.
The daily Scrum meetings allow teams to tackle issues and continuously discuss, plan the activities, and ensure that they help achieve the sprint's goal.
Who attends the daily Scrum meeting?
Members of the development team, the
Scrum Master
, and the
Product Owner
are invited to attend daily Scrum meeting. In essence, the daily stand-up meeting serves as an opportunity that the developers can meet to talk about the progress and goals and to work out any problems.
The Scrum Master leads the meeting. Although the Product Owner can be in the meeting, they play less of a role. Are you wondering what the reason is? If the product owner doesn't have an official role within this project (as part of the developer team, for instance) and has less to contribute during daily Scrum meetings.
The benefits of daily Scrum meetings
For teams that are who are committed to creating positive working environments, reaching the sprint's goal, and ensuring effective collaboration, daily Scrum meetings can be beneficial. If they are properly scheduled and executed, daily Scrum meetings offer these advantages:
Daily Scrum meetings aid in synchronizing the team to track the team's progress

Team members can talk about their progress towards the goal of the sprint and the tasks they're working on throughout this day and receive feedback on whether they're progressing at a reasonable speed or not. Additionally, they can understand what the other team members have been working on and provide transparency and clarity throughout the sprint.

Daily Scrum meetings encourage collaboration.

During the discussion, participants share their experiences and discuss any issues arising. Scrum team members can help one another overcome obstacles and apply Agile practices and beliefs.

Daily Scrum meetings can serve as an opportunity to solve problems.

Run into an Agile impediment? Scrum teams can share their issues or concerns to allow other members to offer solutions.
Daily Scrum meeting three questions and agenda
Daily Scrum meeting is centered around three key questions — often referred to as everyday Scrum questions. These questions are straightforward; however, they are essential to every session. These three Scrum issues are
What were you up to yesterday?

What are you up to today?

Are there any issues that could affect the execution of your work?
The development team members must try to address the three everyday Scrum questions in your stand-up meetings, and these questions should form an integral component of the plan of your stand-up meeting.
The most common mistakes of daily Scrum meetings to avoid
Scrum meetings are an essential gathering — we know this for sure. However, the stand-up meeting needs to be correctly run to be effective. Beware of the errors that could affect the efficiency of your regular Scrum meeting. Here are some common mistakes teams make in their weekly Scrum meetings that need to be avoided.
Tardiness: Stand-up meetings are held with an estimated time limit of 15 minutes. Members of the team should be at the appropriate time and prepared to discuss their work and any issues.

Conversation monopoly: If an individual is given an area to speak on, they must be on time and not wander off to the detriment of others. Everyone has to be able to speak to the team at the end of their session and not overstay the time allotted to them.

Confidentiality: Team members should be open about any issues or obstacles they face. They should also try to avoid negative feedback or present the feedback diplomatically.
How to Run a Scrum Meeting
Scrum is a framework for applying the
Agile method
of working. One of the most significant aspects of Scrum is the daily Scrum meeting.
You can conduct an effective Scrum meeting efficiently by implementing the steps below:
Your meetings should be in the same place, and the same place every day.

Face-to-face meetings or video chat for communication via.

Make sure they are brief and concise. These sessions are usually shorter than 15 minutes.

Concentrate on any news that has occurred since the last meeting and the tasks to be completed before the next meeting.

Focus on the immediate actions and issues which need to be resolved. You can address any concepts, plans, or problems that will need more attention later.
To stay focused during the Scrum meeting to keep the team focused, ask them to answer these questions:
What have you accomplished since the last time we met?

What are you planning to achieve within these next 24-hours?

What problems or issues are you currently dealing with?
Five other tips for a successful Scrum meeting:
Keep to your scheduled time and agenda. Don't let your meeting veer off track.

Bring out your Scrum board at the time of the meeting to ensure your team members can track how they are progressing.

Don't invite anyone from outside to the meeting unless necessary.

Make it an informal meeting.

Set up the start and stop times, and also expect your team to be prepared