It is the implementation of cloud data management platforms and tools, policies, and procedures that give organizations control of their business data, both in the cloud and in hybrid setups where data is stored or sourced in a combination of on-premises and cloud applications.
The ever-growing list of cloud applications and tools being adopted by enterprises is leading to an exponential growth in data — whether structured, unstructured or semi-structured. Because this data is a critical asset for modern enterprises, managing it has become a strategic imperative, especially as the numbers of data users increase, the quantity and types of data increase, and the types of business processes evolve.
How Does Cloud Data Management Differ From Traditional Data Management?
Increasingly, organizations are realizing the value of migrating workloads to the cloud, taking advantage of improved agility to optimize new products and services and reduce CapEx and OpEx. As enterprise businesses continue to shift IT operations and applications to the cloud, the need for data management tools and platforms that are more cloud-centric is vital.
Traditional data management tools work well for on-premises workloads but tend to struggle where cloud-based workloads are involved. One way in which data management tools are made cloud-centric is by developing them as cloud-native — meaning they are architected to run in the elastic and distributed nature required by modern cloud computing platforms. A few other key tenets of cloud data management platforms (also known as cloud data lakehouse management platforms) are that:
They can support data across various cloud ecosystems (multi-cloud).
They are API-driven and delivered as microservices.
They use modern constructs like containers and serverless for faster and scalable deployment.
They are simple to install and set up.
They are easy to manage, with automatic upgrades and patch management.
They are priced based on service utilization.
Key Tools and Capabilities for Data Management in the Cloud
As organizations plan out or rework their data architectures in response to changing business requirements and processes, cloud data management should be a top consideration. Here are five important capabilities to consider when creating your cloud strategy:
Cloud Integration
The cloud can drive innovation, uncover efficiencies, and help redefine business processes. But these benefits are only achieved when your cloud infrastructure allows you to integrate, synchronize, and relate all data, applications, and processes—on-premises or in any part of your multi-cloud environment.
At a more granular level, businesses may be looking to design, run, and automate business processes that span applications. They might be looking to integrate applications in real-time using orchestration, APIs, and messaging, or running extract transform load (ETL) batch integration jobs for their analytics platforms (cloud data warehouses and data lakes) or to keep application data synchronized.
For these situations, organizations need intelligent data and application integration and API management tools, as well as a broad set of connectivity capabilities — all of which form the core components of a modern integration platform as a service (iPaaS).
Cloud Data Quality and Governance
As companies put data at the heart of their business processes, the most successful organizations recognize the role of high-quality, trusted data in their digital transformation initiatives. As this recent survey by McKinsey & Company notes, "Companies that empower employees to consistently use data as a basis for their decision making are nearly twice as likely as others to report reaching their data and analytics objectives." In addition, data regulations have become increasingly complex and dynamic.
To move their initiatives forward, an organization must ensure that people across the enterprise are able to easily locate, access, understand, and use data. You want to enable business and IT users to quickly realize business value from trusted, clean, high-quality data with automated, cloud-based data quality and governance processes.
Cloud Data Privacy and Security
Increasingly, organizations are realizing the value of migrating workloads to the cloud, taking advantage of new agility to optimize new products and services and reduce CAPEX/OPEX to leave their competition in the rearview mirror. In public cloud and hybrid environments, data is becoming more exposed to the risks of abuse and attacks beyond the traditional firewall. Protecting your data, managing safe access, and enforcing compliance and appropriate use policies to reduce the risk of security breaches and corporate abuse is not just business-critical — it's now the law.
Traditional, system-level data protection that remains on-premises is no match for today's perfect "storm cloud" of expanded data sharing across boundaries and migrated applications, the accelerated growth of new data types deemed sensitive and personal, and surging volumes of data ingested into data repositories. The customer backlash for data breaches is often now directed at unprepared organizations as well as at criminal bad actors. Compliance is no longer just a matter of increased fines and penalties; long-term customer loyalty also hangs in the balance.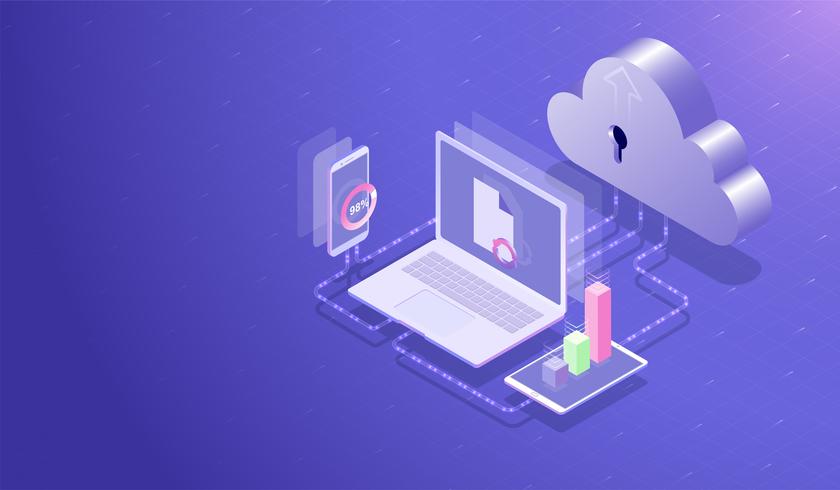 But there is an upside — privacy assurance helps democratize safe data use, accelerate and unblock cloud workload migration, and deliver innovative products and services that build on customer trust. Integrated cloud data privacy and protection tools can help you automate discovery and classification of sensitive data, map identities for clear ownership and support data access rules, operationalize privacy policies, model and analyze data risk exposure across data stores and locations, and orchestrate data protection.
An integrated approach based around metadata-driven intelligence and automation can help to enable quick action — such as the response to the SARS outbreak — providing data use transparency, data masking for the protection of personal information, and monitoring for the effectiveness of controls in place for audit reporting.
With all the data being generated across business lines, you need a complete, 360-degree view of any domain and any relationship in the cloud. Furthermore, there is a push for intelligent data stewardship and improved search and visualization of data, as well as improved verification and enrichment — the goal being attaining a "golden record," which provides access to the purest, most validated, and most complete picture of the individual records in your domain.
Cloud master data management capabilities synchronize the most critical data across various systems in your organization, enabling AI and analytics teams to derive deep insights from that data to power your business.
Cloud Metadata Management/Data Cataloging
Companies are transforming their businesses to drive innovation, improve customer experience, lower cost, and enhance operational efficiencies. No matter what the business drivers are, all of these business transformations depend on good, trusted data. But, as the data landscape gets more complex, data is diverse and distributed across many different departments, applications, data warehouses, and data lakes (some on-premises, others in the cloud), making it a challenge to know exactly what data you have and where.
A comprehensive data cataloging solution uses machine learning-based data discovery to scan and catalog data assets across the enterprise and provide analysts, data scientists, and IT users with powerful semantic search, detailed data lineage, profiling statistics, data quality scorecards, holistic relationship views, automated data curation, crowd-sourced data curation, and much more.
By enabling comprehensive data discovery across the enterprise, intelligent data catalogs allow enterprises to maximize the value of their data assets. By leveraging a combination of technical, business, operational, and usage metadata, intelligent data catalogs also help build the metadata foundation to support cloud modernization, data governance, and other business priorities.
Enhanced Intelligence Through AI
With the geometric pace at which enterprise data is growing, data processing now requires the aid of Artificial Intelligence. Comprehensive cloud data management platforms provide key AI capabilities that allow the automatic discovery and cataloging of data across various systems such as ERP, CRM, etc., automatic discovery of relationships between customer's data and matching insights to specific people, automation of data integration and data quality tasks, intelligent policy management and enforcement, and much more.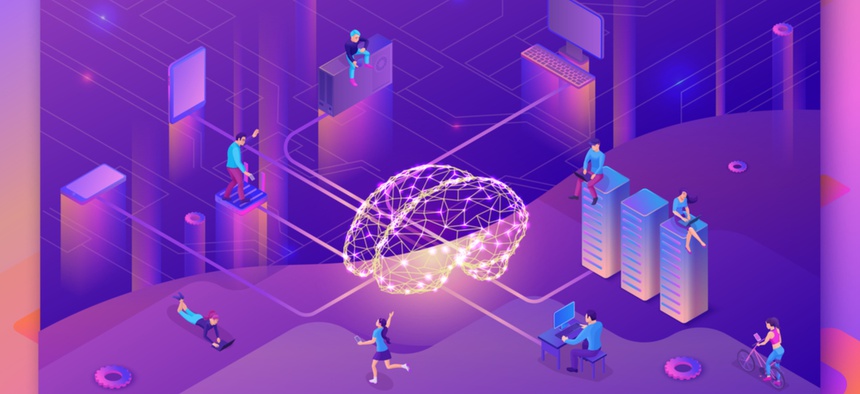 The Value and Benefits of Cloud Data Management
As the modern enterprise evolves and becomes more cloud-centric, it is imperative to have the right tools and processes in place to manage all that data.
Cloud data management involves the end-to-end lifecycle of data, from creation to retirement, and the controlled progression of data to and from each stage of its lifecycle. It helps minimize the risks and costs of regulatory noncompliance, legal complications, and security breaches. It also provides access to accurate data when and where it is needed, without ambiguity or conflict, thereby avoiding miscommunication.
At a high level, here are some of the core benefits you can derive from having the right cloud data management strategy and tools in place:
Enhanced analytics through improved integration and ingestion.
Improved data security and data governance posture.
Improved data quality to avoid the "garbage in, garbage out" problem.
Rapid data discovery and enhanced metadata management.
Optimized records maintenance and management across systems—attaining the "golden record".
Example Use Case: Modernization With a Cloud Data Warehouse
One of the key digital modernization initiatives being undertaken by organizations is the adoption of cloud data warehouse (CDW) systems for improved analytics. CDWs offer a plethora of benefits over traditional data warehouses, such as enhanced scalability and elasticity, flexibility and agility, faster time to value, better performance, and much more.
The right cloud data management tools can aid and accelerate the process of migrating workloads from an existing on-premises data warehouse to the cloud or building a new cloud data warehouse. There are multiple steps involved in delivering an optimized CDW, including (but are not limited to):
Discovering the right data — You want to find and migrate all the relevant data to the new CDW. For example, is there data in another cloud application such as Salesforce that would be useful? Is there something that exists only on a spreadsheet on OneDrive that is relevant?
Integrate data across various sources into the CDW — The data in your cloud data warehouse will come from a rapidly expanding array of sources, each of which has its own data models and format. Internally, the potential data sources include applications hosted on public clouds like software as a service (SaaS) apps
Ensure data quality — If the data you feed into your CDW is of low quality, so will be the insights you generate. Data quality needs to be a key requirement for any successful analytics project.
Without a comprehensive set of cloud data management tools in place to aid with the above, most CDW projects will face stumbling blocks towards seamless operation.
Conclusion
An effective cloud data management strategy is imperative for the modern enterprise — especially as organizations accelerate their adoption of cloud infrastructure, applications, and services. Whether you are moving and synchronizing data across data systems, securing critical organizational and customer data, ensuring high-quality data across systems, or uncovering deep insights into the lineage of critical enterprise data, defining the data requirements and potential solutions is step one.
A platform solution can be a key advantage as all key capabilities are placed under one unifying umbrella, sharing a common data model.
Related Article: