Why Should Startups Need to Cloud Managed Services?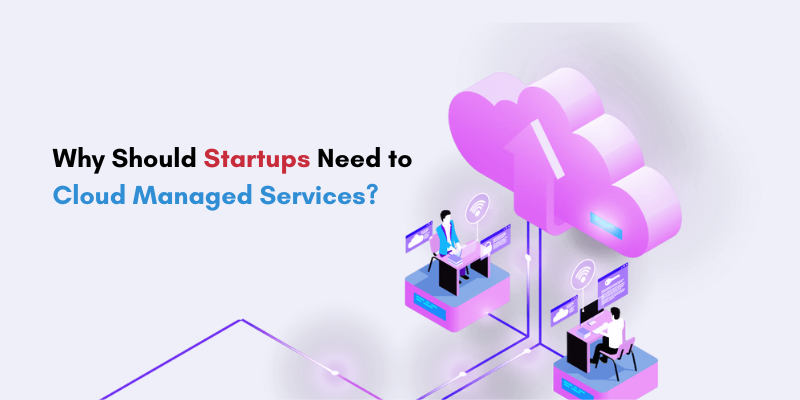 Cloud platforms require specialized knowledge to operate for your business to perform smoothly and securely. Cloud-managed services provide the resources needed to become scalable while focusing on security and cost-cutting. If you're wondering how Cloud Managed Services might help your business, this article will explain the advantages of working with an experienced Cloud Managed Service Provider.
What is a Cloud Managed Service (CMS)?
It is a service offered by certified Cloud specialists and engineers to assist you in managing your cloud infrastructure and performance.
Cloud Managed Services handle a client's cloud resources or infrastructure in part or whole. Management tasks include migration, configuration, optimization, security, and maintenance. These services are designed to assist businesses in maximizing the benefits of cloud services while minimizing internal time and costs.
Cloud Managed Services are offered for public, private, and hybrid clouds at any step of the cloud adoption lifecycle. Before migration, organizations commonly contract for services to gain support in deciding which cloud resources best meet their needs and ensuring that configuration is handled appropriately.
Learn more about Bestarion's IT Staff Augmentation ServicesServices.
The
Benefits
of Hiring a Cloud-Managed Services Provider
Collaborating with a Cloud managed service provider (CMSP) has various benefits and drawbacks. These criteria may or may not affect your decision, but understanding them will help you get the most out of any service you choose.
Advantages
The benefits are different depending on the provider and your unique cloud configuration. However, typical benefits include:
1. Resource Optimization
Cloud Managed Service Providers (CMSPs) can help you figure out which services are most suited to your workloads. They may also advise you on the most cost-effective pricing models for your needs and how to set up services to enhance performance while saving costs. Many providers can also give detailed statistics or performance measurements for your existing resources and configuration recommendations.
2. Integrate Cloud Services
CMSPs have a considerable benefit in terms of integration support, especially when aiming to construct a hybrid or multi-cloud environment. Hybrid clouds mix on-premises and cloud resources, while multi-clouds incorporate cloud services from several providers. More complex setups are usually required in these systems than in single-cloud or cloud-only deployments.
Cloud Managed Service Providers can help ensure that your cloud services are seamlessly integrated with your existing systems. They can also assist in ensuring that staff, users, and apps have continuous access to resources.
3. Spending Control
Many CMSPs use a tiered, subscription-based support approach to address various demands. This increases the flexibility of your budget and might help you ensure that you only spend what you expect each month.
Furthermore, some providers accept credit card payments for services. This allows you to receive more assistance during times of high demand in return for less help during periods of low demand. This is perfect for companies that have unpredictable or seasonal schedules. For instance, tax or audit firms.
Disadvantages
Despite the benefits, working with an MCSP has certain drawbacks. Keep a look out for the following:
1. Expenses Must Be Tracked
Although invoicing is predictable, choosing a Cloud Managed Service Provider will boost your cloud budget. Depending on the level of care you receive and the complexity of your systems, provider services might be costly. This is mitigated by lower spending on in-house resources and cheaper cloud resource costs. However, if you have not carefully adjusted your budget to account for this, you may spend more than you expected.
2. Performance Can Be Sacrificed for optimization
When optimizing cloud resources, using lesser data storage tiers or lower performance alternatives is common. This is acceptable for many types of data and applications but might present issues for others. Your data may be slower to access, or processes may take longer than intended if providers do not correctly prioritize assets.
As a result, it is vital that you thoroughly discuss the implications of any "optimizations" that your provider suggests or implements. Once decisions have been taken, you should double-check the outcomes to ensure that they satisfy your specifications and make any necessary modifications.
3. Multi-tenancy Increases Security and Privacy Risks
Cloud MSPs, like public cloud services in general, use a multi-tenant paradigm. This means that providers are in charge of several consumers simultaneously, and all customer data is kept in one place.
This should not be an issue if suppliers implement stringent security procedures. If another client does not, your system may be harmed. Assume an MCSP is in charge of migration and unintentionally uploads wrong data. To avoid this, check your provider's security procedures carefully and take steps to guarantee that your data is as secure as possible.
Read more: Managed Services for Cloud Infrastructure and Healthcare Applications
Why Do Startups Need Cloud Managed Services?
Cloud Managed Services is a excellent choice for any company trying to save money, boost security, and scale its operations. If you're thinking about moving to the cloud but don't know where to begin, Cloud Managed Services can assist you in getting started while also saving you money!
Our cloud managed services include the following:
Security as a service:

We manage updates and fixes to keep your entire business safe from zero-day threats.

Backup as a service

: Backups of your data, including applications, databases, and operating systems, are taken automatically; if something goes wrong, we have a backup copy available so your staff or customers are not inconvenienced.

Monitoring as a service:

Our monitoring tools monitor all aspects of your virtual infrastructure 24/7, from detecting potential performance issues before they become severe to seeing potential security threats before they become serious.
Many businesses, particularly startups, are increasingly turning to cloud management service providers to meet their objectives.
Cloud computing is an excellent approach to cutting expenses, optimizing infrastructure, and streamlining operations. However, there are several things to keep in mind when signing up.
Read more: Managed IT Services vs. IT Staff Augmentation
Are Startups a Good Fit?
Cloud Managed Services is an excellent fit for startups. Startups are adaptable and agile; they expand quickly, are cost conscious, and seek to scale swiftly. Cloud managed services provide all of these services in one bundle, which explains why so many businesses are turning to them.
There are numerous reasons why startups require cloud managed services, including:
Cost Optimization: Cloud services are intended to reduce expenses by charging only for what you use and scaling up only when necessary. A startup can start their firm with just what they need at the time, rather than having to acquire pricey servers upfront.
Scalability: Scalability is critical for any developing business. Startups can use cloud-managed services to add resources as needed without worrying about obtaining hardware or software licenses from vendors or managing those resources themselves, saving time and money on IT infrastructure management (ITIM).
Flexibility in deployment models: Cloud computing provides flexibility in deployment models, ranging from public clouds, where anyone can deploy applications with no upfront cost (and pay only for what they consume), to private clouds, where an organization retains complete control over its data center while gaining some of the benefits of public clouds, such as elasticity and automation – all while maintaining security controls over how applications are deployed across their networked environment.
How to Select a Cloud Managed Service Provider
Choosing the best cloud managed service provider for your company is about finding the appropriate match.
You should opt for a provider with a strong reputation and reasonable pricing. Consider organizations with a proven track record of providing exceptional customer service.
Consider Bestarion's Cloud Managed Services, for example, if you need an efficient approach to managing your server infrastructure. Our company offers effective server administration services at reasonable pricing, and we have a lot of expertise!
Important Factors to Consider When Choosing a Managed Cloud Service Provider
It can be challenging to select the perfect MCSP for you. Many providers offer the same services, and if you are new to cloud computing, you may be unsure which components are most significant. Keep the following elements in mind as you explore your MCSP alternatives.
Expertise and abilities
Any provider you choose must be educated about cloud services and corporate operations. This includes understanding how to integrate any important tooling or applications and adapting or optimizing your workflows for cloud resources.
SOME QUESTIONS TO CONSIDER:
What cloud services are they familiar with, and how are these services taught to them?

What types of organizations do they primarily serve?

How well do they know the tools and workflows utilized in your industry?
Security and Compliance
Security and compliance should be at the top of your priority list while considering CMSPs. These are some of the most challenging components to handle in companies. The correct service can help you achieve significant improvements above what you could do on your own.
SOME QUESTIONS TO CONSIDER:
What security skills and experience level, including certification, do provider teams have?

Does the supplier specialize in compliance regulations and offer auditing services?

What security procedures are they doing to protect client data and access due to their access? (In other words, an assailant passes through them.)

Are there any security mechanisms built in?
Transparency
Trust is necessary when relying on an MCSP to handle your cloud resources. These providers usually have complete access to your data and may be solely responsible for the operation of your cloud services. As a result, choosing a provider who is open about how your services are handled is crucial.
In an ideal world, providers collaborate with their internal teams to help them understand how services are managed. This openness minimizes your dependency on the provider and allows you to confirm if MCSPs offer the services they advertise.
SOME QUESTIONS TO CONSIDER:
How open are providers in sharing service performance metrics and reports?

Are providers using proprietary or open-source technologies to manage services?

How are changes, maintenance, or problems communicated to you?

What training do service providers offer to assist employees in improving their skills?‍
Cloud Managed Services for Startups
Choosing a managed service provider is a significant undertaking.
You must believe that the provider understands your needs and can provide a solution for everything from cloud administration to disaster recovery. There are numerous options out there, but how do you choose which one? We propose you ask each potential provider the following questions:
How long have they been in business?

What kind of background do they have?

How successful are they?
You'll be able to limit your options by answering these questions until only one shines out as the best fit for your company's demands.