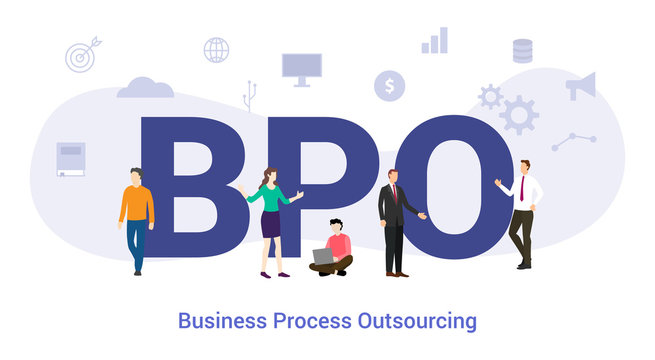 What is Business Process Outsourcing?
Business process outsourcing (BPO) is a business practice in which a company hires an outside service provider to perform a critical business function or task.
A company will typically contract with another company for such services after identifying a process that, while necessary for its operations, is not part of its core value proposition. This step necessitates a thorough understanding of the organization's processes and strong business process management.
Many organizations consider payroll and accounting to be good candidates for BPO because they are performed the same or similar from company to company.
Because these commodity processes do not generally distinguish one organization from another, enterprise executives frequently determine that having their staff perform them adds little value. Companies believe outsourcing these processes to a specialized provider will yield better results.
BPO originated in the manufacturing industry. After determining that third-party vendors could bring more skills, speed, and cost efficiencies to those processes than an in-house team could, manufacturers hired them to handle parts of their supply chains. Organizations in other industries eventually adopted the practice.
Today, for-profit businesses, nonprofits, and even government agencies use BPO to outsource various tasks to service providers in the United States, North America, and worldwide.
Read more: How Accounting Outsourcing To Viet Nam Benefits USA Accounting Firms?
What is the Purpose of BPO?
Businesses use business process outsourcing for two types of tasks: back-office functions and front-office functions.
Accounting, information technology (IT) services, human resources (HR), quality assurance, and payment processing are examples of back-office functions, also known as internal business functions.
Customer service, marketing, and sales are examples of front-office functions.
Some businesses outsource an entire function, such as the human resources department, to a single vendor. Other companies outsource only specific processes within a functional area, such as payroll processing, while performing all other HR processes in-house.
The following are examples of commonly outsourced processes:
administration

customer support

IT management and services

manufacturing

marketing

research

sales

logistics and shipping
Some businesses also outsource strategic tasks, such as data mining and analytics, which have become critical components of maintaining a competitive advantage in a digital economy.
The most frequently outsourced functions, according to Deloitte's "2021 Global Shared Services and Outsourcing Survey Report," are IT, finance, and payroll.
How does BPO work?
For a variety of reasons, business executives choose to outsource a business process. These reasons differ depending on the organization's type, age, size, market forces, and economic conditions.
For example, startups frequently need to outsource back-office and front-office functions because they lack the necessary in-house resources.
After determining that a third-party service provider could do the job better or cheaper, an established company may decide to outsource a task that it had previously performed. Management experts advise enterprise executives to identify functions that can be outsourced and then determine whether outsourcing that task to a third party makes sense.
If this is the case, the organization must identify the best vendor for the job and shift the work from in-house to the external provider. Because the transition to an outsourced provider generally affects staff, established processes, and existing workflows, this necessitates effective change management.
The transition to an outsourced provider impacts the organization's finances by shifting costs from internal functions to outsourced providers and corporate taxes and reporting requirements.
To ensure a smooth workflow for the outsourced provider, the organization may need to invest in new technology. The scope of the function being outsourced and the maturity of the technology infrastructure in place at both enterprises determine the extent and cost of that technology.
Typically, this process begins with enterprise leaders identifying specific functions or business processes to outsource to save money, gain flexibility, improve performance, and redirect resources to core business capabilities.
Business leaders must then decide whether to outsource all of the work to a single vendor or to contract with multiple providers for the various tasks. A company, for example, could decide to outsource most of its HR functions and then either contract with a single provider to perform all of the outsourced processes or hire one for payroll and another for benefits administration.
These factors should result in a list of requirements and a detailed scope of work for outsourcing. Organizations use these to create a request for proposal to share with vendors to determine whether they can meet the requirements, at what price, and with what value-adds.
Once an organization decides which provider or providers to hire, it must decide on the type of contract. Such contracts are typically classified as one of the following:
Time and materials contracts, in which the company pays the provider for the time worked and the materials used;

Fixed-price contracts establish an upfront cost for the specified work.
Additionally, organizations must draft a service-level agreement with their vendors that details the quality of the provided services and the metrics for determining success.
Depending on the needs and nature of the outsourced work, some organizations may also negotiate with providers to include:
Workers on teams who are solely responsible for their outsourced work;

Workers who are only onshore or globally distributed; or

Workers are available 24/7.
Read more: IT Staff Augmentation – Effective Model in 2022
What are the advantages of BPO?
Deloitte discovered in its 2021 report that organizations seek the following benefits from outsourcing:
88% of the respondents cited standardization and efficiency of processes;

84% cited cost savings;

73% cited driving business value;

61% cited digital agenda acceleration;

59% cited developing capabilities; and

36% cited overall business strategy and plans.
Proponents of BPO frequently cite the following advantages:
Financial benefits

. BPO providers can frequently lower the cost of a business process or save the company money in other ways, such as tax savings.

Increased adaptability

. BPO contracts can provide the flexibility to change how an outsourced business process is carried out, allowing companies to respond more quickly to changing market dynamics.

Enhanced competitive advantage

. BPO allows a company to focus more of its resources on operations that set it apart in the marketplace.

Better quality and performance

. BPO providers are well-positioned to complete work with greater accuracy, efficiency, and speed because business processes are their core business.

Access to innovations in the business process

. BPO providers are more likely to be aware of advancements in the process areas in which they specialize. That means they are more likely to invest in new technologies, such as automation, that can improve work speed, cost, and quality.

Expanded coverage

. Organizations requiring 24-hour call center operations can often gain that capability quickly by contracting with a BPO company with around-the-clock capabilities and multiple geographic locations, allowing for a follow-the-sun business model.
What are the risks of BPO?
The following are some of the risks associated with BPO:
Security Breaches

. Because organizations frequently need to share sensitive and regulated data with their service providers, the technology connection between the hiring company and the BPO provider creates another entry point for bad actors.

Regulatory compliance requirements

. The regulatory requirements of an organization extend even to outsourced work, so it must ensure that the vendors it hires comply with the laws that the organization must follow and that the vendors follow the rules that govern the organization's outsourced work.

Unanticipated or higher costs.

Organizations may underestimate the work that must be completed, resulting in higher costs than anticipated.

Relationship difficulties:

Organizations may encounter communication issues with their outsourced providers or discover cultural differences.

Overdependence on the external provider

. When an organization outsources a function or service, it is tied to the partner who does the work. The organization must manage that relationship to ensure that key objectives are met at the agreed-upon cost. If not, the organization may struggle to bring the operation back in-house or transfer the contract to another outsourced provider.

Increased disruption potential

. An organization must keep an eye out for problems that could disrupt or permanently end its relationship with an outsourced provider. These are examples of financial or workplace issues at the outsourced provider, geopolitical instability, natural disasters, or changes in economic circumstances. Organizations must consider such risks and devise strategies for dealing with them, complicating business continuity and disaster recovery.
What are the different types of BPO?
Based on the location of the service provider, BPO is frequently classified as follows:
Offshore outsourcing

: When an organization contracts for services from a company in another country

Onshore outsourcing

, also known as domestic outsourcing, occurs when a company contracts for services from a company that operates in the same country as the hiring organization.

Nearshore outsourcing

: An organization contracts for services from companies based in neighboring countries.
Gartner classifies BPO as either horizontal offerings (those used across multiple industries) or vertical-specific offerings (those that are industry-specific).
RPO, KPO, and LPO
Business process outsourcing is sometimes classified according to the services offered; the three most common categories are:
Knowledge process outsourcing (KPO)

occurs when an outsourced service provider is hired to perform a specific business process or function and provide expertise in that area.

Legal process outsourcing (LPO)

is a type of KPO that focuses on legal services, such as drafting legal documents, conducting legal research, and providing advice.

Another type of KPO is

research process outsourcing (RPO)

, which refers to research and analysis functions; biotech companies, investment firms, and marketing agencies are examples of organizations that use RPO for services.
Examples of BPO
Clutch, a business-to-business research firm, surveyed 500 small-business owners and managers in the United States in 2021 and discovered that eight out of ten small businesses plan to outsource business functions. This is broken down as follows:
27% intend to outsource their IT services.

23% intend to outsource their finance and accounting work.

21% intend to outsource legal services.

20% intend to outsource their digital marketing; and

10% intend to outsource human resources.
How to Select a BPO Provider
Enterprise executives should choose BPO providers to help them achieve their business objectives while becoming more agile, flexible, innovative, and thus more competitive. As a result, when selecting a BPO provider, organizations should consider more than just the cost of the contract. They must also consider how well the provider can deliver on the other points, evaluating each provider to see if it has:
adequate knowledge of the organization's business and industry

the ability to meet current needs while also scaling to meet future needs;

a grasp of and ability to meet compliance and regulatory requirements, as well as data privacy requirements;

reporting metrics to demonstrate compliance with contractual requirements; and

the geographical locations required to meet business requirements and regulatory requirements
BPO market size
According to research firms, the global business process outsourcing market will continue to grow.
According to Grand View Research, the global BPO market was valued at $245.9 billion over the next ten years in 2021 and is expected to grow at a compound annual growth rate (CAGR) of 9.1% from 2022 to 2030, reaching $525.2 billion.
Data Bridge Market Research's report, "Global Business Process Outsourcing (BPO) Market, By Regions, 2022 to 2029," the BPO market will grow at a CAGR of 7.9% between 2022 and 2029, reaching $422.6 billion in 2029. It cited business needs for increased agility and efficiency as primary drivers of that growth.
The BPO industry's future directions
Executives continue to identify and reorder what they require and desire from the vendors they have contracted to handle their business processes.
CGS, a service provider, discovered the following after surveying more than 200 business leaders and decision-makers about how they will evaluate their BPO providers in 2021:
6% put data privacy and compliance as their top priority;

9% want their providers to be a knowledge partner with advanced technology capabilities;

3% evaluate BPOs on their technology platform capabilities; and

3% want BPOs with in-depth experience in the organization's industry vertical.
However, BPO vendors are also facing disruption, as technology can potentially displace the practice of business process outsourcing in the coming years.
Some of the business processes that are now frequently outsourced can be handled by robotic process automation (RPA) and artificial intelligence. These technologies can often perform those functions at lower costs and faster.
According to Deloitte's "2021 Global Shared Services and Outsourcing Survey Report," successful providers use both shared services and outsourcing models, incorporating continuous improvement and innovation into their talent programs. According to the survey, providers see RPA as a critical enabler of their transformation.