Mobile digital devices, such as smartphones, tablets, and e-readers, have had a rapid and profound impact on our daily lives, affecting how we read, shop, play games, search for information, think and behave. This transformation was predicated on a mature Internet with highly developed wireless networks, ever-increasing bandwidth and pervasive connectivity. With this refined infrastructure that now supports our busy digital lives, we are uniquely positioned for a similar radical effect on the future of medicine.
In the health arena, wireless devices were first adopted in the fitness space. When a sensor communicates by Bluetooth to a mobile device, such as one embedded in the sole of a shoe, a body area network is formed. Combined with a variety of wireless scales and accelerometers, these devices quantify data on exercise and activity and can be used clinically to encourage individuals to be more physically fit.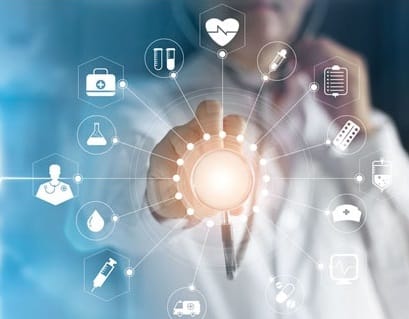 The sensors are complemented by mobile apps that present data on calories about to be consumed by taking a picture of the plate of food in front of you. Beyond weight, diet and exercise, sleep monitoring is now widely available to consumers through different wireless devices, some of which directly measure brain waves and provide precise data on duration of the different categories of sleep and time awake. Wristbands that measure the galvanic skin response are being used to provide data on stress and emotional state.
All of these data are transmitted to the individual's cell phone and can be readily sent to one's social network. Such personal health and fitness information has spawned competitions among family members and friends to lose weight, increase activity or promote better sleep. The health and fitness experience serves as a preview of what the biomedical sensor world will bring.
In the medical arena, continuous glucose monitoring (CGM) has been available for several years. A tiny sensor with a 27 g metal tip that penetrates the abdominal skin transmits glucose values based on the extracellular fluid every 5 minutes for at least seven days. The data accurately reflect blood glucose and not only pre-empt the need for frequent fingersticks but also provides around-the-clock tracking of glucose homeostasis.
A non-invasive approach
To date, CGM is mainly used in insulin-dependent diabetics with poor glucose control. But the technology might be well suited for the large population of more than 27 million diagnosed diabetics and 67 million pre-diabetics, even for a brief period of a week or month, to provide precise data for the individual's diet and exercise influence on glucose regulation. Vital signs including heart rate and rhythm, blood pressure, respiratory rate, oxygen concentration in the blood and temperature can all be measured noninvasively via sensors. The list of sensors closely approximates the list of all physiologic metrics, and ranges from tracking intraocular eye pressure for glaucoma via a contact lens to quantifying mood by integrating tone of speech, activity, galvanic skin response and communication.
The new wireless medicine world is not only sensor-centric. Pocket digital imaging, via miniature high-resolution ultrasound devices, can be used to rapidly scan the heart, abdomen or fetus during routine physical examination or during an emergency room assessment. The digital loops of such images can be wirelessly sent to an expert consultant for rapid interpretation, immediately connecting advanced imaging and medical expertise that was not previously possible.
These remarkable innovations in technology are already having an impact on the practice of medicine. The pocket ultrasound device can reduce the need for formal ultrasound studies in the hospital imaging facilities. Noninvasive, continuous, vital sign monitoring enables the close monitoring of all patients in a hospital simulating the intense surveillance of an intensive-care unit.
The need for in-hospital sleep laboratories will be challenged, with the newfound ability to do all the relevant monitoring for sleep apnea, including respiratory physiology and brain waves, at a patient's home. Holter monitoring to capture the heart rhythm for 24 hours or longer will soon be considered obsolete (it hasn't changed much since first introduced in 1946), with a variety of sensors that can do this much more conveniently and inexpensively, including one that can be mailed to the patient and mailed back with at least 12 to 14 days of continuous recording by use of a small bandage sensor device that adheres to the chest.
For the new wireless devices to take hold, it will be critical for there to be demonstration of actual benefit for patients and net reduction of costs. Besides the issues of data privacy and security, an important feature that has to be kept front and center is the practicality of the system, for which the sensor is just the antennae. How the data are processed and filtered, and how the healthcare providers are alerted are pivotal details that need considerable attention for each potential device/system solution.
While we are just in the early years of wireless medicine, the opportunities for it to revolutionize healthcare are extraordinary. In the longer term, these technologies set up remote, continuous, real-time monitoring for the most common and important medical conditions. Ultimately, despite an aging population with a major burden of chronic diseases, the need for hospital beds could be markedly diminished. Similarly, the prospect for a significant proportion of outpatient visits to be switched to virtual using software technologies such as Skype of Facetime is real (really real). While the digital world has barely intersected healthcare until now, we're clearly in for some seismic changes ahead.
Dr. Eric Topol is chief academic officer at Scripps Health and vice chairman of the West Wireless Health Institute.
Source: https://www.modernhealthcare.com/article/20110725/SUPPLEMENT/110729989/the-future-of-healthcare-information-technology