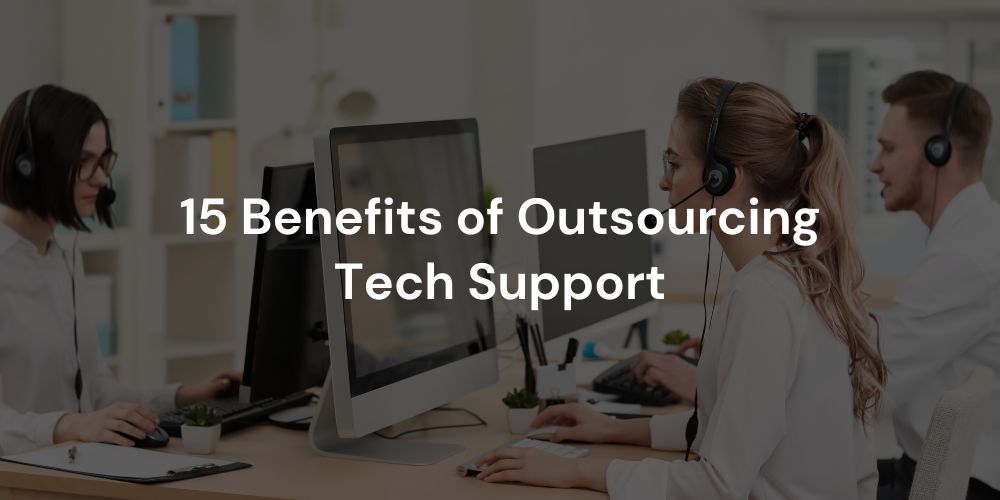 Did you know that more large and small businesses outsource technical support services? They assist customers in troubleshooting hardware, installing software, and dealing with other technological issues.
Still not convinced? Do a quick Google search for "outsourced technical support market" to find the facts and figures.
Third-party help desk services are becoming increasingly popular in the IT industry. This article will discuss 15 reasons why outsourcing tech support is preferred for growing businesses.
Let's get into the specifics.
1. Skilled, Certified, and Experienced Teams
Agents, engineers, developers, and consultants comprise the tech support or help desk team. These professionals deal with basic and complex information technology issues (IT). They address consumer technical concerns such as installing antivirus software, diagnosing hardware, designing security programs, and managing networks.
Customers are served by entry-level support specialists who are outsourced. They assist buyers with basic technical inquiries. They also answer customer calls, provide assistance, interact with customers through messaging platforms, and collect feedback.
Many tech support representatives are also skilled or proficient in the following areas:
Mac/Linux/Windows OS

A variety of help desk software solutions

Creative thinking

Organization skills and focusing on details

Strong analytical skills

Active listening skills

Teamwork skills
A business process outsourcing (BPO) firm prefers candidates with an IT-related degree or previous technical job experience when hiring. It hires tech support candidates who have received training certificates from reputable companies or associations, such as:
Microsoft Certified Solutions Associate

Cisco Certified Network Associate – Routing and Switching

Certified Information Security Manager

Certified Information System Security Professional

Oracle Certified Professional, Java

Certified Information Systems Auditor (CISA)
2. Well-organized IT Team
Outsourced tech support teams can boost productivity and service quality significantly. If your third-party IT team runs like a well-oiled machine, you get your money's worth. This team typically has a three-tiered structure to provide the best service possible.
Tier 1 (T1) support. This tier collects customer requests, investigates issues, and provides solutions. T1 support can resolve three-fourths of user technical issues with simple tools and knowledge. Diagnosing hardware or software problems, guiding users through device menus, and retrieving usernames and passwords are all examples of T1 support.

Tier 2 (T2) support. This level, also known as administrative level support, handles one-fourth of the technical issues that T1 cannot resolve. T2 specialists have advanced technical skills, a broader knowledge of products or services, and use advanced procedures.

Tier 3 (T3) support. If T2 cannot provide a solution, an issue is escalated to this tier. T3 specialists are thought to be the most capable of handling difficult and complex tasks. They also help the other support teams with problem-solving processes.
3. Expert in Dealing With Technology Vendors 
The technical support team of a BPO firm can supervise vendor management processes. These include selecting vendors, discussing contracts, negotiating prices, minimizing risks, and supervising online or physical service or product delivery. Your employees save time and effort by delegating vendor management to the BPO team, allowing them to focus on more critical business tasks.
A third-party team can address vendors' concerns, setbacks, and other issues by communicating with them regularly. After all, both parties are fluent in the same language. As a result, they relieve you and your staff of the burden of comprehending technical complexities. Your BPO partner streamlines the processes for you.
The BPO company can also assist you in negotiating the best price and service from vendors. It can assess and manage the risks associated with transacting with them. The security, efficiency, and dependability of products and services for purchase are examples of such risks. Among other things, the technology team can identify weak cybersecurity measures and potential operational issues.
You want to continue working with your IT vendors and other suppliers for as long as possible while remaining prudent and efficient. Your BPO provider can help you maintain long-term business relationships with IT vendors.
4. Various Pricing Options
Another advantage of outsourcing tech support is the variety of pricing models available. BPO providers can offer four different pricing options. Choose the best option for your outsourced processes.
Per-device Flat Fee
The third-party service provider charges a flat fee based on the number of devices (desktops, laptops, tablets, and mobile phones) to be included. The higher the fee, the more gadgets to cover.
Only Monitoring
The tech support provider provides alerting and network monitoring services for a monthly fee. The work scope includes the following items:
Disk optimization

Backup logs

Antivirus and anti-spam updates

Virus-free computers

Patch management

Backup monitoring

Critical service monitoring

General server capacity
Per-user Fixed Fee
The third-party vendor's rate is determined by the number of users served, with a fixed fee per user. The higher the fee, the more people require tech support. In contrast to the per-device flat fee plan, you only pay the provider per user, regardless of how many devices they use.
Ad Hoc Fees 
The pricing structure is ad hoc, and you will not be charged regularly for the outsourced tech support services. You hire a third-party IT team only when you require their services. This pricing scheme is appropriate if you are not overly reliant on technology.
5. International Coverage 
Another benefit to consider is the ability of outsourced tech support to provide round-the-clock assistance through multiple channels. The external IT team is available to customers around the clock via various communication platforms, even on holidays and weekends. With such extensive coverage and accessibility, your company can expand globally.
Through mobile platforms, email, live chat, online communities, and social media, the BPO partner can provide consistent and smooth customer interaction services. Adopting omnichannel tech support means you are ready to serve customers globally at any time.
Support staff can address technical issues or problems without interruption while improving or opening new revenue streams. Here's how it's done:
Your group increases customer loyalty.

Existing customers are likely to return for additional purchases. They will continue to support your products or services or will purchase new ones. Loyal customers can also recommend your products to others.

Your team creates new markets.

The world is your oyster with global tech support coverage. Going global opens up enormous income and growth opportunities. Your revenue is no longer constrained by geography or local market demands.

Your team has access to a wide range of technical personnel.

You have abundant skilled talent with various competencies and languages at your disposal. Having them can increase overall efficiency and productivity. They also enable you to provide multilingual technical support, expanding your customer base.
6. New Technologies at Hand  
Outsourcing tech support, or back-office outsourcing, is a critical strategy. You can have access to cutting-edge technology. Furthermore, the service provider allows clients to use appropriate tools, systems, applications, and platforms to improve workflow and streamline processes.
To assist agents and specialists in managing consumer requirements, the third-party IT team relies on help desk software. The customer support program can track and document the performance of each team member. Users can also use self-service options to control call volumes and reduce human error.
Customer support tickets are also managed and addressed by the help desk solution. It can handle many queries or issues while also serving as a knowledge base. However, IT support personnel can accurately answer and resolve technical questions and problems. In addition, the software is collaborative and customer-focused.
Many BPO firms use cloud-based technologies. These game-changing systems can integrate all applications, including help desks, CRM software, and other call centre solutions. A unified cloud-based platform boosts efficiency and productivity. They eventually propel customer service quality to new heights. 
7. Lower Operating Expenses
Outsourcing lowers operating expenses. By outsourcing help desk services, you can avoid or reduce the four types of costs associated with running an in-house tech support department. These expenses are as follows:
Office space and equipment.

You spend a lot of money on the additional work area required for the tech support team, software and hardware, other necessary equipment, and office supplies. Many are one-time but large-ticket items, while others, such as network maintenance and system upgrades, are ongoing.

Salary, compensation, and related costs

. Full-time IT support employees are paid consistently, regardless of workload. Non-monetary benefits, such as insurance, overtime or holiday pay, sick or vacation leave, and retirement or pension plans, are legally required.

Training

. A technical support team must keep up with technological advancements. They must constantly improve their knowledge and skills to solve new or unfamiliar technical issues. These objectives can be met by training and upskilling the team. Such efforts are expensive.

Recruitment.

Hiring more IT support personnel raises costs. You are responsible for job postings, third-party talent recruiters, applicant screening, testing, interviews, and new hire onboarding. All of these are processes that a BPO firm can handle.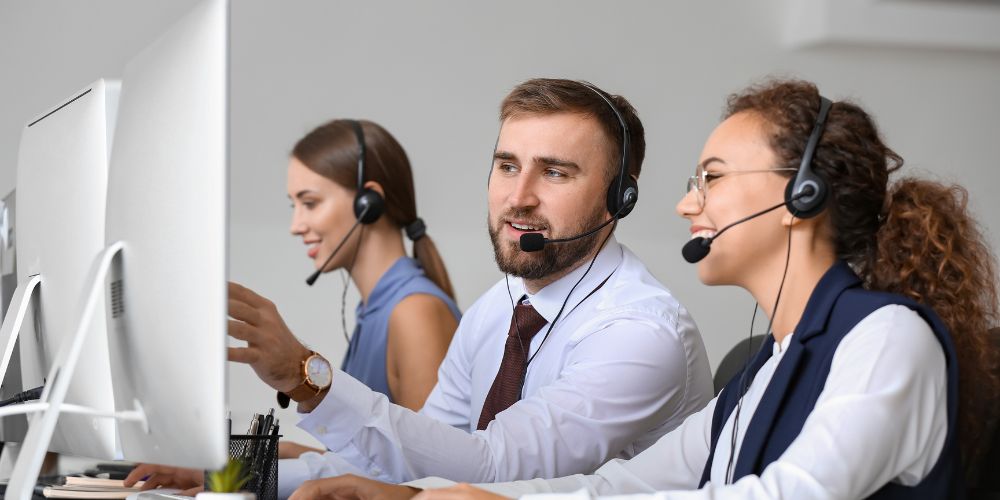 8. First Priority on Core Competencies  
Accounting and bookkeeping, data entry, human resources, and technical support are all examples of back-office outsourcing services that relieve an in-house team of time-consuming tasks. Though critical to the operation of your business, these back-end functions can divert your attention away from more pressing issues such as sales and revenue generation.
Transferring secondary processes to a BPO provider allows businesses to focus their resources on increasing earnings. Higher-income as a result of outsourcing results in:
More products and services will be developed and launched.

Increased market penetration for a more comprehensive public presence

Improved product and service quality to remain competitive

Improved customer service for a better consumer experience

Increased incentives and perks for improved employee morale
Maintaining a high income for an extended period results in a competitive advantage, elevating the company and its products or services above competitors. A competitive advantage is required to survive and thrive in a competitive and dynamic market. Many industries are constantly exposed to trends that can impact your business.
Allow the outsourcing partner to handle the supplementary operations so you can focus on what you do best.
Read more: How to Find the Best Technical Support Outsourcing Provider
9. Guaranteed Security and Compliance
The federal government and industry watchdogs monitor data security practices to protect the public from unauthorized access to private and confidential information. Outsourced technical support adds value by meeting your organization's security and compliance needs.
Some of the laws and standards that businesses must follow are as follows.
Health Insurance Portability and Accountability Act of 1996 (HIPAA)

. It includes regulatory standards for healthcare providers and other practitioners. It describes the lawful use and disclosure of protected health information (PHI).

Payment Card Industry Data Security Standard (PCI DSS)

. This security policy series mandates that all businesses accept, process, store, and transmit credit card information in a secure environment.

General Data Protection Regulation (GDPR)

. This standard applies to companies with customers in the European Union. It aims to protect consumer data and requires providers to disclose the reason for data collection.
Furthermore, BPO firms store sensitive and critical customer information in the cloud and secure data with cutting-edge customer support software. Reputable service providers have high-security protocols across all platforms, preventing unauthorized individuals, parties, or entities from gaining access to private information.
10. Scalability and Adaptability
Outsourced technical support is adaptable and scalable, allowing you to manage financial costs effectively. A BPO firm can increase or decrease the outsourced tasks based on your business needs. Outsourcing eliminates the need to hire more regular employees to increase IT personnel or to lay off some of them during slow periods.
The outsourcing company assigns you the appropriate number of tech support agents and specialists, allowing you to maximize your budget.
Furthermore, the partner can scale up its operations when call volumes are higher than usual. The company can hire more support staff during the holidays or after a successful marketing campaign. To meet the expected demand, they can do this anytime with additional IT specialists.
Revenue decreases when sales are slow, and customer calls are reduced. However, the operating costs of an in-house tech support team are the same. Their salaries and other non-monetary benefits are still being paid. However, outsourcing IT functions allows you to reduce your workforce without laying off employees, lowering your costs during a downturn.
Scalability also entails splitting up help desk operations between the outsourcing company and your in-house IT team. That agreement is likely to be acceptable to a BPO firm. You can delegate time-consuming and tedious technical tasks, allowing your in-house team to focus on the complex and specialized segment.
11. Affordable, High-quality Service
A BPO company offers various outsourcing services to compete with other service providers. Data entry, telemarketing, customer service, and social media marketing can all be outsourced at reasonable or competitive rates. Thousands of players compete for a good market share in the global BPO industry.
Many outsourcing companies have offshoring operations in countries with a skilled, trainable, and affordable local workforce. In general, these are in developing countries. They can offer foreign companies lower labour costs than in developed markets such as Canada, the United Kingdom, the United States, and Western Europe.
12. Improved Customer Service
Another reason why outsourcing tech support should be included in the strategy is because it can elevate the customer experience. It can build strong consumer relationships by efficiently addressing their needs and concerns. Here are four customer-related advantages:
Fewer customer concerns.

Customer service representatives assist customers in resolving issues as quickly as possible. They can raise tickets and accurately and persuasively respond to consumer questions and concerns.

Increased customer retention.

IT support agents have received customer and technical training. They can build trust and rapport with customers.

Customers will have greater access

. IT support specialists can be reached via various communication channels, allowing customers to interact with them anytime and from any location.

I

mproved customer appreciation.

Tech support representatives are skilled at asking customers questions to learn more about them and obtain their opinions, sentiments, and feedback.
13. Multiple Languages
To broaden the consumer base, BPO companies can provide multilingual technical support. To meet the needs of international customers, a service provider employs IT specialists who speak two or more languages, including English.
Multilingual tech support via voice is common in primary markets such as Germany, the United Kingdom, Brazil, the United States, and Japan. Outsourcing allows for this function, which is difficult to achieve when running an in-house IT support department.
The following are some of the benefits of multilingual support:
Possibility of increasing sales.

Buyers who do not speak English feel more at ease communicating with tech support agents who speak their native language. When the language barrier is low, the conversion rate is higher.

Enhancement of a product or service

. International customers can provide feedback, comments, and suggestions to the IT support team. You can use these insights to improve your products or services.
14. Increased Service Speed
Another reason to outsourcing tech support is to improve service delivery to customers. You save time, effort, and money when you complete tasks in the shortest amount of time. Rapid response time is critical for increasing revenue and building customer loyalty. BPO companies can provide knowledgeable and responsive specialists.
It is important to have speed with quality and accuracy because it improves your operations:
Customers feel valued when they receive prompt responses to their concerns.

Buyers will almost certainly tell others how prompt and professional the support staff is.

The greater the output, the faster the tasks are completed. More production means more services for customers.

Staying competitive and ahead of the pack requires agility. When you serve customers faster than your competitors, you can keep them and gain new ones.
15. Available Work-from-home or Hybrid Setup
Remotely outsource data entry, IT support, web design, digital marketing, and other functions. As a result, you and the outsourced tech team can practice social distancing, reducing health risks during a pandemic or similar crisis.
Remote support and hybrid work arrangements allow the team to gain access to the client's computer systems and other related devices without physically visiting the location. With a secure and safe software portal, specialists can diagnose, troubleshoot, monitor, and address technical issues and problems.
A remote IT team has the advantage of being able to respond to requests faster than on-site technicians. The team and the client no longer have to waste time scheduling meetings, travelling, and communicating constantly while on the road, and they can also avoid unexpected distractions.
Combining a remote outsourced tech support team with an in-house IT team is ideal. When the in-house team is swamped with tasks or unable to develop solutions, remote specialists can assist.
In Conclusion
This list provides a more in-depth understanding of why outsourcing tech support is necessary to assist a business in meeting its efficiency, productivity, service speed, quality, and financial goals.
We hope this article will help you with your outsourcing tech support plans or efforts. Remember that, depending on your approach, a third-party IT team can either help or hinder your business's success.
Finally, it all comes down to customers—how to acquire, serve, satisfy, and retain them. In this regard, the right outsourced tech support team can be a valuable ally.