Top 10 Benefits of Customized Software Development For Businesses
Technology and business environments change constantly. Software available on the market may not be sufficient to meet the specific business requirements. Customized software development appears to be the best strategy to increase productivity and market competitiveness.
This article will explain all the benefits of custom software development.
Let's start with the basics.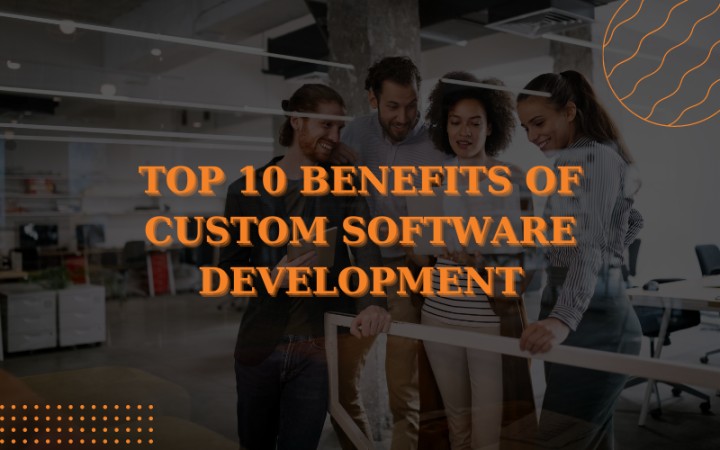 What is customized software development?
Customized software development
that is custom-made (also called bespoke software or tailor-made) can be used to solve specific problems or meet the needs of a person or company. This includes the design, development, deployment, and maintenance of software tailored to the business's needs.
Customized software development
includes many solutions. For instance,
web application development
, building CRM systems, mobile app development, database development, business process automation systems, building content management systems (CMS), etc.
Contrary to commercial off-the-shelf (COTS), which can be used by many organizations and has many features and functions, bespoke software applications are created to address specific business needs or serve a particular group of users.
Software development can be tailored to create an app that tracks medical records or manages your business operations.
Why do you need customized software development?
Customized software product development
meets your company's unique needs.
Flexibility and scalability are critical to your success and increase your competitive advantage.
It may have a long-lasting positive effect on your business, helping you manage business processes, create connections with different clients, partners, and internal resources.
Read more:
Custom Software Development: Definition and Process
Benefits of customized software development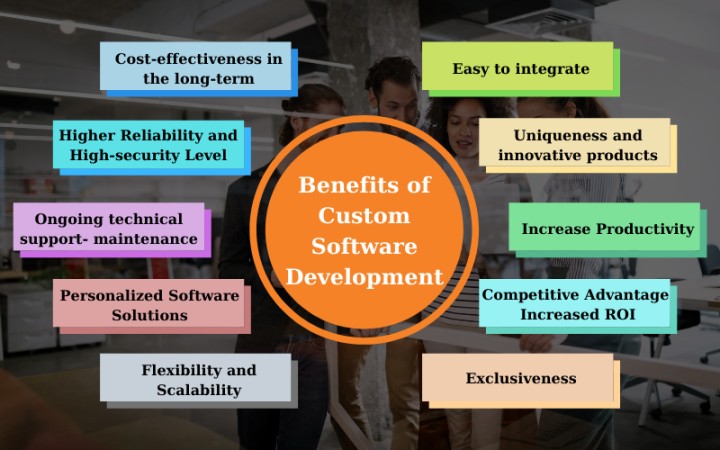 Research shows that the market for custom application development services will grow by USD 31.76 trillion between 2021-2025. This indicates that custom software development has become more popular with enterprises.
You might be asking yourself if it is worth the effort. Let's now examine the top ten benefits associated with bespoke software development. This will allow you to decide whether or not to invest in custom-made software development.
Personalized Software Solutions
It will be difficult for businesses, especially when it comes to technology, to find one-size-fits-all solutions through standard software packages.
Every company has its strategy and operating model. You might require customized software solutions to prove your uniqueness and be a leader in your industry.
Software development can be customized to meet your business needs and match your business plans.
Cost-effectiveness in the long-term
This is paradoxical because it might be expensive to invest in software development projects, and you don't necessarily need to spend all of your budgets at once. You can build your product in stages during the custom software development process.
An MVP version is a way to save money on development. This would allow you to validate your business idea and test your software application. After completing the project, you can decide whether to start developing a fully-fledged application.
While bespoke software development solutions can be expensive at first, they will become more affordable and worth the investment if you plan well. If you are looking for long-term solutions, custom software development may be the right choice.
Higher Reliability and High-security Level
Protenus found that the healthcare industry saw 32 million data breaches in the first half of 2019. This shows that data threats are becoming a significant problem for any business that stores or collects data, especially those in the healthcare, insurance and payroll industries.
For any company to succeed, security and reliability are crucial. This requires higher levels of security in enterprise software programs. Software development solutions that are custom-made can ensure that all regulations and confidential data are followed.
It can also help you decide which data-security technology is best suited for your company and how to integrate it into an application. Higher levels of security can lead to more trust from customers.
For ongoing technical support and maintenance
Partnerships between software development companies and you are the most common way to create custom software. They will send professional development teams to develop and build your software applications and provide dedicated support for application maintenance and technical support.
They were the ones who created it and are familiar with the application. Therefore, they will be able to maintain it and help you with any bugs or other issues that may arise.
To ensure maximum support, you might consider including Service Level Agreements in vendor contracts. Providing ongoing technical support will reduce downtime during updates and keep your business running smoothly.
Flexibility and Scalability
The business environment changes constantly, and businesses must adapt to the changing market dynamics.
Software solutions that are custom-made for businesses allow them to adapt, add new features, upgrade their product, and seek support to help them meet changing needs.
Scalability also allows you to grow and expand your business while the software application remains viable.
It is easy to integrate into the company's workflow.
Custom software development for businesses has another benefit: it is easy to integrate with your company's workflow. The software solution has been designed to fit your business's specific requirements, and it will seamlessly integrate with the software ecosystem.
It will also help you improve your business processes and increase your productivity. You may be able to save money, increase productivity, and avoid bugs that can arise from integrating with existing software products.
Uniqueness and innovative products
Organizations are increasingly looking for uniqueness as a critical feature to increase their USP (unique selling proposition). Software development that is personalized will enable your company to meet your specific needs and preserve your brand identity.
The software can be created by custom software development teams aligned with your business goals. This allows you to choose the type of software development technology and which trending technology will be used to create a unique product. It will enable companies to develop new products to meet rising demand.
Increase Productivity
The software has a positive effect on employee productivity. This is especially true if the software application can be customized for a particular business and meets its requirements.
This software allows employees to work more efficiently and confidently accomplish their tasks. Custom software solutions can help employees achieve their duties in a shorter time. Software solutions can help you manage multiple resources, improve productivity and provide additional benefits for your bottom line.
Competitive Advantage and Increased ROI
You can get what you need with bespoke software development solutions. This means that you won't have to pay extra for licenses or services you don't use, and it can save you money over the long term.
You will also be able to gain unique features that you may not have or are not available in the market for your application. It can help you to strengthen your USP (unique selling point) and give you a significant competitive advantage over your competition.
Software product development can be customized to meet your specific needs. This will allow you to increase consumer engagement and your long-term ROI.
Exclusiveness
Software created specifically for your company gives you complete control of it. You can integrate it into your business operations, leverage it according to your business needs, and make any modifications you want to it. This means that the product is yours, and this means that you will own the creation and use it as your business requires.
If you care about your business and are committed to using customized software development, it is wise to invest in your software solutions for a long-term investment.
The disadvantages of Customized Software Development
While tailor-made software development solutions can provide more benefits than you realize, it is still incomplete without their drawbacks. Before making any business decisions, entrepreneurs/CEOs need to be aware of the following challenges. Let's now examine the two weaknesses of custom-made software solutions.
Delivery time
Custom software development is more time-consuming than pre-made software applications.
This is often a tedious process. The custom software development process can take anywhere from 5-6 months, and this does not include the time it takes to assess the software from an end-user's perspective. Additionally, the process may have multiple phases before getting the software you need.
Initial high investments
A professional team of developers is required to develop custom software. They must be able to focus on your project and use cutting-edge technology for you to get a better result. It could prove to be an excellent alternative in the long term. The initial investment can be costly and may prove too daunting for some companies.
Final word
Custom software development
has many benefits. You can customize the software to your business needs and specifications. It may also allow you to have complete control of your apps, and you can specify how your apps will function and make any necessary adjustments.
Businesses will need to spend time developing and designing customized software. However, it is well worth the effort. However, it is essential to do an in-depth analysis of your company before making any decisions. You should also identify your business goals, requirements and decide what kind of software development you want.
Xem thêm:
Top 10 Software Development Companies in Viet Nam 2022