How to Choose the Right Staff Augmentation Partner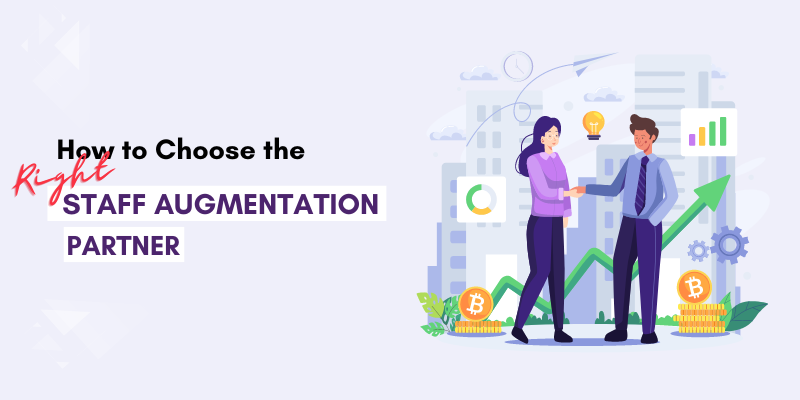 When a business decides to hire onboard some augmented staff or build a robust distributed engineering team, the first goal should be to find a vendor that takes the time to learn about their client's specific staffing needs. Often, a company's strategy for outsourcing is as unique as the company itself. This means that your company's IT staffing augmentation partner  should be as flexible and resourceful as the business you run.
One of the first things you should do when choosing a staff augmentation partner is to figure out what your company needs in terms of staffing. As you look for people with specialized skills to speed up your project or fill skill gaps on your team, it's important to keep in mind the scope of the project(s) your new staff will be working on. You'll also want to measure how quickly your internal teams can integrate temporary workers, how well the communication channels you use to work with onshore or offshore workers work, and how well your outsourcing partner can handle staffing requests and, if necessary, change their overall approach to staffing.
This detailed and informative guide will walk you through a few simple but important steps to help you choose a staff augmentation partner that can meet your company's staffing needs.
Evalue Your Staffing Needs
What needs help on your team? This may seem like a simple question, but it's important to answer it before you start looking for outside engineering or creative talent because there are many ways to build a distributed team. Are you looking for software developers to fill specific skill gaps in your engineering department? You might need to set up a reliable remote development team so that key in-house employees can work on a business-critical project, or you might be trying to deal with a lack of office space. Or, your project managers may have asked for more engineering resources to meet a deadline for a project coming up soon.
The point is that no two companies will have the same needs or requirements for additional staff. You'll need to figure out your company's staffing needs, whether you're looking for front-end developers or product designers for the length of a project or a web analytics developer or accessibility specialist for specific phases. Talk to your HR executives, managers, and employees to get an idea of where you need to improve specific general skill sets and each project.
After you've made a staffing plan that covers your company's most important outsourcing needs, you can start looking for a staffing partner with the tools, experience, and expertise to help your business stay ahead of the competition in a tight global hiring market.
Research Your Staff Augmentation Partner's Experience and Expertise
By checking a potential staffing partner's experience and knowledge in your field, you'll be able to hire a company that can give your company the extra IT staff it needs while also managing distributed teams or dealing with staffing problems that may arise during a project.
Check a vendor's work history and professional credentials in much the same way you would when hiring a full-time worker:
Talk to past clients and find out how happy they were with your services.

Check out the credentials and work samples of a staff augmentation agency.

Ensure that the vendor has experience in the field that the resources you're looking for fall under.

Ask around (coworkers, professionals in your industry or a related one, or trusted business partners) to get a general idea of how past clients of your potential staffing provider feel about them.
Read more: 5 Ways IT Outsourcing Service Can Help You Get to Market Faster
Evaluate Your Provider's Local and International Market Reach
Depending on the staffing needs of your teams, you'll need to weigh all the different outsourcing options you have. These may include different onshore or offshore staffing plans or, in some cases, a hybrid staffing plan.
Maybe your engineering or creative departments need rare combinations of skills to deal with algorithmic complexity within a certain framework, or they need consultants who know a lot about a new programming language. You'll want to work with a staff augmentation partner with the connections, experience, and infrastructure to hire and manage remote staff, depending on your project needs or dictates. This will give you access to top-notch creative and technical people worldwide while staying within your IT budget.
Examine Your Staffing Service's Communication Protocols
How does a potential staffing company handle account communications, and what is their general communication style? These important factors can affect the success of a project, how competitive a product is on the market, or whether or not it will be delivered on time. Look for a staff augmentation agency with clear communication protocols and technology that is easy to use. This will help keep the client, service provider, project managers, and augmented staff all connected and able to get project updates no matter where they are or what time zone they are in.
Your staffing vendor's communication philosophy should be clear and easy to use. This helps keep the workflow going smoothly and lets you track and change things as needed based on feedback from everyone working on a project. This makes it easy for a business to track progress, see how well its extra staff is doing, and deal with team challenges if and when they come up.
Verify Your Vendor's Commitment to Security
Work with a staff augmentation firm committed to creating a safe and private place to work regarding IP and data security. A reputable staffing agency should ensure that both on-site and remote workers sign non-disclosure agreements (NDAs) and check the employment histories of temporary hires very carefully. In addition to carefully screening augmented staff, vendors should also train their employees on how to protect intellectual property and data, how to use cybersecurity tools effectively, and how to limit access to client data that doesn't apply to the project for which they were hired.
By ensuring your staffing vendor is committed to security, you can add more staff and build powerful distributed software development teams while keeping your valuable data and intellectual property safe.
Read more: What Is Cybersecurity Staff Augmentation?
Assess Contract Types and Delivery Schedules
Suppose your staffing partner can only offer you standard, one-size-fits-all contracts or standard work agreements. That could mean they don't have the resources or experience to help you with the project- or resource-specific staffing solutions. Hire a staff augmentation firm that will tailor work agreements to your company's unique business needs and take the time to understand your company's development environment. This will make sure that you have access to the outstanding technical talent you need when you need it the most.
It's also important to ensure that the company you hire can keep up with the schedule for developing your product or project. Your business probably works on a tight schedule, so you should work with a staffing partner who can meet or beat that schedule. An experienced staff augmentation agency should be able to quickly give you a detailed plan for managing your outsourced resources, skilled supplemental staff as needed, remote onshore or offshore development teams and office space, reliable IT services (on-site or off-site), and, of course, a pool of excellent engineering or creative design candidates.
A staffing vendor should do all these services quickly and satisfactorily. The operational schedule of a customer needs to be taken into account by an outsourcing agency to keep service or productivity interruptions caused by bringing on extra staff or working with remote teams to a minimum or, if possible, to avoid them altogether.
Pay attention to differences in language and culture
Except for onshore operations, any business that uses a remote development team must ensure a cultural and linguistic fit between in-house team members and project managers who hire creative talent or software engineers from other cultures. Staff augmentation providers will assess your company's culture and give you the right job candidates and staffing solutions. This will help you avoid problems with language and culture and keep a project running smoothly.
For example, suppose your company already has a lot of employees who speak both English and Spanish. In that case, it might make sense to work with distributed team members in Spanish-speaking Latin American countries (if they have the skills you're looking for). This option could be a cost-effective way to hire staff in your area. Even if a company doesn't have a lot of Spanish speakers on staff, it could still benefit from working with technical talent in Latin America as long as the staffing vendor checks that potential supplemental staff can speak English and sets up good ways for clients and remote workers to communicate.
If cultural differences aren't dealt with, they can lead to something less than ideal. For example, a company that has to handle large, time-sensitive workloads at certain times of the day shouldn't hire a remote team from a country where it's common for people to take siestas or naps in the afternoon after lunch, especially if those "siestas" happen during your busiest hours. A staffing service with a lot of experience can determine if there are cultural or language differences between their clients and potential employees. They can then manage or adjust for these differences by choosing the best candidates and making a staffing solution that fits a company's unique outsourcing needs.
Pick a staff augmentation service that fits your needs.
The point is that you need to work with a staff augmentation partner that fits your company's staffing needs. When it comes to the outsourcing options they offer, vendors that take a "one size fits all" approach won't be able to come up with creative and flexible staffing solutions that would work for many different kinds of client companies. By figuring out what your company needs in terms of staffing, researching a potential vendor's expertise, and looking into an outsourcing agency's global reach, communication methods, commitment to security, and contract and cultural management style, you can find a staff augmentation partner that fits your company's outsourcing needs ideally.