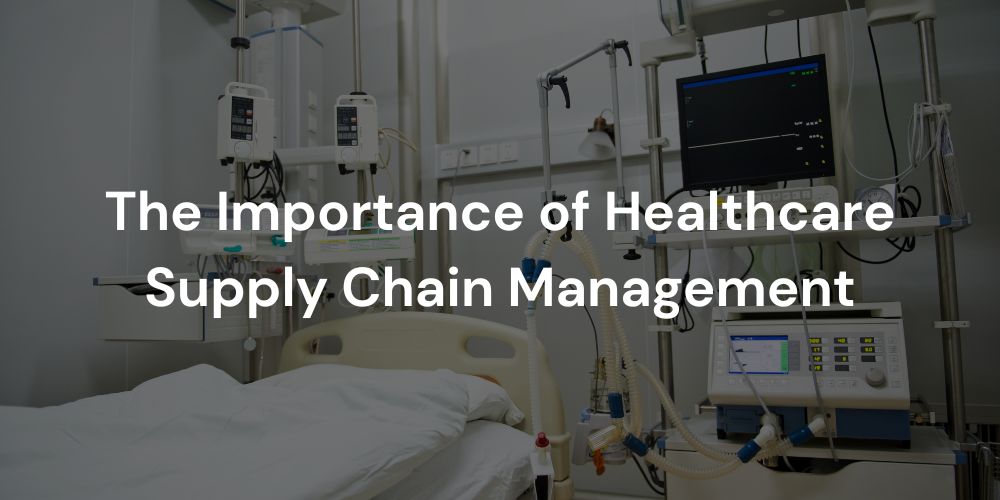 What is Healthcare Supply Chain Management?
Healthcare supply chain management entails acquiring resources, managing supplies, and an interlinked set of processes that enable healthcare professionals to carry out their duties and increase productivity. Every link in the medical supply chain impacts overall cost, patient outcomes, and service efficiency.
The Importance of Supply Chain Management in the Healthcare Industry
Supply chain disruptions caused by COVID-19 in the United States have accelerated the need to optimize supply chain management. This is especially true for healthcare systems that want to provide high-quality care while ensuring service availability, lowering costs, and increasing profitability. Due to increasing pressures to reduce pandemic costs while improving patient outcomes and reimbursement, supply chain management has become a central focus over the last few years. These objectives are met through improved data collection and utilization, vigilant vendor management, and incentive alignment within health systems.
How Does the Healthcare Supply Chain Work?
There are numerous stakeholders in the healthcare supply chain. Each one has a significant impact on how the supply chain works. Among these stakeholders are:
Manufacturers:

The manufacturers are the labs, biologists, and vaccinologists. They perform the research, development, manufacturing, and monitoring. These groups make medical, surgical, and pharmaceutical supplies and watch for shortages.

Distributors:

The logistic partners and wholesale distributors sell, deliver and monitor products while following proper procedures.

Providers

: Providers include pharmacies, urgent care centers, hospitals, assisted living facilities, dialysis centers, and long-term care facilities. These places receive products from the distributors so they can prescribe them to patients. They submit orders to distributors, look for inventory shortages and call in prescription refills.

Patients:

The patients in the community use these products or services. They influence the demand for medicines and other products with their unique needs.
Methods for Improving Healthcare Supply Chains
Optimizing the healthcare supply chain to ensure patients receive high-quality care is critical. While the healthcare supply chain is subject to stringent regulatory requirements, some areas could be improved. Follow these tips to improve supply chain efficiency:
1. Increase Visibility
You should be able to tell where products are in your supply chain at any given time and manage inventory effectively. Gather your data in a single location to accomplish this. This process incorporates information from manufacturing plants, distributors, suppliers, products, modes of transportation, customers, and other sources.
Then, using software platforms, artificial intelligence (AI), or third- or fourth-party services, you will need to improve your data analysis capabilities from start to finish.
2.  Consolidate Your Supplier Base
Managing your suppliers is a simple way to improve the efficiency of your healthcare supply chain. Consolidating suppliers can be simple if you: 
Build partnerships with your suppliers that are a win-win for all parties.

Start retendering to improve your understanding of the market, improve supplier competitiveness and potentially build open contracts.

Conduct performance reviews on a monthly, quarterly, and annual basis.
3. Center Performance
Create a hierarchy of relevant outcome-based supply chain metrics. These performance metrics should enable analysis of tradeoffs between key performance indicators (KPIs).
You can also develop a KPI model focusing on your entire supply chain's quality, service, costs, and revenue. Target each component of the company's supply chain and collect real-time performance data.
4. Implement Standardization
Healthcare organizations frequently expand by acquiring other companies. This situation can lead to all of the separate systems and processes interfering.
Standardize processes for physical and financial elements using a framework such as the Supply Chain Operations Reference (SCOR) model. This allows you to implement and enforce standards throughout the supply chain.
5. Understand Your Costs
Many organizations would benefit from a better understanding of their costs, including the amount and source of those costs. Begin by gathering information about your costs for goods and services. Using standard categories, you can benchmark, assess, and look for patterns in the data.
Analyzing the invoice will assist you in determining where you can save money. You can identify non-standard patterns and implement new waste-reduction processes.
How Supply Chain Management Can Help Hospitals Save Money
Healthcare supply chain leaders are under intense pressure to reduce costs across their systems. Hospitals in the United States alone are expected to lose $54 billion in net income by 2021.
Substantial data utilization is one way healthcare supply chain leaders can improve their bottom line and revenue management cycle. Dynamic access to "centralized, consumable, and real-time data enable health systems to determine what is required, what is in stock, and the scope of future demand." Data is used throughout the healthcare system to capture demand, eliminate waste, and avoid redundancy.
One example is eliminating waste and redundancy throughout the medical supply chain. Supply chain knowledge and data can be used across a health system to achieve price reductions, utilization optimization, and Standardization, all of which add value to the system.
Does the Healthcare Supply Chain Have an Impact on Patient Outcomes?
In today's value-based care model, healthcare leaders must improve patient outcomes while reducing costs. In the healthcare industry, supply chain management, in particular, plays a critical role in improving patient outcomes and achieving reimbursement through incentive alignment.
For example, supply selection decisions solicit feedback from hospital supply chain teams and clinicians to optimize patient outcomes and cost-effective source supplies. Detailed data can be used to align these teams.  Utilization and clinical outcomes data enable supply chain teams and clinicians to make decisions that advance the health system's goals. These teams can agree on the most cost-effective and clinically optimal option by connecting supply chain items like product standardization to patient outcomes.
What is the Future of the Healthcare Supply Chain?
In the healthcare industry, supply chain management is critical. Eliminating unnecessary costs, improved patient outcomes, and increased reimbursement are just a few advantages of optimal supply chain management. In the future, healthcare organizations can focus on data collection and employment, incentive alignment, and vendor management, to name a few strategies.
Bestarion specializes in assisting healthcare systems in various markets in navigating the complexities of their supply chain. We can help with everything from supplier contract review to price negotiations thanks to our years of experience in clinically purchased services and supplies.
Contact us online to learn more about our healthcare consulting services and how we can help you improve supply chain efficiency.