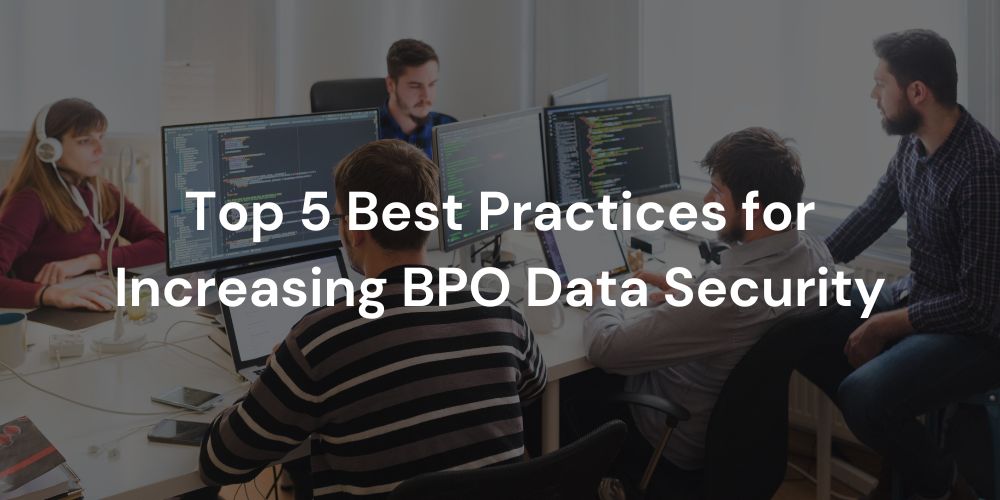 While Business Process Outsourcing (BPO) is becoming more popular, many organizations are concerned that the security of BPO data may be jeopardized. However, you won't have to worry if you work with a BPO firm that values data security and privacy.
This article will examine how BPO companies handle data security and why outsourcing to reputable service providers is risk-free.
What Is Bpo Data Security and Why Is It So Important?
BPO data security is a service computer programmers provide to assist businesses with their technological needs. It is concerned with the security and management of enterprise IT systems, primarily composed of client-server applications running on operating system platforms, as well as other software packages used for daily activities such as word processing or spreadsheets, among other things.
They also monitor network traffic patterns to see who is accessing what and when; this information allows them to make decisions about potential threats from outside sources attempting to access your sensitive information, such as credit card numbers, so they can take action before something bad happens.
In today's business world, everything is digital. While digital data simplify information processing, entry, storage, and retrieval, it also introduces some risks.
Data stored in insecure databases are extremely vulnerable to cyber-attacks, unauthorized use, theft, and other threats.
Data security ensures that your data is not intentionally or unintentionally destroyed, modified, obtained, or disclosed without your permission. As a result, businesses must incorporate data security safeguards into their operations.
Data Security in BPO Firms
When you hire a BPO firm, you give a third party access to your data for them to complete data-related processes and operations. You want to ensure that if you give someone outside your company access to sensitive data, they have strict BPO data security measures and policies to protect your information.
Any legitimate, transparent BPO firm places data security first and foremost. Working with a reputable BPO firm can help your company secure its data even more. They are better prepared to handle data securely because they use the most advanced systems, software, and programs tested for safety, security, and privacy.
A BPO company cannot claim to be efficient or effective if its data is insecure. If your valuable data is breached, lost, mishandled, stolen, or destroyed, the BPO company has failed to fulfil its obligations. As a result, how BPO firms handle data security reveals a great deal about their work.
Top 5 Data Security Best Practices Shared by Top BPO Companies
When it comes to data security, you should seek professional help to ensure nothing goes wrong. To provide the best protection for their client's information, BPO companies are constantly improving their data security measures.
Strict BPO Data Security Policies
To keep their clients' confidential data and information safe and secure, BPO companies must implement strong and authentic data security policies. They must sign a legal and non-disclosure agreement with their clients and employees.
These contracts include data security rules and regulations. It implies that neither party will be involved in data misuse and that legal action will be taken if anyone attempts to breach the contract.
Furthermore, a reliable outsourcing firm is always ISO-certified, ensuring that all ISO standards and data security and confidentiality guidelines are met. ISO has a set of guidelines for maintaining information and data security and confidentiality. As a result, whenever you hire a BPO firm, look for ISO certifications, which indicate high security and compliance.
Technology Under Control
A reputable BPO company always invests in proper infrastructure and systems to protect data and sensitive information. Using best-in-class systems and software to store data in multiple layers of security reduces the risk of a data breach while also speeding up retrieval.
It is recommended that you investigate the security systems of outsourcing companies before hiring them as a business partner to ensure that your data is secure and confidential.
Secured Communication
Because many offshore agencies work across continents and time zones, reputable BPO firms maintain a strong and secure communication channel with their clients.
Because most data is lost due to eavesdroppers, These companies typically control their security protocols during discussions. They ensure that no information is compromised by ensuring bandwidth. Furthermore, these companies offer end-to-end data encryption across all communication channels, making the data unreadable by hackers.
Data Accessibility, Availability and Backup Plans
Breach of data can happen at any time. As a result, BPO firms should always have a dedicated IT team to handle any issues that may arise.
A dedicated IT team should be available 24/7 to resolve server errors or system malfunctions. They also resolve any cases of data loss as soon as possible. They are common business problems, prompting some to seek technical assistance from IT outsourcing firms. 
Customer Compliance Protocols
Customer data is critical in any BPO data security setup. These third-party companies must follow strict data control policies, have a good track record, educate customers on best practices for data security, and keep their data secure at all times.
You must reassure customers that their information is safe with you as a service provider. Customers appreciate proactive BPO services that inform them about data security without prompting.
Data security protocols will detect all suspicious network traffic and addresses that could jeopardize your data's security. Your BPO company is protected by cloud-based virtual unified threat management, which includes firewalls, intrusion detection and prevention, anti-virus, and anti-spam activities.
DDoS detection and mitigation services scan the traffic in your enterprise and allow only secure connections to pass through. Enterprises can tailor security procedures to their specific needs while saving money on deployment.
Final Thought
Data security is an urgent need in BPO services. BPO data security protocols, policies, and guidelines are enforced to prevent data loss and ensure a secure connection portal and protected information security.
As a result, it is critical to developing the most effective practices that align with a company's policies, cater to internal security, keep hackers at bay, and ensure complete protection of customers' and clients' critical data. Fortunately, modern data security protocols can help with this endeavour.
At Bestarion, we have very strict IT safeguards and policies, with Information Security Management Systems (ISMS) that are effectively maintained following ISO/IEC 27001:2013 standards.
I hope our above-mentioned ISO Certification insights help you find the best outsourcing partner who values your BPO data security and implements the necessary IT policies to protect it the best.