8 Engagement Models in
Software Industry
: Select the Best Fit for You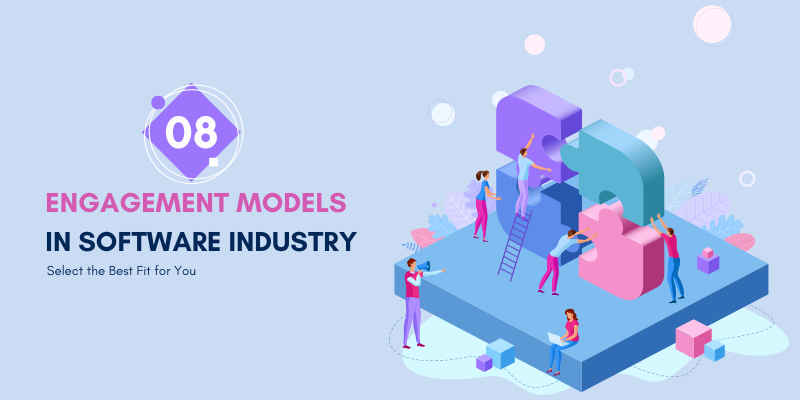 In the software industry, the engagement models are a structure that controls how a Vendor provides IT or Software Services. It governs how the parties interact throughout the contract and serves as the foundation for defining responsibilities, obligations, and commitments. A good engagement model should be chosen based on what works best for an organization's needs.
What Are Kinds of Engagement Models?
There are numerous engagement models, and organizations must choose the best one for them. The decision should be based on different technological and business requirements and budgetary and logistical concerns.
Let's look at eight popular Engagement Models in use today and the scenarios they are most suited for.
1. The Price-Fixed Model
Project cost in The Fixed Price Model has been pre-determined. It's most suited for use when you have well-defined project requirements for the solution or application you want to create.
The project scope and costs are agreed upon at the time of signing the contract, and the execution of the project is performed following this agreement.
In this situation, the project expenditures are firmly related to well-defined project deliverables, which are often tied to specific payment milestones during the project. This design also allows you to track progress and reduce project risk.
The project scope may alter significantly during the project. In this scenario, a Change Management method is used to accommodate modifications with approval from both parties. This will include any associated expenditures and, if applicable, timeline implications.
2. Time and Material Model
The time and Material Model is used when the scope of work for a project isn't fully defined and will keep changing.
The vendor agrees to provide resources with specific skills and sets a billing rate based on time for each type of resource.
The T&M Engagement Model is suited for the following applications: 
Continuous Product Evolution Programming

Complex Large-Scale Projects

Research and Consulting Assignments

Solution Design

Support & Maintenance Contracts
When you need to do a Requirements Analysis Exercise to reach a clear goal, the T&M Model works well. Then, based on what you learned from the Exercise, you can move on to a Fixed Price Model for development.
One of the best things about the T&M Model is its flexibility when changing project specifications as markets, technology trends, or business priorities change.
Most of the time, T&M arrangements include strict project and time management, as well as tracking and reporting. This makes the time and money spent on it more valuable.
Read more: Fixed Price vs. Time & Materials: Which is better?
3. Offshore Development Center
This strategy employs teams who serve as an extension of the client's team and are located in a separate location (s).
An Offshore Development Center (ODC) can be maintained by an offshore development organization that's proven its offshore delivery capabilities.
There are numerous advantages to employing this strategy, including, but not limited to: 
Operational cost-effectiveness.

Teams that can scale up and down as needed

Greater coverage of work hours in a given calendar day (as long as multiple time zones are acceptable).
An ODC's dedicated team will give a set of resources with relevant and pre-identified skill sets. The client has complete access to and control over job allocation, status tracking, reporting, and making adjustments on short notice.
4. The Milestone-Based Model/Service Level Agreement (SLA)
The Milestone-based Model is best suited for process-oriented organizational structures.
It strives to meet specific project milestones/SLAs. For this engagement to be successful, the milestones must be specified with no ambiguity, and the roles and duties of the persons engaged must be delimited.
5. IT Staff Augmentation
With this model, you can augment your in-house staff with resources provided by an  IT Staff Augmentation agency. It enables flexibility in scaling up teams based on seasonal demand and helps to reduce costs connected with full-time staff employment.
Staff augmentation is suitable if your development or QA needs are closely related to in-house work but necessitate in-person cooperation rather than remote collaboration.
6. Onshore-Offshore Hybrid Model
This model combines elements of the Onshore and Offshore concepts. It may be an excellent choice if you require on-site and remote help.
7. Managed Services
This is an engagement model in which the vendor manages the service for you from start to finish. They are in charge of all requirements that develop within a specific area of employment.
Managed Services typically include tasks such as:
Staffing the project with the right people.

Using the necessary tools and infrastructure.

Implementing process and best practices as appropriate for the project.

Maintaining documentation.

Producing project reports.

Ensuring that deliverables are deployed on time.
This technique is ideal for firms that need to focus on their core competencies rather than investing in areas where they lack expertise. The company can outsource all software development, maintenance, and quality assurance aspects. A third party will handle everything from start to finish.
Read more: Managed IT Services vs. IT Staff Augmentation
8.
High-Touch Onboarding and Low-Touch Onboarding
These two approaches are ideal for businesses that offer SaaS (Software as a Service). They outline how the vendor will assist with the SaaS offering's implementation.
High-Touch Onboarding: The implementation team in this model provides training and assistance in setting the system in a very involved and hands-on manner.
A dedicated Customer Manager or Account Manager oversees and manages the client account and helps arrange for support as needed in high-touch onboarding processes.
Low-Touch Onboarding: This method best suits simpler software, tools, or plugins when the client requires minimal onboarding guidance or configuration to begin utilizing the product. Many of these are available for purchase directly through an automated sales process.
All client queries or issues are often addressed through an online or automated customer helpline in Low Touch models.
Questions to Ask to Select the Best Engagement Model
These are some questions to ask to help you select which model is best for your company or project. And to assist you in choosing a vendor who can supply services following that model.
What stage is your project right now? Is it just an idea, or is it already being done?

Do you need specialized skill sets or ones that are often used?

Do you only have a short time to prepare for the market?

Is there a strong reliance on in-house teams for additional development and QA work performed by outside-supplied resources?

Are you trying to stay within a specific budget or looking to improve ROI margins for your business with this project significantly?

Do you need additional resources for a few months or weeks only, or do you have a longer-term requirement?

Do you have in-house project management and software delivery expertise?

Does the vendor have proven industry experience for the services you are looking for?
Choosing a suitable engagement model can be critical to ensuring that your project and company are on the right track.
Interested in Learning More?
Bestarion provides various Software Services with different Engagement Models suited to your organization's needs. Contact us to learn more and discuss how they can benefit your organization.