When You Need Hire Web Development Consultants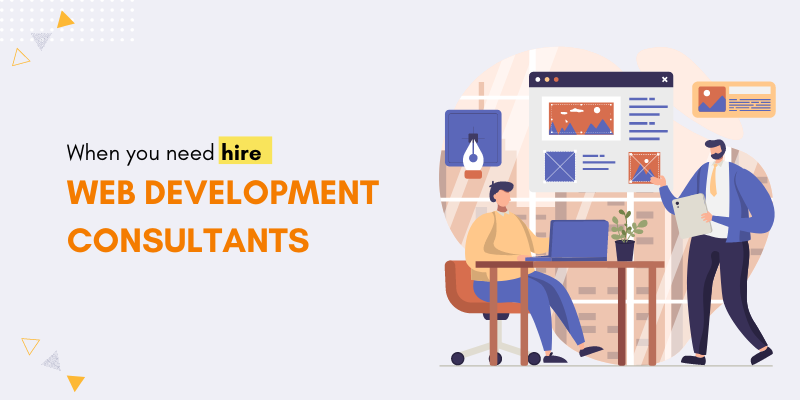 Creating a beautiful, well-designed website is not enough in the highly competitive business environment, where hundreds of new websites are launched every minute. Your website should reflect your brand's essence while providing the best user experience possible.
This demanding task, however, necessitates a trained eye, technical expertise, and professional touch. This is where web development consulting can help.
This article will provide you with an overview of web development consulting services. Take your time reviewing the benefits of using such services and the areas that require collaboration with a web development consultant.
What is Web Development Consultant?
Website development consulting services concentrate on streamlining and improving the web development process to assist you in developing a strong online presence and generating revenue.
Your web development project involves various processes organized into seven stages of the development cycle. It necessitates a process of analyzing, planning, and ensuring that your existing, ongoing, or new app or website project will increase conversion and success rates.
To that end, web development consultants provide expert guidance and supervision throughout the entire process, including:
Conducting extensive industry, competition, and marketing research
Web marketing consultants gather the information needed to develop marketing strategies and goals. They conduct SEO and SEM research and develop user personas to aid in the development and management of project plans.
Developing a Website Strategy
By creating navigational paths and mapping the user experience journey, website consulting experts ensure that your engaging and converting custom website is built.
Creating a content strategy
Web development consultants develop your content strategy based on the goal, UX research, and SEO analysis. The ultimate goal of this process is to ensure that your new website adds value to your prospects, ranks well in search engines, and moves you closer to business success.
If you already have a website, you can use the expert advice of a website development consultant and technical SEO services to improve its performance and user experience.
Monitoring the development process
Website development consultants use their technical knowledge to select the best technologies and platforms and plan omnichannel and CMS strategies.
Managing the design, prototyping, and testing of UX and UI
Web design consultants ensure that your website or web application meets your users' expectations. User experience experts identify users' needs and challenges, and user interface design aligns the software architecture accordingly. By developing a prototype and testing its suitability and usability, UI/UX design services can help your web product go even further.
Thus, experienced website development consultants who are experts in website development and project management can benefit businesses by offering services that individual marketing specialists or website builders do not provide.
4 Proven Advantages of Hiring Web Development Consultants
User expectations for the design and content of every company's website are constantly rising. Developers created business websites for computer screens and web 1.0 in the 1990s and early 2000s. Web 2.0 (the social web) exists today. More people access and interact with websites on their smartphones and tablets than on computers. Web 3.0 technologies are expected to play significant roles in retail this year, with more iterations for the internet in the near future.
How can you keep up with these changes?
Here are four major advantages to working with a web development consultant on your project.
The most recent mobile technologies are right at your fingertips.
Currently, 54.4% of global website traffic is mobile, and website development consultants recommend modern, mobile-first solutions. Your current and potential customers frequently use mobile devices, and your web strategy must account for this.
A responsive website increases dwell time and conversion rates. With nearly 1.9 billion websites on the internet today, competition in the digital space is becoming increasingly fierce. A mobile-friendly website is a leading web design strategy for differentiating your company.
Software development consultants are well-equipped to deliver high-performance solutions at a low cost. Mobile-friendly design and web content are among the solutions available to increase lead conversions and website visits.
With industry experts on your side, you'll be able to stay up to date on cutting-edge technologies.
Providing your company with data-driven web development decisions
Did you know that a website is preferred by more smartphone users than a mobile app for information?
According to a Google/Ipsos study, more than 50% of smartphone users prefer to browse or shop from a brand's website rather than a mobile app because they do not want to download it. Suppose you are faced with a difficult decision regarding developing an online solution that includes a mobile app. In that case, you are likely to make an inefficient investment if all data is not available to you.
A potential customer may be required to take a few extra steps to download a mobile app. Consider that taking extra steps requires a user to spend more time, which increases the likelihood that they will not follow through.
Website development consultants can determine whether providing these additional steps to leads is the best strategy for your product/service. It frequently turns out that creating a mobile version of the site based on PWA is a better solution than developing a dedicated application.
The case for reducing the number of steps (or clicks) taken by a potential customer on your site leads us to the next point.
Solutions that are modern, minimalist, and inclusive that sell
The current state of the internet places a premium on web-oriented architecture and social networks, which provide end users with a rich interactive experience.
If your website still uses a web 1.0 architecture, it is out of step with current trends. It will become even more obsolete as web 3.0 technologies become the norm.
That said, minimalist and inclusive web development and design is the rule, especially given that 42% of visitors abandon a website due to poor functionality.
You can ensure minimalist web design for your professional or eCommerce website and solve any functionality issues by working with development consultants. Increasing responsiveness and decreasing load time will allow you to meet end-user expectations and make a favourable impression on prospective customers.
To accommodate people with disabilities, inclusive designs can be incorporated into minimalist designs. People with visual impairments use screen readers to access the internet and enter search queries. Such screen readers can quickly inform people with visual impairments thanks to a minimalist, inclusive website design.
Hiring a website development consultant will assist you in leveraging modern solutions to cater to the needs of various users and create the best user experience, which translates directly into an improved brand image and increased revenue.
Your high-ranking website
Google processes approximately 63,000 search queries per second. A significant proportion of people who initiate this high volume of queries only visit websites that appear on the first page of search results (SERP).
The critical question that many online businesses want to be answered is whether or not their website will ever appear on the first SERP. A website development consultant can provide detailed answers to that question. To generate optimization results from scratch, such consulting services frequently employ keyword research tools, machine-learning-assisted search engine optimization, and audit tools.
It is the responsibility of website development consultants to have a background in results-oriented search engine optimization.
Many factors go into ranking on the first page, and the requirements change with the search algorithms, but we'll keep it simple. Services for web design and development keep up with changing internet technology, web design practices, and SEO trends.
Given that many websites, including yours, strive for similar SEO results, there is an even stronger case for hiring experienced website development consultants who can devise the best strategy for success.
When Should You Think About Hiring Web Development Consultants?
According to Top Design Firms' findings, web design is directly related to how prospects perceive a business or brand. From the codebase to the UX/UI design to the website content structure, web development consultants pay close attention to every design and development detail.
When is the best time to hire a web design and development services?
You are unfamiliar with UI/UX design and the development of websites and apps, and you want to make an excellent first impression of your brand and services.

You want to establish a strong online presence with compelling and engaging content that ensures high conversion rates and attracts new customers.

You want a company to oversee the entire software development process so that you can focus on your business.

You're a startup with limited resources to support an in-house website development team.

Your company chooses the more cost-effective option instead of establishing a dedicated web development department.
Today's highly competitive environment gives businesses less room for trial and error. A competing brand is likely one viral trend away from capturing significant market share and retaining it for an extended period.
Web development services are not limited to a specific industry or business size. They can assist all businesses in attracting more traffic and, as a result, increasing revenue.
What Web Development Strategy Areas Require Periodic Web Development Consulting Services?
Web development, design, and marketing should all be part of your web strategy. Many web developers concentrate on creating or implementing a website strategy that checks all boxes for responsive website development. A website development consultant can be present from the beginning of the planning process and oversee execution, updates, and maintenance.
There are general and specialized consulting services available for your company. General website development consultants can advise on all three components of your web strategy.
On the other hand, businesses with a website that already ranks highly for specific keywords may hire a specialized web development, web marketing, or web design consultant to improve performance in that area.
If you are unsure about which web consulting team you require, a critical first step is to request a full audit of your current web strategy from general website development services. This method provides you with the information you need to identify the areas of your website project that require updates, redesign, or a complete overhaul.
Summary
Many aspects of your digital presence that you are too busy or inexperienced to consider are addressed by web development consulting. Web development consultants' unique skills can propel your company forward in today's competitive digital space. Your company can stay on-brand, visible, and relevant with an experienced website development consultant on your team, and every iteration you make will be data-driven.