Fast, fair screening? Recruitment Technology is the Way to Go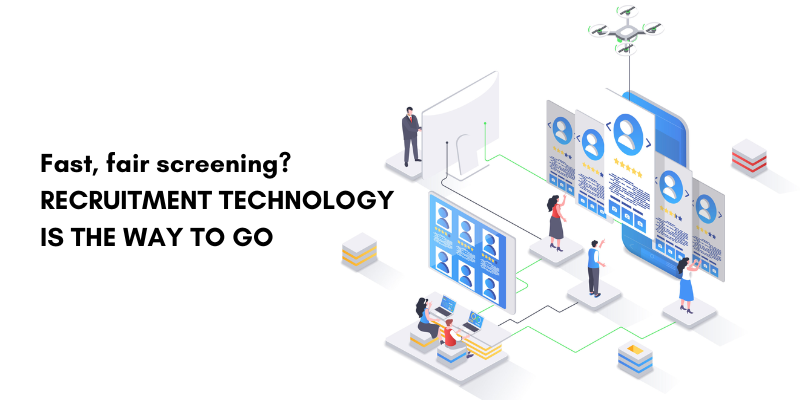 Thousands of resumes flood inboxes; only a few positions are available! HR professionals are no strangers to being inundated with to-do lists, especially regarding compliance and daily employee satisfaction.
However, with changing compliance requirements and a more aggressive demand for corporate social responsibility (CSR) in fair hiring, tried-and-true legacy methods are failing HR professionals.
No matter how hard we try, we can't deny the reality of unintentional and intentional bias in the hiring process. We cannot deny that current procedures have flaws that frequently disadvantage women and minorities. We can't pretend that the hiring industry creates an echo chamber by favoring certain types of people and graduates from specific places with a pre-packaged skill set. Similarly, we cannot deny that this creates a phantom barrier between the desire to be employed and the ability to be recruited
This is where recruitement technology and artificial intelligence come into play. Continue reading to learn more about how and why organizations and their Human Resources departments should maximize their potential.
Why should HR Professionals Use Technology In Screenings and Interviews?
No one is spared in the war for talent.
Organizations are desperate to attract and retain qualified employees.
The changing workforce necessitates an adaptable hiring ecosystem, and implementing technological solutions allows these organizations to compete for talent on a global scale.
Furthermore, human resources are becoming a more tech-dependent profession to help streamline administrative processes, improve data collation, access for employees and managers, and provide real-time data metrics to aid in strategic decision-making.
The overarching benefit of recruiting technology is fiscal, allowing businesses to reduce financial burdens by cutting compliance and otherwise costs.
How Can HR Professionals Benefit from Using Recruitment Technology?
Integrating technology and artificial intelligence solutions into human resources has more advantages than improving company image and profits. Instead, it positively impacts almost every aspect of the company's operations.
This could happen directly or indirectly. In the following ways, technological solutions can help increase overall efficiency:
Developing an integrated database
Keeping track of employee journeys, key success indicators, and success potential is critical for the hiring life cycle. Using technology to store and analyze employee data informs the entire talent cycle, resulting in more equitable and positive hiring decisions.
Using data to make better hiring decisions and job descriptions
Making informative, catchy, and useful job descriptions is a significant factor in recruitment marketing. With sentiment analysis software, HR professionals are better informed about more appealing descriptions. This software can also detect potentially discriminatory language, which may discourage candidates from responding to a job posting.
Attracting and sourcing candidates
The best recruiting software uses algorithms to identify suitable passive candidates based on candidate profiles and competencies. Talent rediscovery software can also search existing ATS profiles for known candidates who might be a good fit for a new job posting.
Shortening interview lifecycles
In human resource practices, artificial intelligence standardizes recruiting cycle management and reduces the time and resources required. Increased efficiency and productivity, combined with automated screening, frequently result in shorter recruitment cycles, allowing businesses to secure candidates more quickly.
Saving time
Integrating technology into HR saves time that would otherwise be spent on repetitive and mundane day-to-day tasks. It significantly reduces paperwork and speeds up execution. Using AI to automate and perform these tasks, these resources can be diversified and used elsewhere, for example, in recruitment.
Adhering to regulatory requirements
Government employment and wage regulations can change at any time. To avoid compliance penalty fees, HR professionals must constantly stay abreast of these developments and adapt company guidelines and practices accordingly.
HR professionals can stay ahead of the curve and avoid potential issues by utilizing recruiting software that provides advanced reporting features.
Read more: How Technology Will Affect the Hiring Process in 2022 
How Recruitment Technology and AI Aid Companies in Meeting DE&I Objectives (Diversity, Equity, and Inclusion)
While streamlining the entire hiring cycle has significant benefits regarding overall hiring quality, meeting soft goals such as inclusion, equity, and diversity is equally important.
Here's how technology can assist in achieving measurable results in these areas:
Preventing bias in hiring
Using technology and AI helps the recruitment process remain data-driven. For example, automated screening looks solely at skill and experience levels and then matches candidates with a suitable profile, providing a completely objective view of the requirements for job success.
This factor eliminates unconscious biases that may lead recruiters to favor graduates from a specific college or employees from certain well-known companies. It also eliminates the possibility of age, race, or gender bias.
Personalization of hiring
Recruitment technology can help personalize the recruitment cycle and improve selection decisions that reduce biases. As a result, a diverse talent pool is more likely to be attracted and retained.
Highlighting cultural fits
HR professionals can benefit greatly from technological solutions adaptable to candidate profiles. Furthermore, this could be a differentiating factor because systems that indicate cultural fits beyond surface-level characteristics are more likely to make progressive progress in DE&I efforts.
Keeping track of applicants
Applicant Tracking Systems (ATS) is an excellent tool for recruiters to seek candidates, compare them to open positions and set reasonable hiring goals using the power of AI.
Why is Bestarion the Best Partner to Help You Outstaffing?
We're motivated by our client's success, and we provide efficient development and fast time-to-market because of:
A group of 200 IT experts, comprising business analysts, project managers, developers and QA engineers.
Agile development ensures a smooth software delivery and evolution based on real-user feedback.
DevOps practices (CI/CD, Infrastructure as Code and application performance monitoring) to ensure quality software.
Cloud-native architectures for easy software scaling and microservices for enhanced software maintainability.
Our team of experts is committed to providing technical assistance and guidance with the right talent and at the appropriate timing. Our team augmentation services and models for hiring that are client-centric help you rapidly build your team to meet your goals.
Get in touch with our team today to learn how we can help your business succeed.