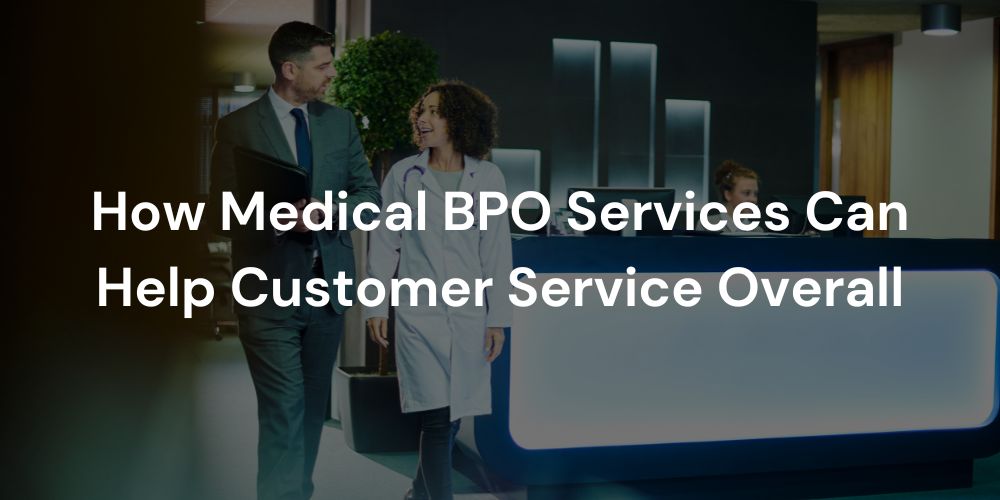 Did you know the global medical BPO market is expected to reach $449.6 billion by 2023, with a compound annual growth rate of 12.3%? The growth of the medical BPO market has been driven by the need for fewer critical errors and lower operating costs, as well as the need for better billing services in general.
Non-medical functions such as supply chain management, housekeeping, food services, and so on are typically outsourced by medical organizations. More healthcare practices outsource administrative tasks to save resources, time, and space. Today, the medical BPO sector handles a wide range of hospital services, such as medical billing, claim processing, and data entry.
This article discusses the impact of the increased medical BPO services industry on customer service and overall customer experience. 
What Does Medical BPO Do? 
Medical business process outsourcing (BPO) is contracting out non-core and non-medical functions of a healthcare organization to a third-party service provider. Instead of managing the operations in-house, the healthcare facility outsources non-essential tasks to third-party vendors who complete the work for them.
In general, businesses consider outsourcing to be contracting work to third-party providers in another country. Many organizations outsource healthcare billing and collections to medical BPO firms in countries such as the Vietnam to save money. However, you can also outsource such functions to vendors in your city. The only disadvantage is that domestic outsourcing is typically more expensive.
Read more: 5 Ways Medical Billing Outsourcing Can Improve Your Hospital
How Does Medical BPO Affect Customer Service? 
You may have the most skilled and experienced physicians and doctors in your facility, but without good customer service, your patients will not recognize your talent for healthcare. Instead of viewing each interaction as a financial transaction, your goal as a healthcare provider should be to develop long-term relationships with your patients.
Patients satisfied with their doctors, nurses, and facilities are more likely to return. How do you keep patients happy?
The solution is medical BPO.
Increased Consistency
Is it possible for a single in-house medical biller to keep up with massive paperwork and maintain control in the face of all the new billing regulations? It may be possible, but it will not be simple. Creating an entire medical billing department may be necessary to keep your ED coding operational.
You can also outsource non-essential services to medical BPO firms. The single fixed rate or percentage of medical BPO services will be much lower than if you maintain your billing department, and you will receive more consistency in filling and following up on claims. Finally, the medical BPO service provides you with the same level of care you provide to your patients. Their goal is consistency in every claim they process, allowing you to focus on treating your patients.
Better Focus 
Your emergency room already sees a steady influx of patients who require medical attention. How can you expect your doctors and other healthcare workers to manage the financial aspects of the practice if they are busy taking care of patients?
Healthcare providers are rarely involved in the financial side of the practice in a hospital setting. Does this imply that the administration should bear the brunt of the criticism? They are also preoccupied with managing the ER department's clinical and administrative efficiency, which corresponds to patient care.
Your healthcare providers and other staff can stay focused on their designated goals by outsourcing billing and collections to a medical BPO. This opens the door for future growth and increases reimbursement. Most importantly, you can free up the admin to focus on acquiring and retaining new clients.
Improved Patient Satisfaction and Loyalty 
It may be difficult to remember that a healthcare facility is a business like an eCommerce store or a restaurant. You will lose business if your clients, i.e., your patients, are dissatisfied with your healthcare services. As a result, a hospital, like any other commercial enterprise, must prioritize the customer experience.
When patients contact agents to discuss their medical billing, they will be greeted by a medical BPO firm representative. This relieves your in-house employees of responding to each customer's inquiry. The agent provided by the third-party billing service will handle all complaints, answer questions, and provide the assistance your patients require without the stress of running a hospital simultaneously.
Furthermore, the medical BPO will ensure that each code is entered correctly and with the correct reimbursement, reducing the possibility of errors. If there are any, they can be resolved quickly, and each rejection is followed up on immediately.
As a result, payers receive their billing on time, all issues are professionally resolved, and your healthcare workers can focus more on the patients. If you have the right team to manage your patient-care concerns, your patients' experiences will be more positive, and customer satisfaction will improve.
Unyielding Service No Matter What
When you manage your billing internally, you can be certain that certain employees will be unavailable in an emergency. There may be times when tasks related to medical bill processing are not completed on time due to health issues or when employees are on vacation. When you don't outsource, these issues are nothing new.
On the other hand, working with a medical BPO ensures that the agreed-upon number of representatives will manage the tasks you delegate each day. This avoids delays and bottlenecks, which means less inconvenience for you.
You won't have to worry if one of your computers suddenly fails or if the billing software you use crashes randomly if you outsource because your agents will have their own infrastructure to provide continuous work for you. Medical BPOs strive to provide dependable solutions in all circumstances.
Selecting the Best Medical BPO Company for Your Healthcare Facility
The medical BPO you choose to work with will greatly impact your success in healthcare outsourcing. When choosing an outsourcing partner, there are a few things to consider. Check to see if the provider adheres to all information security standards.
Also, look into the length of their experience, their track record in providing billing services, and reviews from previous clients. Examine the current labor market of the medical BPO firm with which you want to work. Finally, determine whether their service packages are appropriate for your requirements because having the right provider paves the way for a dependable long-term partnership and a streamlined billing process.