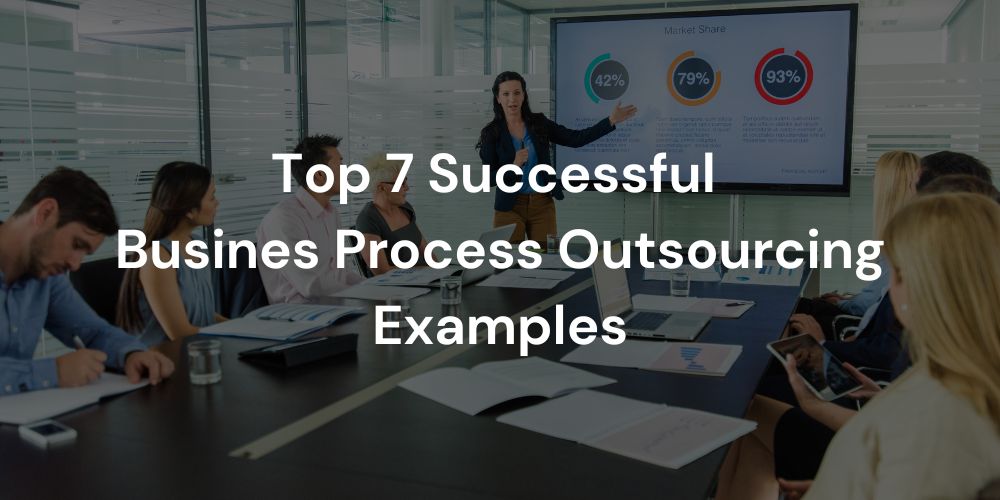 There has long been discussion in the business world about outsourcing vs. insourcing. With each having advantages and disadvantages, it is evident that a single organization cannot complete all tasks. However, many businesses choose to outsource and reap the benefits. Furthermore, Bestarion has deep-seated capabilities to scale up back-office BPO services in response to changing requirements, ensuring project continuity and timely completion. So, to understand the full scope of the process, let's look at some examples of BPO outsourcing.
We've already seen several examples of outsourcing. To get started, let's define outsourcing.
What Is Outsourcing?
Outsourcing allows a company to employ an outside firm to handle specific business areas. In other words, it is a company's cost-cutting strategy to boost profitability and efficiency. On the other hand, outsourcing allows the corporation to concentrate on the most important tasks/core business operations.
‍Example: Apple outsources most of its manufacturing to Foxconn, which assembles its components. And this has been a big success. As a result, Apple can concentrate on developing new designs and software. There is no single reason why the concept of outsourcing makes sense. Cost, trained professionals, and time to market are all factors. Organizations become more efficient when outsourcing is done correctly. There has never been a better time to outsource your business activities to help your company grow.
The following are examples of outsourcing.
Examples of Outsourcing
Let us use instances to demonstrate some of the most crucial reasons to outsource:
GitHub
Since 2008, GitHub has been regarded as an important tool for developers and coders. Since then, GitHub has become the best option for sharing project details. However, it is not ideal for small projects. They opted to outsource the developer as a Git contractor after finding the scope of improvement on the tool's look and feel.
Reasons to Outsource: Reducing costs, focusing on core business activities, and solving capacity issues.
Opera
Opera is a simple and lightweight web browser with cutting-edge capabilities. Telenor, Opera's parent company, contributed the initial finance. However, when Opera became a separate entity, its resources were limited. As a result, Opera outsourced development resources while considering the developer's talents and capacity.
Reasons to Outsource:
Reducing costs, access to a pool of talents, and resolving capacity issues.
Basecamp
Basecamp was created primarily to help project managers and other professionals focus on their work. As a result, they began with a tiny in-house resource footprint. They noticed internal issues with workflow management and customer support and realized that doing everything independently was not a viable strategy. As a result, they chose to outsource some of the critical functions. It enabled them to keep driving product innovation and overall business growth. At the same time, the internal staff concentrated on the organization's core activities.
Reasons to Outsource:
To focus on core business activities
Slack
Most businesses use Slack to communicate with internal teams. However, using Slack to manage remote employees would be stressful. Slack is a collaboration application that allows all employees to work at the same pace. It was first released in 2013, and an outside organization handled beta testing. It's well-known that Slack has a more casual tone and aesthetic. Outsourcing beta testing enabled Slack to obtain critical input, allowing it to develop a personality in the field. And the result has repeatedly outperformed the market.
Reasons to Outsource: To get the improved quality outcome and access to the pool of skilled talents.
MySQL
MySQL has been rather unusual in comparison to its competitors since its inception. MySQL recognized that it could only achieve success through the GNU General Public License related to an outsourcing strategy. Furthermore, the strategies implemented resulted in the organization experiencing exponential growth with immediate dividends. MySQL is currently utilized by millions of companies worldwide, with the outsourced development team and operation staff split around the globe.
Reasons to Outsource: Cost reduction and more focus on core business activities.
Apple
Apple is well-known for its superb product designs, yet it does not manufacture everything independently. Instead, it relies on diverse partners in Asia, the Far East, and the United States to produce hardware and provide services. By outsourcing the supply chain and production sector, they might focus on their main business activities, such as greater items that customers look for in the Apple brand.
Apple recognized that outsourcing entails establishing partnerships and ensuring both sides gain from the process. As a result, they achieved worldwide acclaim.
Reasons to Outsource: Resolving capacity issues, focusing on core business activities, and reducing costs.
Skype
Skype is a market leader in online video and has transformed the IT business, with clients regularly using it on PCs and cell phones. It was soon recognized. However, product creation was not the secret to its success. As a result, they chose to acquire experienced individuals at a low cost and concentrate on software development.
Skype outsourced product development to Estonia (East Europe), employing several talented individuals to work on the product. Outsourced developers had enormous success over time, further cementing their friendly relationship. As a result of the checklist for the BPO process outsourcing approach, Microsoft purchased Skype for $8.5 billion in 2011.
Reasons to Outsource: Solving capacity issues, reducing costs, access to a pool of talents
‍Conclusion
The outsourcing examples shown above are only the tip of the iceberg. Organizations that wish to compete worldwide must look for cost-effective and efficient techniques, and outsourcing is at the top of that list. Regardless of the size of the firm or the services provided, outsourcing has numerous advantages. Companies worldwide have begun recognizing this and are better equipped to focus on core business activities. Choose Bestarion if you want to improve business demands. Bestarion is a well-known leader in empowering various worldwide enterprises and organizations through high-quality back-office BPO services that encourage increased business efficiency and a better bottom line.